Many travelers who visit Thailand tend to overlook Krabi for some reason. However, Krabi offers a plethora of places to explore. With its forests, limestone cliffs, enchanting landscapes, and beaches, it invites you in. We can describe Krabi, situated on the southwestern coast of Thailand, as a true paradise.
Krabi offers diverse experiences regardless of the type of traveler you are. It's an oasis for rock climbing enthusiasts, a paradise for beach lovers, and a haven of options for nature enthusiasts. Without further ado, let's begin our guide to make it easier for those planning a trip to Krabi.
In reality, Krabi is larger than you might think. The most popular region in Krabi, Ao Nang, is located 28 km away from Krabi Airport. Another sought-after area is Railay Beach, which is accessible only by boat as there's no direct land route. The only way to reach it is via a 30-minute boat ride from Ao Nang.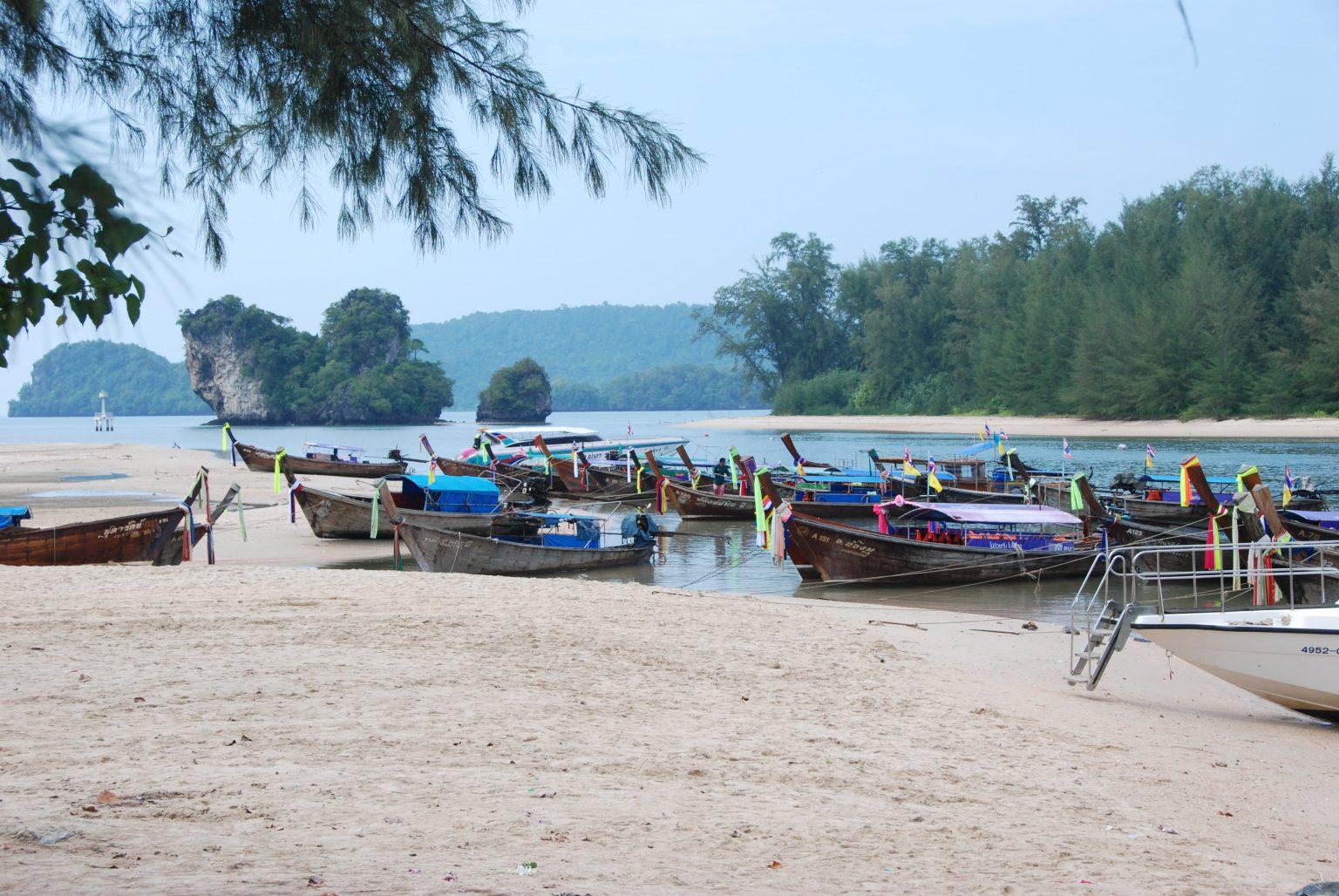 If you're planning your Krabi trip on your own, you have three options for getting around to explore the surroundings:
Hiring a Driver or Using Grab: You can either hire a driver or use the Grab app for transportation. If you're comfortable with these options, they can provide convenient and flexible transportation.
Renting a Motorcycle: If you know how to ride a motorcycle – which is the most recommended and preferred method – renting a motorbike is a great choice. It gives you the freedom to move around at your own pace and explore the area.
Joining Day Tours: Another option is to join organized day tours. However, this tends to be the most expensive choice.
Remember to prioritize your safety while exploring Krabi, especially if you're opting for options like motorcycle rental. Always wear helmets, follow traffic rules, and drive cautiously.
PLACES TO VISIT IN KRABI
AO NANG BEACH
We placed Ao Nang at the beginning of our list since it's the focal point of attraction in Krabi.While Ao Nang Beach may not be the most sought-after spot for swimming, its sunset view resembles a picturesque canvas and serves as the perfect way to conclude your day. If you're looking for a place to take a dip closer to the center, our recommendation is to head to Noppharat Thara Beach. Given that all travelers flock to Ao Nang, Noppharat Thara can be a wonderful choice to escape the crowds and enjoy a more serene atmosphere.
KRABI 4 ISLAND TOUR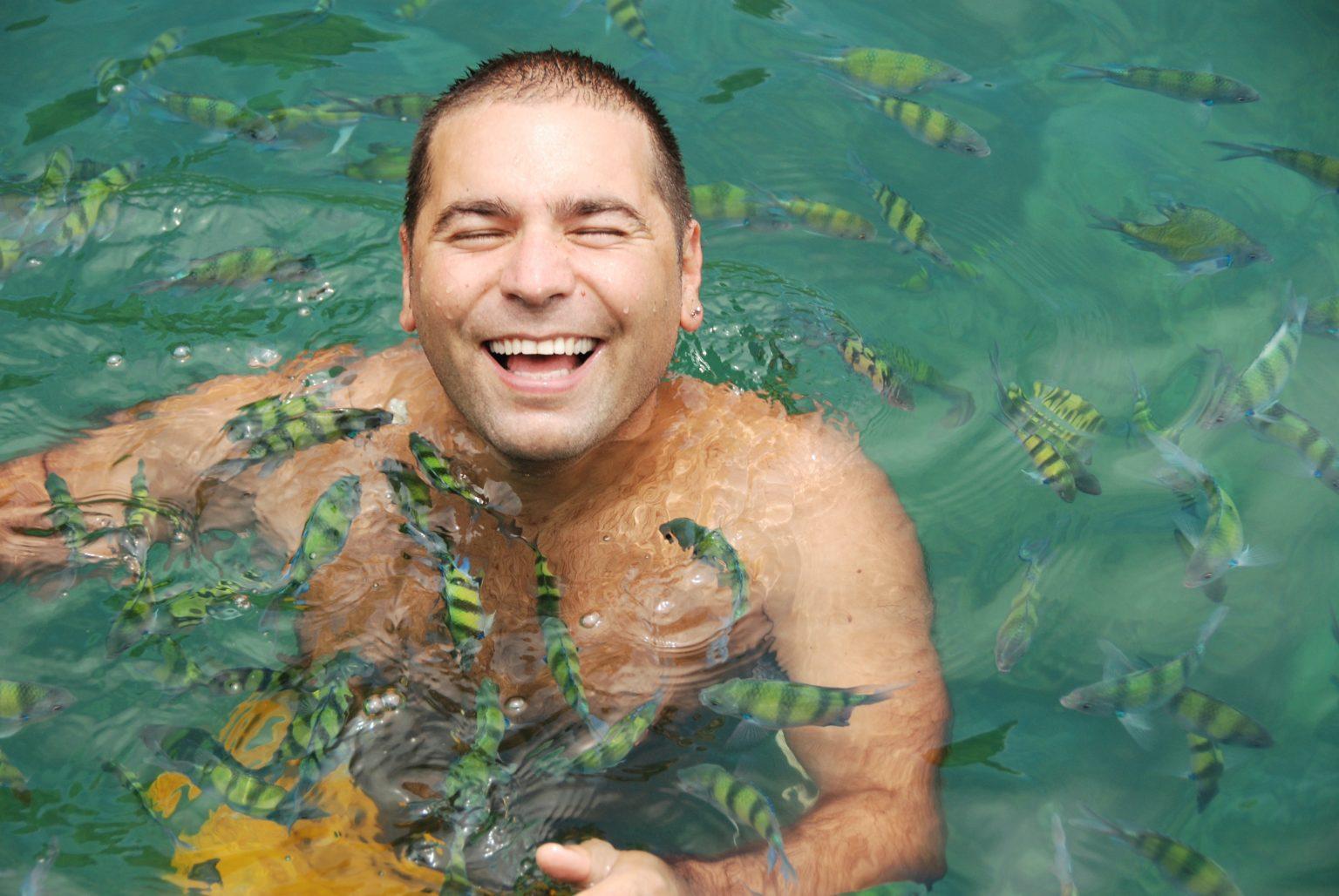 Participating in island tours from Ao Nang is the easiest option. Among our tours, our favorite is the 4 Islands Tour. Depending on your preference, you can choose between a speedboat or a longtail boat tour. The places you'll visit during the tour are as follows:
Phra Nang Beach (Railay): This is the most famous beach in Krabi. The iconic photo that often comes up when searching for Krabi online is usually from this beach.
Tup Island: The highlight of Tup Island is walking on the sandbar that emerges between the two islands when the tide is low.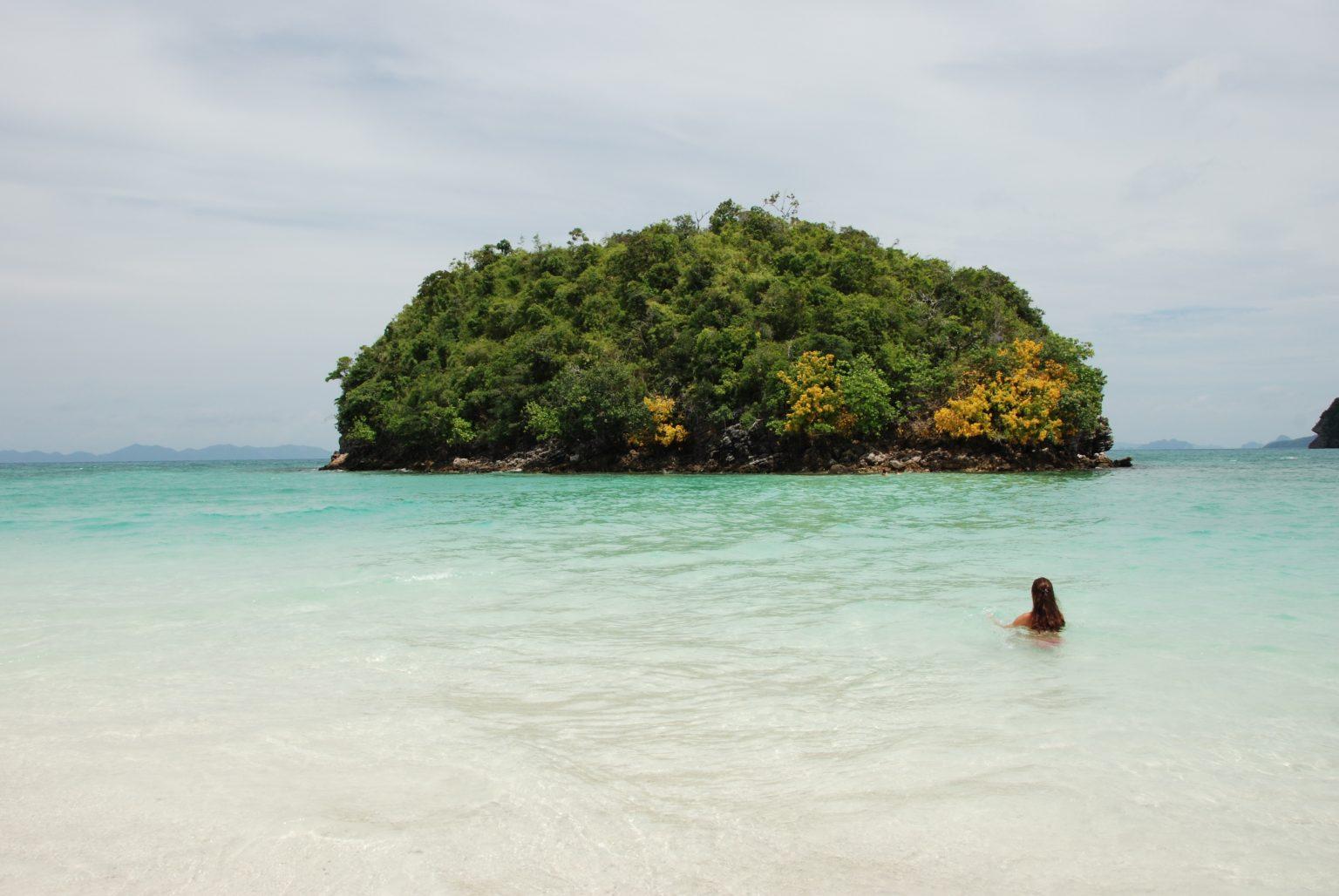 Poda Island: This island is usually a lunch stop during the tour. While waiting for the meals to be served, you can explore the underwater world and reefs.
Chicken Island: Adjacent to Tup Island, Chicken Island gets its name from its resemblance to a chicken's head and neck. It boasts a tranquil beach with calm waters.
HONG ISLAND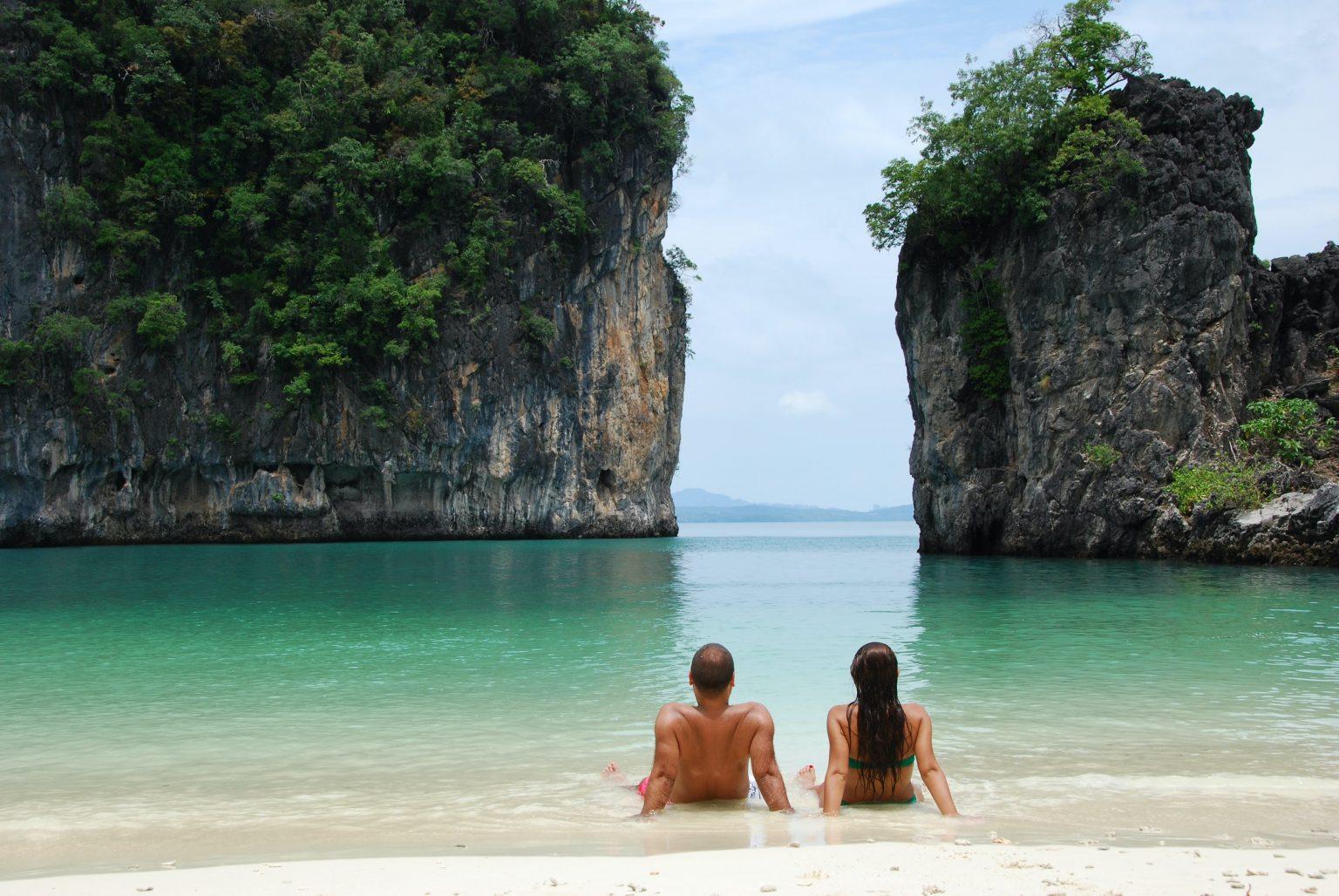 Another day trip option from Ao Nang is the Hong Island tour. Located within the boundaries of Than Bok Khorani National Park, Hong Island was one of the most beautiful and unforgettable island tours we experienced in Krabi. When we had the chance to visit the island for the first time in 2009, there were very few visitors, making it incredibly peaceful. Of course, as the years went by, like many other open destinations, Hong Island started gaining popularity and becoming more crowded.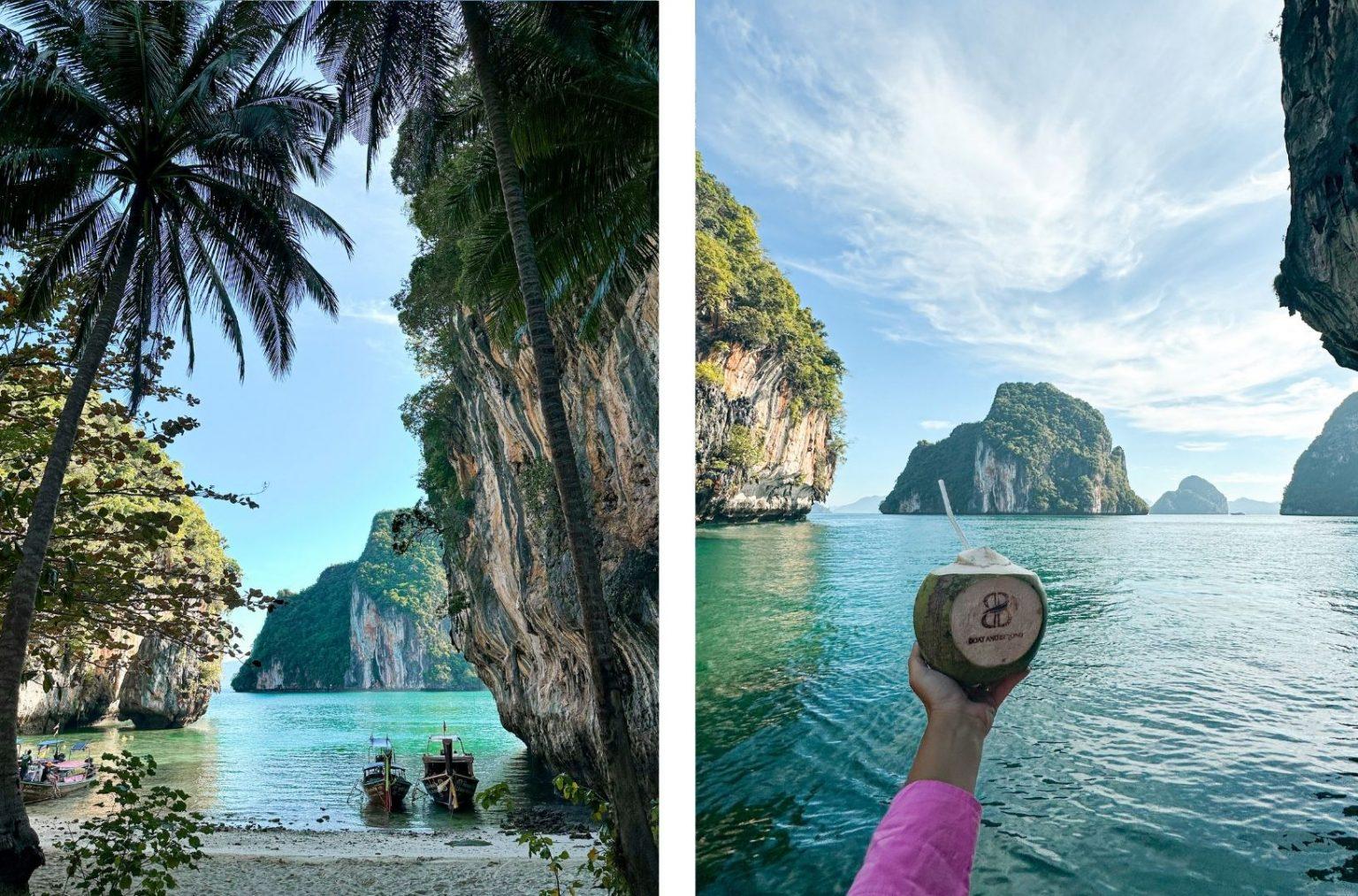 Our latest trip took place in 2023. We rented a private longtail boat from Railay Beach for 3000 THB and headed to Hong Island. We noticed that a pier had been built at the entrance to Hong Island. Additionally, a scenic viewpoint had been constructed. The viewpoint platform was built in 2020. After stepping onto the island, if you continue straight ahead, you'll reach a set of stairs that lead to the viewpoint. It takes about 20 minutes to climb from the beginning to the very top. After this 20-minute ascent, you're rewarded with a breathtaking panoramic view spanning 360 degrees.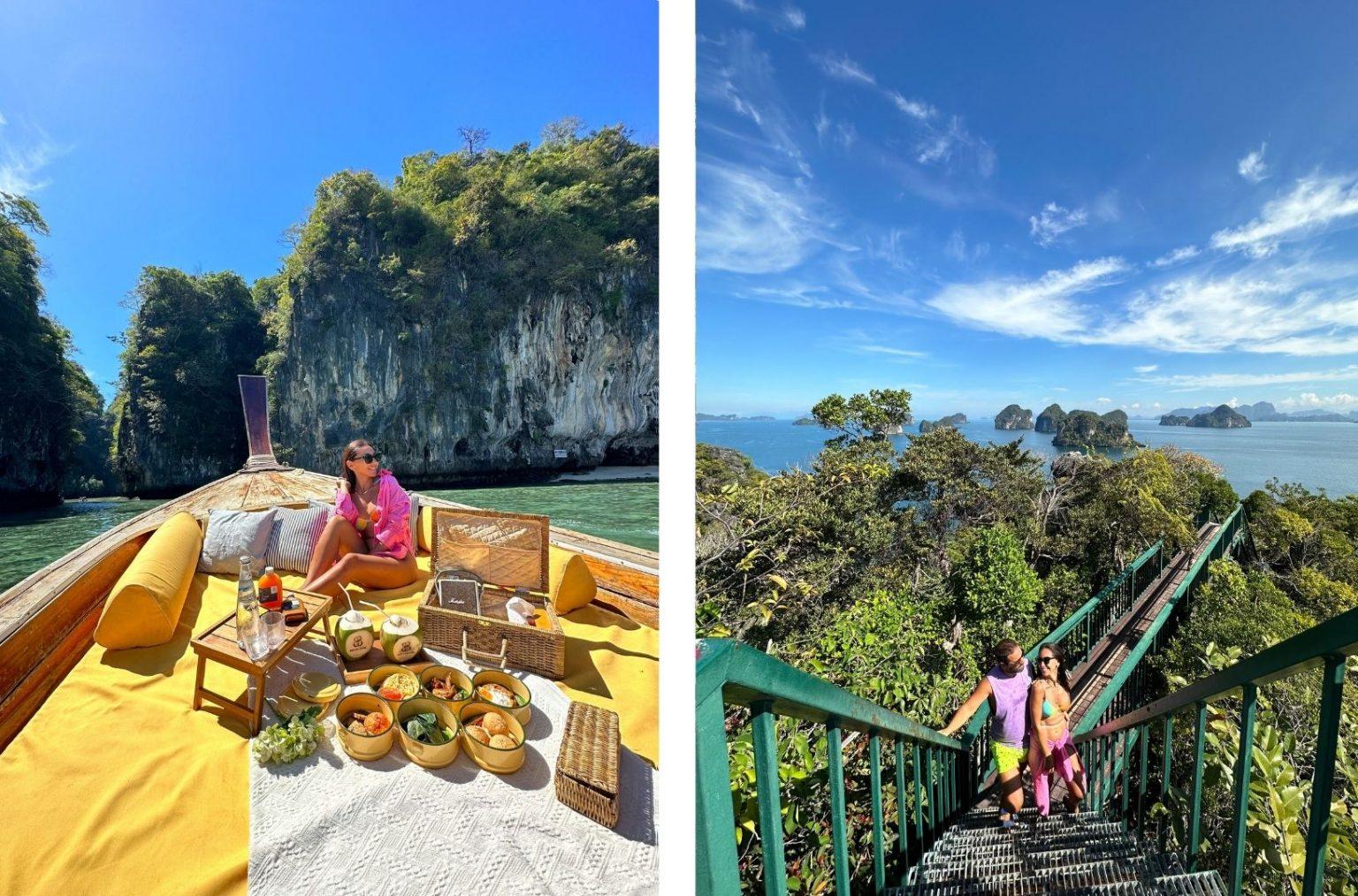 The National Park fee is 300 THB per person, separate from the tour cost. This fee is sometimes not considered by people as they assume it's included in the boat tour. We wanted to emphasize this detail, especially for those who might not think of bringing cash with them due to the nature of the boat tour.
PHI PHI ISLAND TOUR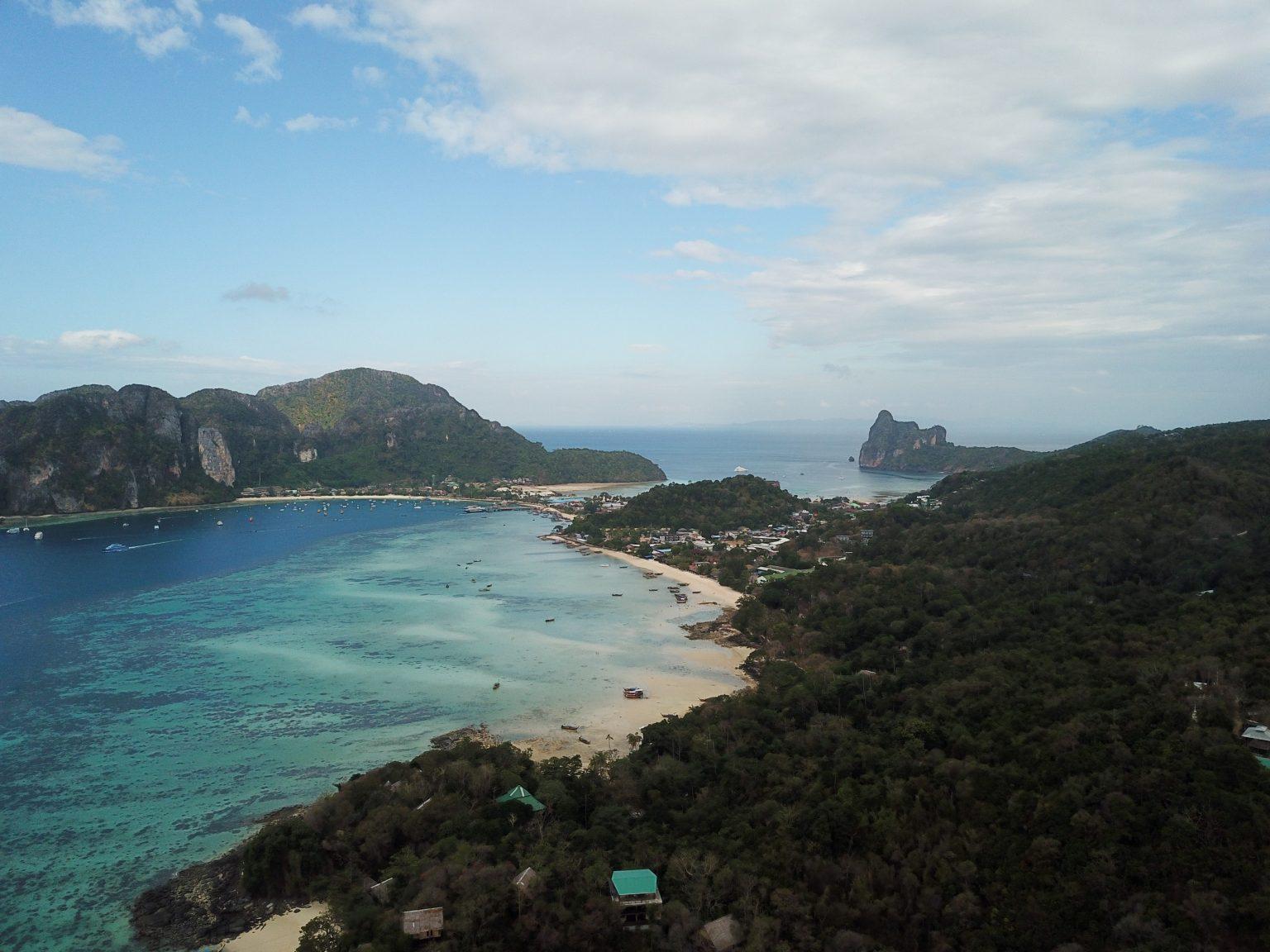 The third option for an island tour is joining the Phi Phi Island tour. Typically, island tours start around 08:30 and finish around 17:00. The tour boats can accommodate 25 to 50 people. Considering this number and accounting for other boats like yours, you can easily estimate how crowded it might get, we believe.
Our travel guide's main purpose is to provide you with the most accurate travel plan. We don't create lists of places to visit just for the sake of it. If that were the case, we would list all possible island tours in Krabi and recommend them all. Our goal is to guide you correctly and have you say, "I'm glad I listened to you," after following our advice and suggestions.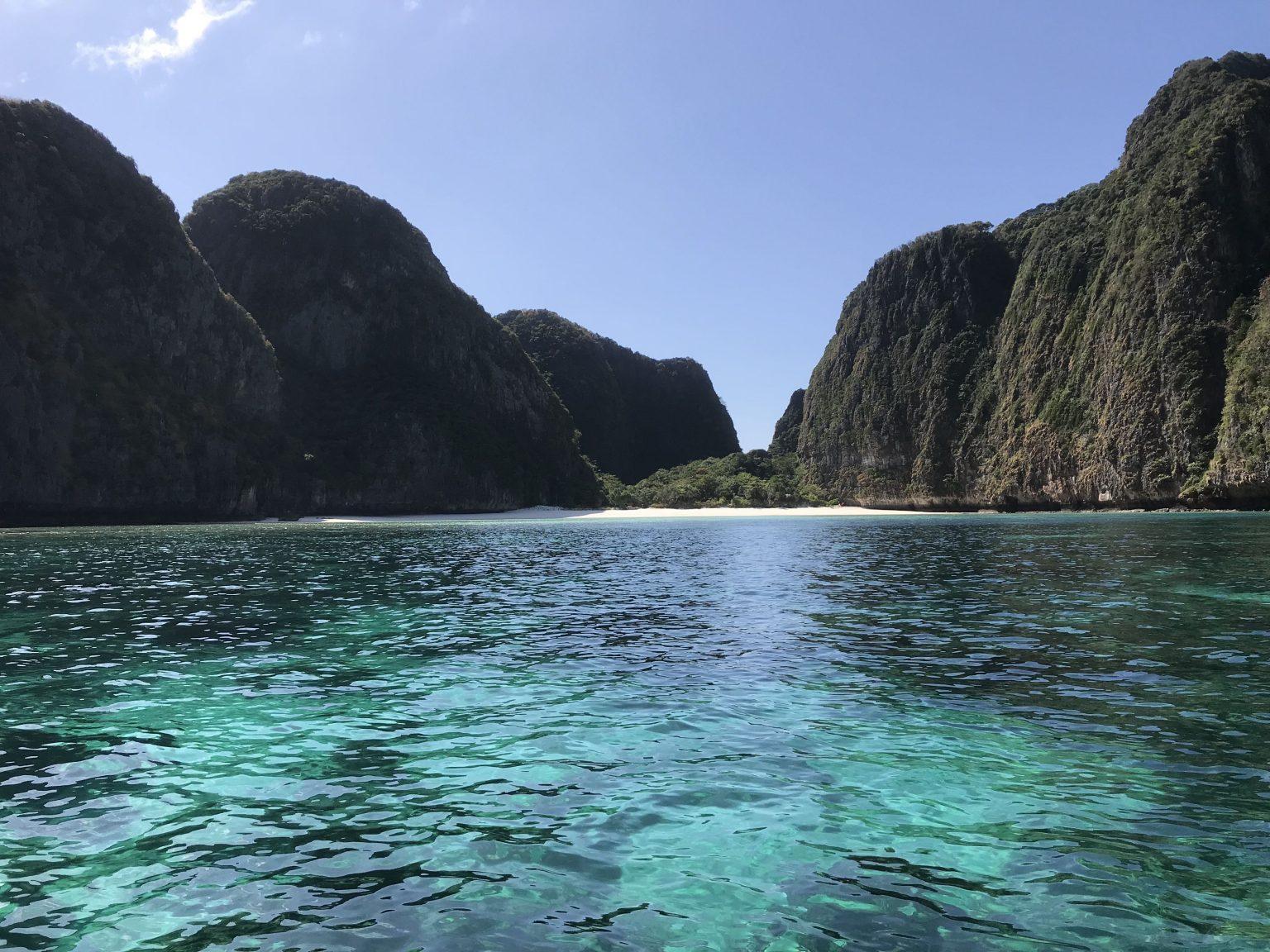 So, to sum it up, whether you're in Phuket or Krabi, if you have the option to stay on Phi Phi Island, we strongly recommend not joining Phi Phi tours from these areas!
You can find more information in our Phi Phi Island Travel Guide article.
If you ask us, be sure to include a 2-night stay on Phi Phi Island in your Thailand itinerary. This way, you won't have to deal with the hustle and bustle of daily tours. During your stay on Phi Phi, you can rent a longtail boat starting at 07:00 in the morning, allowing you to explore everything without the crowds. The cost of renting a longtail boat for 4 hours is 3000 THB per boat. This price is based on the 2023 rates. You can also refer to our Phi Phi Island article for information about the places to visit during the tour.
KOH LANTA ISLAND
Koh Lanta Island is just a 1-hour fast boat ride away from Krabi. You can sacrifice a night in Krabi to stay on Koh Lanta Island. Similarly, in 2009, we crossed from Krabi to Koh Lanta and stayed there for 2 nights. To explore the island, renting a motorcycle is a must. If you don't know how to ride a motorcycle, it's not really possible to fully explore the island. In this case, it's better not to go.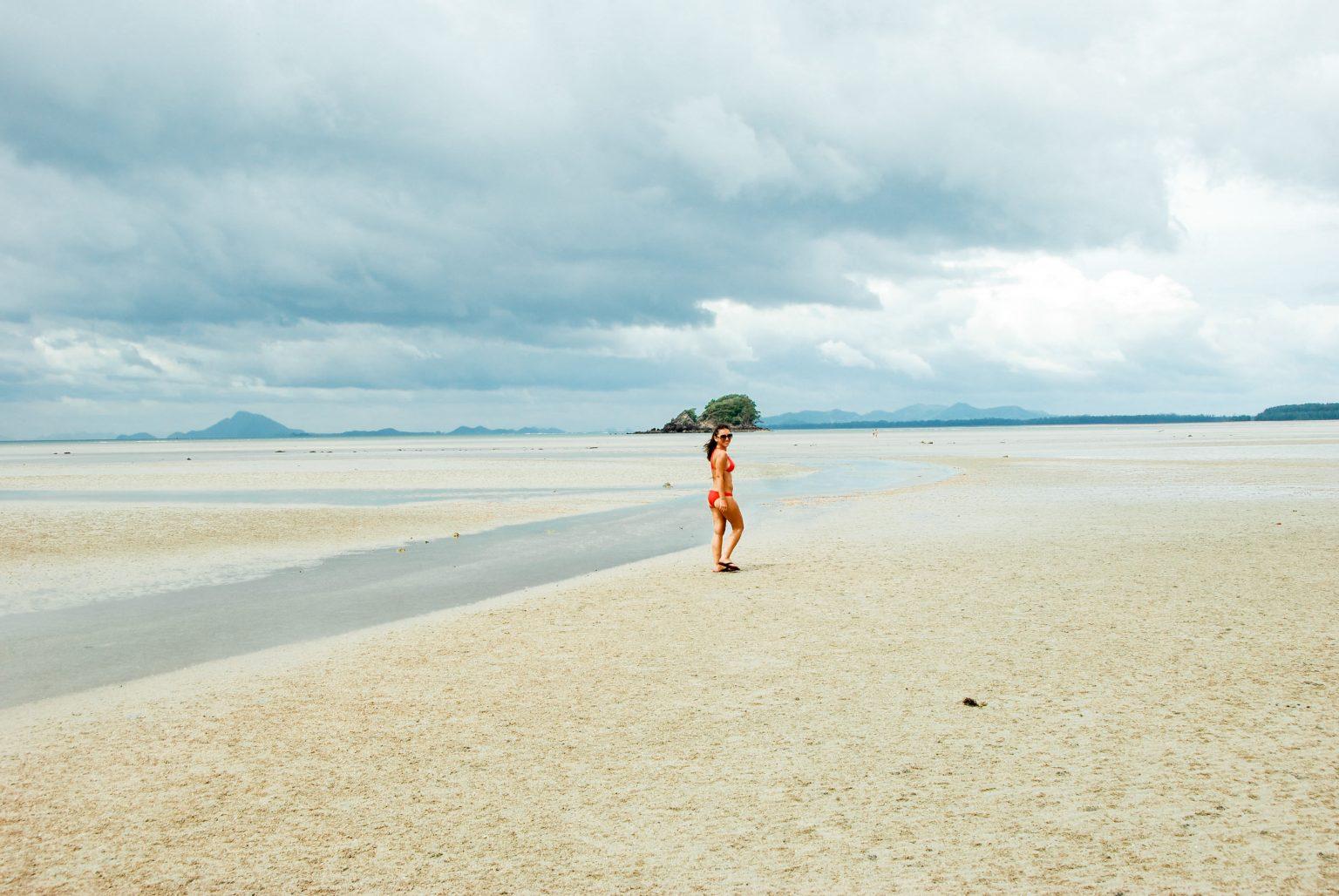 Koh Lanta Island is one of Thailand's less popular islands, which keeps it quieter. The local population on the island consists of Muslim fishermen who originally came from Malaysia
Here's a list of things you can do on the island:
1.Spend your day at Nui Bay, Long Beach, Pra Ae Beach, Bamboo Beach, Klong Khong Beach, or Klong Nin Beach.
2.Go diving at Koh Rok Island.
3.Explore Koh Lanta Old Town.
4.Visit the Tiger Cave with a 1-hour climb
5.Venture to Mu Ko National Park with an entrance fee of 200 THB.
6.Explore the village of Ban Saladan.
7.Cool off at Khlong Chak Waterfall.
8.Visit the Emerald Cave on Koh Muk Island. You'll need to rent a boat since it's accessible only by sea.
CLIMB TIGER CAVE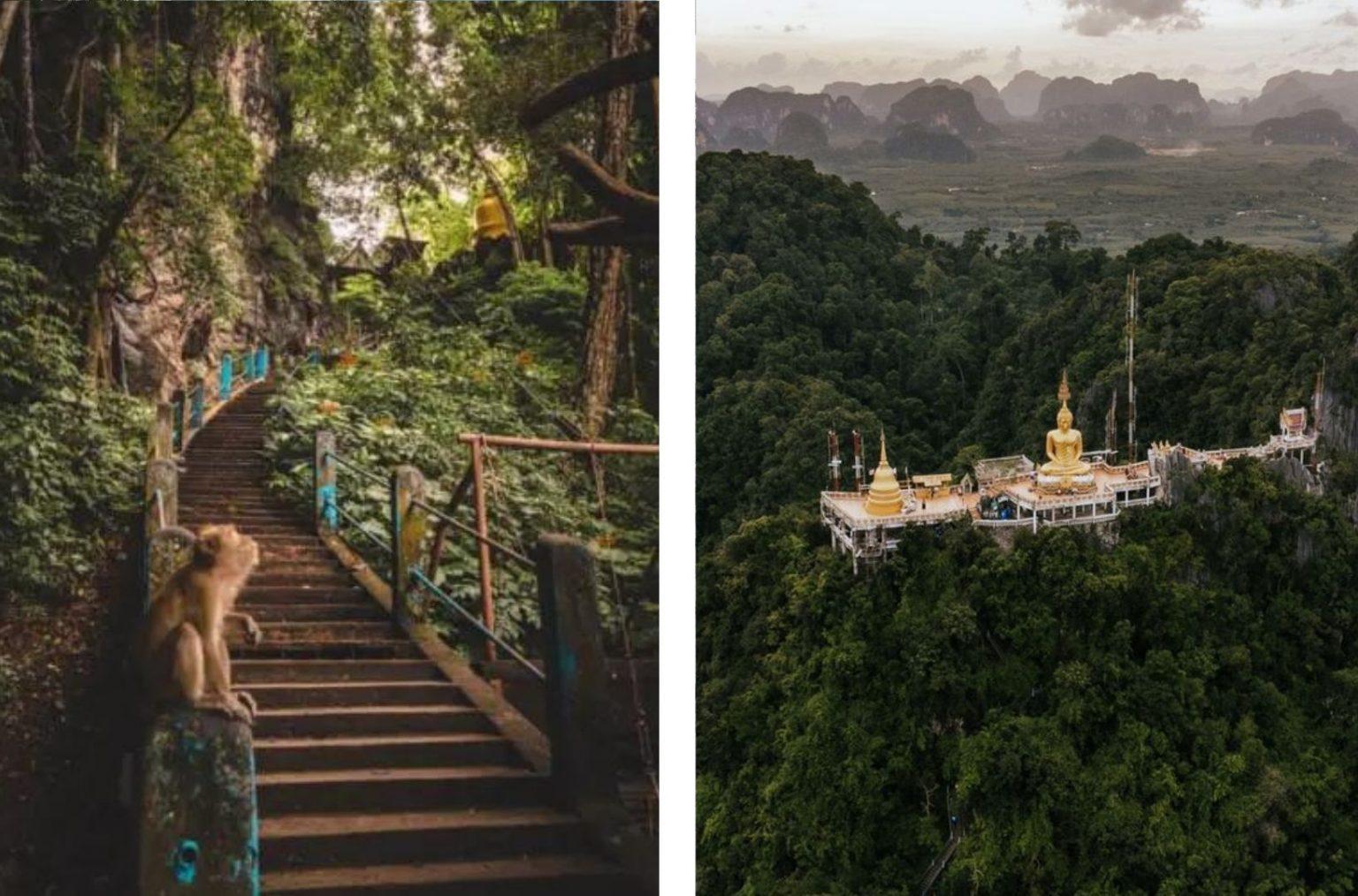 The Tiger Cave – Wat Tham Sua is one of Krabi's most impressive viewpoints. It's actually a temple complex that you can reach by climbing 1237 steps. We didn't count the steps ourselves, but there's a sign at the beginning of the stairs indicating the 1237 steps. It takes about 1 hour to climb to the temple, which is situated 278 meters above the ground.
The temple was built in 1975 and is named after the believed tiger that lived in the area. Apart from the Buddha statue, you'll also see a tiger statue within the temple.
At the top of the temple stands a massive Buddha statue. The Tiger Cave is located 20 km away from Krabi Town. The best time to visit is in the late afternoon, around sunset. Admission is free.
EMERALD POOL AND HOTSPRING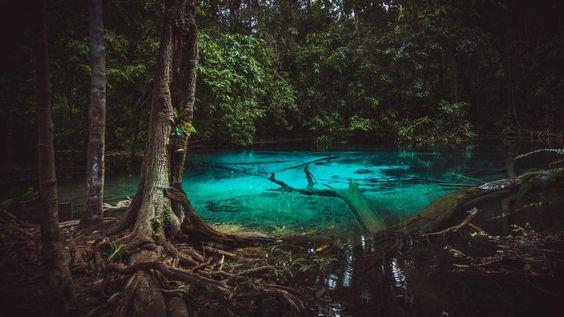 The Emerald Pool, known as Sa Morakat in Thai, is a turquoise blue pond filled with sweet waters flowing down from the mountains. It lies within the Khao Phra Bang Khram Nature Reserve. Surrounded by lush greenery, you'll find two pools: the Emerald Pool and the Blue Pool. Walking along the paths within an untouched ecosystem makes it easy to access these pools.
You can explore all the pools within the park by walking a total of 1.4 km. However, swimming in the Blue Pool is prohibited due to its proximity to the main source, its high temperature, and the swampy conditions.
The Emerald Pool is located 70 km from Ao Nang Beach and 57 km from Krabi Town. It's open from 08:00 to 17:00. The entrance fee is 200 THB for adults and 100 THB for children.
The best time to visit is during weekdays and in the morning. Otherwise, it can become crowded with daily tours and local school children in the afternoon.
CLIMB DRAGON CREST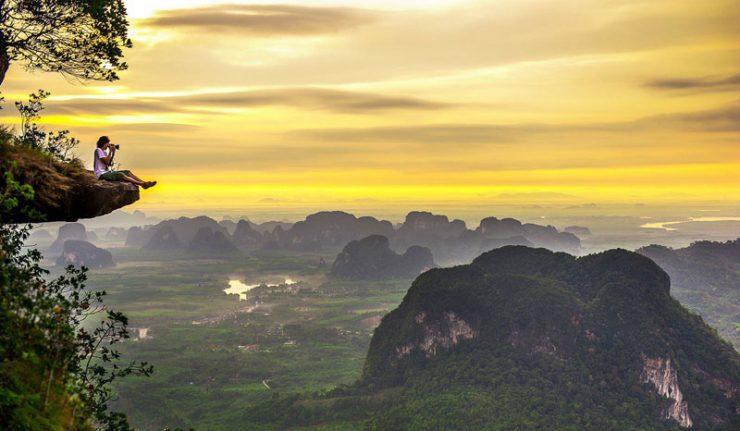 In the north of Krabi, within the Khao Ngon Nak National Park, there's a 3.7 km trail that offers a beautiful route. In fact, in our opinion, it's one of the most stunning viewpoints in Krabi by far. Reaching the summit will take about 1.5 hours. If you're planning to rent a motorcycle and go on your own, you'll need to cover a distance of 18 km from Ao Nang Beach.
When entering your destination on the map, make sure to write "Checkpoint Mu Ko Phi Phi National Park." Once you arrive, you'll see the entrance. After parking your motorcycle, you can follow the signs and start following the trail. The entrance fee is 200 THB.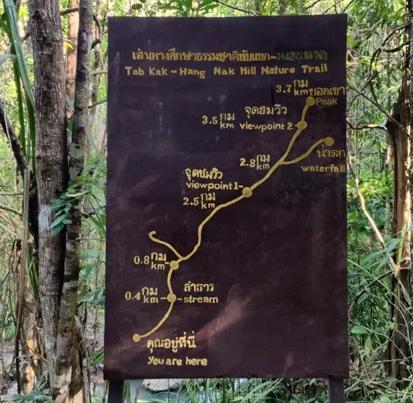 Even though the trail itself isn't extremely challenging, it's important to have proper walking shoes on. There are certain areas where progress without the assistance of ropes isn't possible.
If you feel like you might not be able to do it alone, you can consider purchasing a guided tour to get there.
Also, taking a note might be beneficial. If you're coming here to climb that specific rock you've seen, we would like to mention that for safety reasons, climbing on that rock is now prohibited.
RAILAY BEACH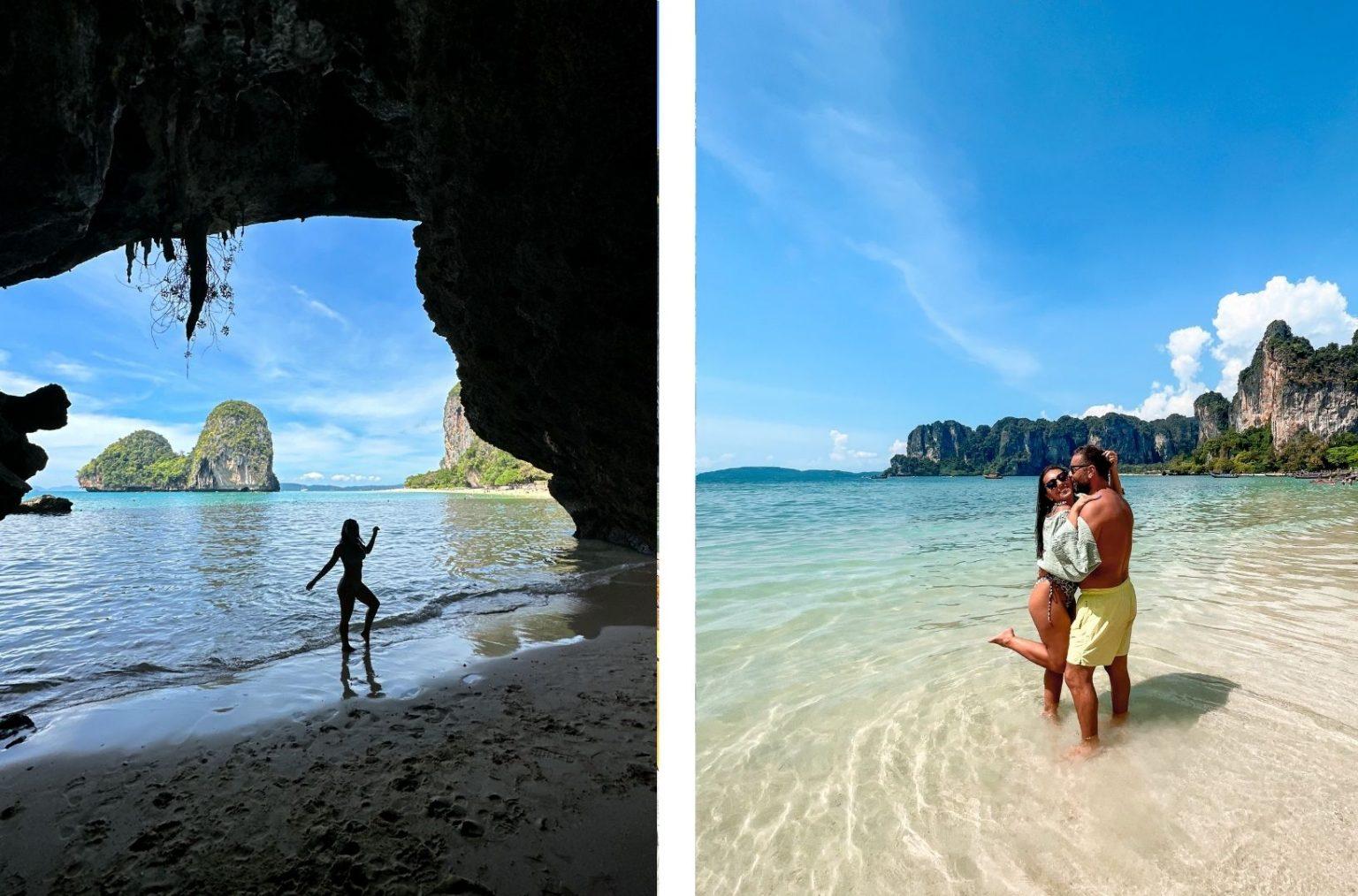 Right next to Ao Nang, Railay is a renowned area with beautiful beaches and famous rock climbing spots. Since there's no direct land access, you'll need to arrive by boat. During our 2023 trip to Thailand, it became one of our favorite places. You can find more detailed information in our Railay Beach Guide.
KRABI NIGHT MARKET
The Night Market, open from 4:00 PM to 10:00 PM on Fridays to Sundays, boasts over 70 stalls and is among the top places to savor street food. It's located about 16 km away from Ao Nang on Sundays.
HOW TO GET KRABI
By Flight:
Depending on where you're coming from, the fastest way to reach Krabi is by taking a flight. For instance, if you're coming from Bangkok, Chiang Mai, or Koh Samui, using a plane is the quickest and most practical option.
The flight duration from Chiang Mai to Krabi is 1 hour and 55 minutes. The airlines that provide direct flights are Bangkok Airways and AirAsia.
The flight duration from Bangkok to Krabi is 1 hour and 30 minutes. Airlines that offer direct flights include AirAsia, The Lion Air, Thai Airways, and VietJet Airways.
The flight duration from Koh Samui to Krabi is 55 minutes, and the only airline that offers direct flights is Bangkok Airways.
There are no direct flights from Surat Thani and Phuket to Krabi.
By Land:
If you're traveling from Phuket to Krabi, the distance is 120 km. You can safely purchase your bus ticket from the 12Go.Asia website. The journey takes approximately 3.5 hours. By searching for buses from Phuket to Krabi on the website, you can find information about bus schedules, journey duration, and prices.
If you're planning to come from Koh Samui and want to save on airfare, you can choose the road route. You can take a ferry from Koh Samui to Surat Thani, and from there, take a bus to Krabi, which takes about 3 hours. Alternatively, you can opt for a combined boat+bus ticket from the 12Go.Asia website to avoid the hassle of buying separate tickets.
THESE MIGHT ALSO INTEREST YOU
Koh Phangan Island
Koh Samui Travel Guide