Koh Phi Phi Island didn't become Thailand's most popular island for no reason. The main reason for it being Thailand's most touristy island is the fact that Leonardo DiCaprio's movie "The Beach" was filmed in Maya Bay. With its crystal blue lagoons, limestone mountains, and the world-renowned Maya Bay, Koh Phi Phi Island is the most delightful of Thailand's islands that attracts a wave of tourists.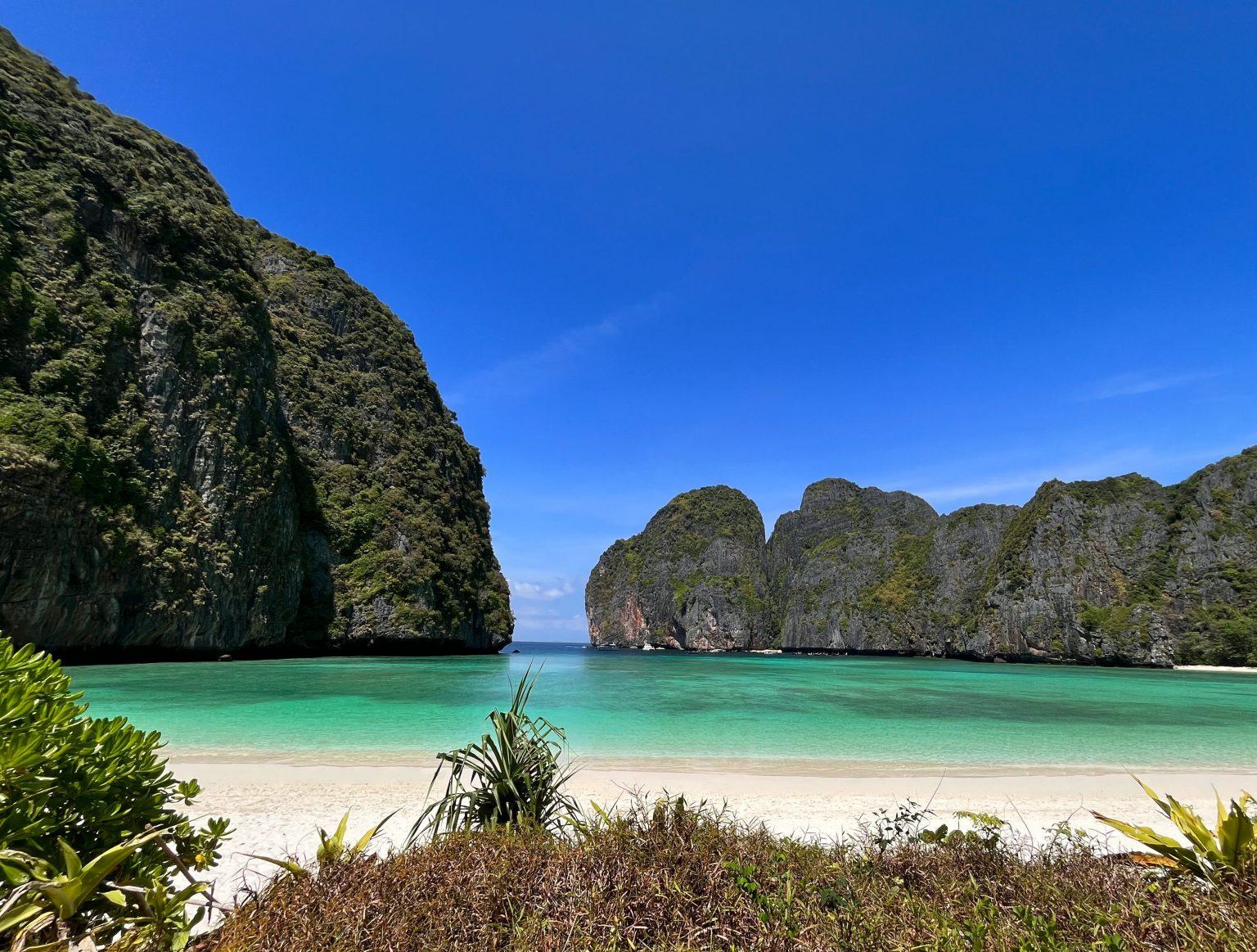 Imagine a tropical postcard in front of your eyes. What you see is a pristine white sandy beach, backed by lush green tropical forest, and in front of it, stretches of tranquil turquoise waters. This is exactly what Phi Phi Island looks like.
Here, there are two main islands: Phi Phi Don and Phi Phi Leh. Phi Phi Don is the larger one, hosting all the hotels, cafes, bars, and restaurants. Phi Phi Leh, on the other hand, lies just across from Phi Phi Don, uninhabited and smaller. You can only reach Phi Phi Leh through day trips.
ABOUT PHI PHI ISLAND
The first settlement on the previously unoccupied and undiscovered Phi Phi Island occurred in 1950, after it had remained vacant until the year 1945. People arrived from Phang Nga Bay to the north of the island. Individuals from Krabi and other regions established colonies here.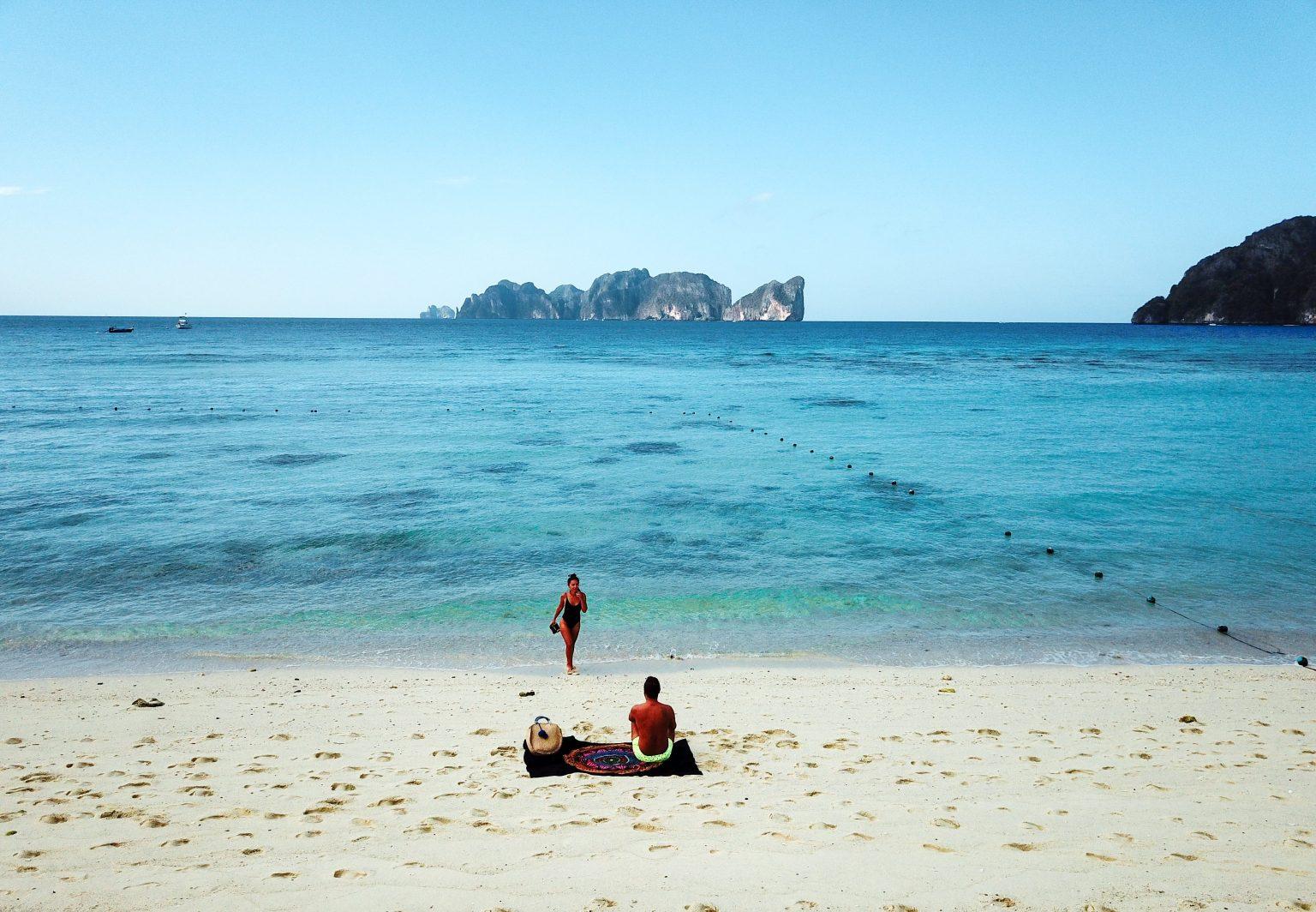 Currently, the majority of the island's population consists of Muslim fishermen. Before the influx of tourists to the island, the land was used for coconut plantations. However, with the discovery of the island and the gradual increase in visitors, coconut plantations have given way to restaurants and hotels.
While the term "Phi Phi Island" might evoke the notion of a single island, it actually refers to a group of six islands located off the southern coast of Thailand, under the jurisdiction of Krabi. The most renowned within this archipelago are Koh Phi Phi Don and Koh Phi Phi Leh. Koh Phi Phi Don is the larger of the two (28 km² – 8 km in length, 3.5 km in width) and hosts the majority of settlement, whereas Koh Phi Phi Leh, the smaller of the two, is a destination exclusively for day tours. Following Koh Phi Phi Don, the second largest island in the group is Koh Phi Phi Leh, known famously as the location where Leonardo DiCaprio starred in the movie "The Beach," which was filmed in 2000.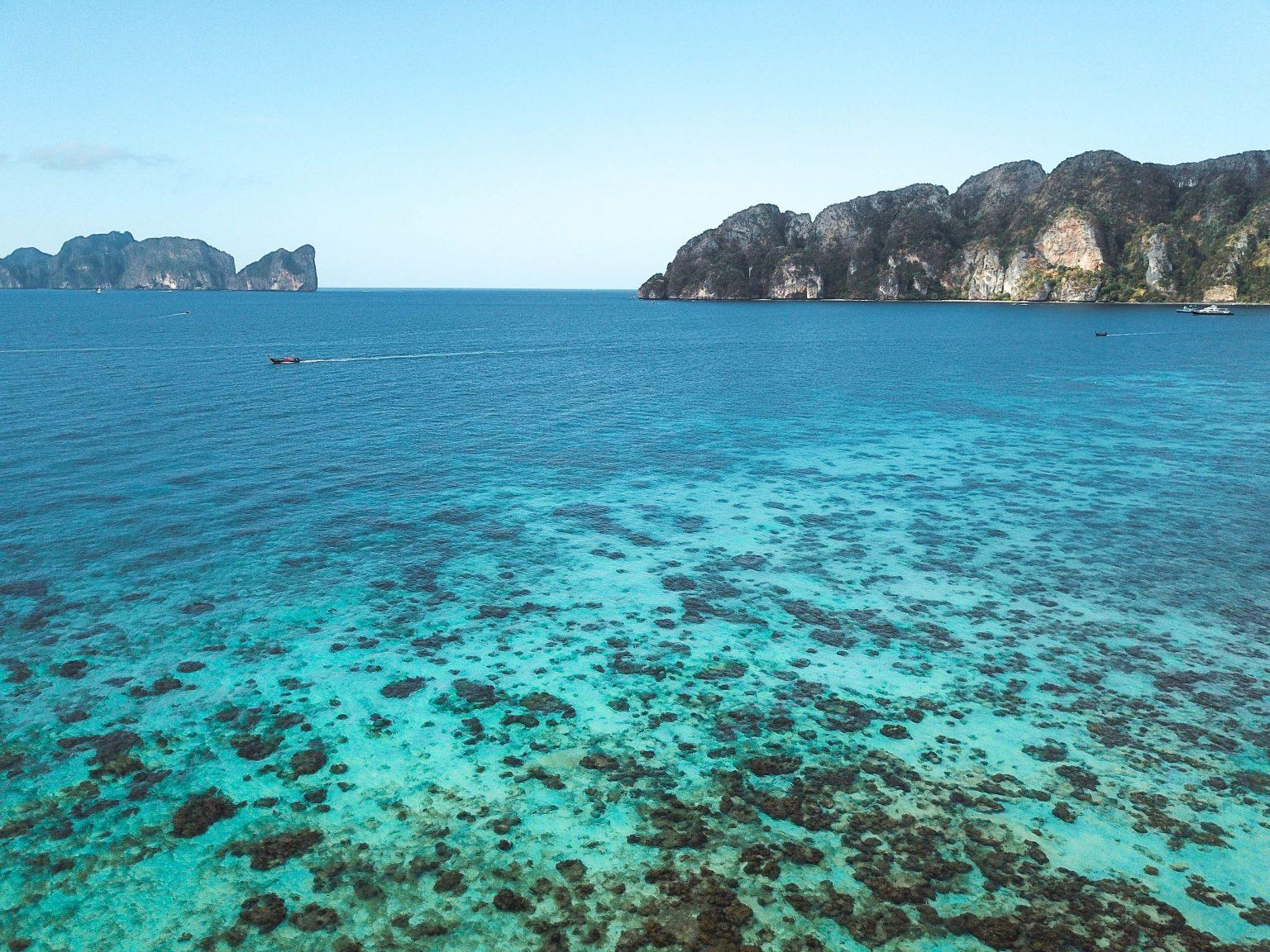 On December 26, 2004, the Indian Ocean Tsunami struck, leading to the devastation of Koh Phi Phi Don Island. Both of the island's bays succumbed to the force of the water, resulting in the loss of thousands of lives, and around 70% of the structures on the island were destroyed. Following the tsunami, with aid pouring in from all corners of the world, Phi Phi Island was rebuilt, and today, it stands as one of Thailand's most breathtaking islands.
The Phi Phi Islands, among the most stunning in Southeast Asia, have evolved over the years to attract visitors beyond those joining daily island tours. Increasingly, it has become a destination that draws visitors in, showcasing its allure day by day.
WHERE IS PHI PHI ISLAND & HOW TO GET TO PHI PHI ISLAND
The island, situated in the Andaman Sea, is located 45 km southwest of Phuket and 40 km southeast of Krabi.
The only way to reach the island is by taking boats from Phuket, Krabi, or Koh Lanta. Since Phi Phi does not have its own airport, if you're coming from Thailand's capital, Bangkok, the northern city of Chiang Mai, or any other city, you should fly to either Phuket Airport or Krabi Airport. After arriving at Phuket or Krabi, you can proceed to the harbor and board boats from there.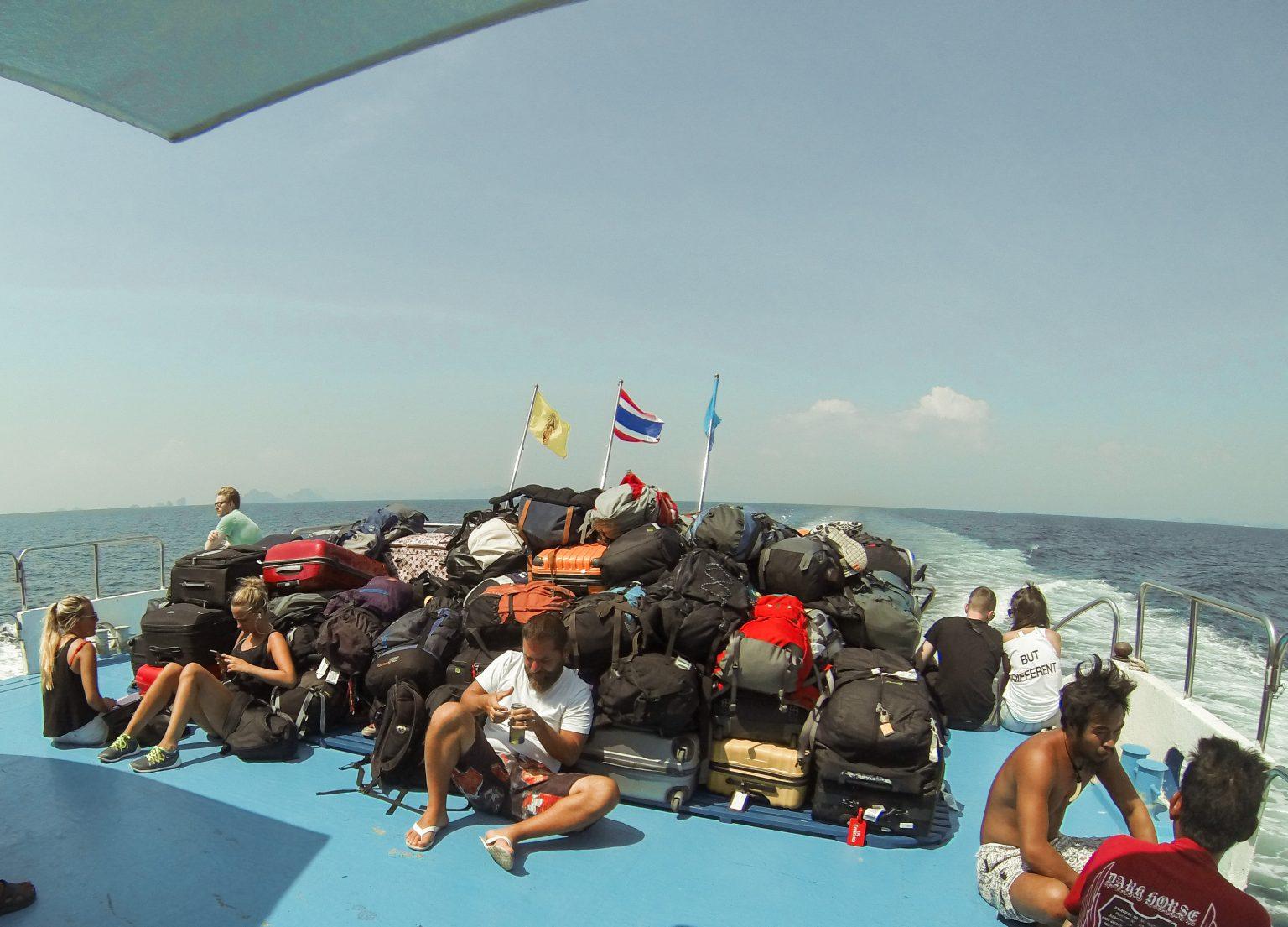 The safest online platform to purchase ferry or speedboat tickets is 12go.Asia. Without any hesitation, you can visit the provided link, select your route and date, and acquire your tickets through online payment. With 12go.Asia, you can not only purchase ferry tickets but also opt for combined bus+ferry/speedboat tickets if desired.
While ferry journeys take 2 hours, speedboats take around 45 minutes. There's a difference in cost between the two options. If time is not a constraint, you might prefer the more budget-friendly ferry journey.
Upon arrival at the island, you will be asked to pay a fee of 20 THB at the pier. This fee contributes to the island's cleanliness and is a nominal amount. Everyone is required to pay this landing fee.
HOW TO GET AROUND THE PHI PHI ISLAND
There are no motorcycles or vehicles on Phi Phi Island. You can get around on foot or by using local boats called "longtail" boats. The island is quite small, so you can walk to almost every place. Since there's no direct access to the beaches on the backside of the island, you can use local boats.
If you want to visit Maya Bay on a day tour, you'll also need to get these local boats. Another option is renting a canoe. You can rent a canoe to reach recommended beaches like Nui Beach and Monkey Beach.
BEST BEACHES IN PHI PHI ISLAND
Phi Phi Don Island boasts two main beaches. One is the Tonsai Beach, where boats and ferries dock, and the other is Loh Dalum Beach. Due to its shallow waters, boats cannot approach Loh Dalum Beach, making it one of the most pristine areas on the island. It remains untouched by the noise of crowds and boat engines, offering a serene escape for both residents and visitors.
Loh Dalum Beach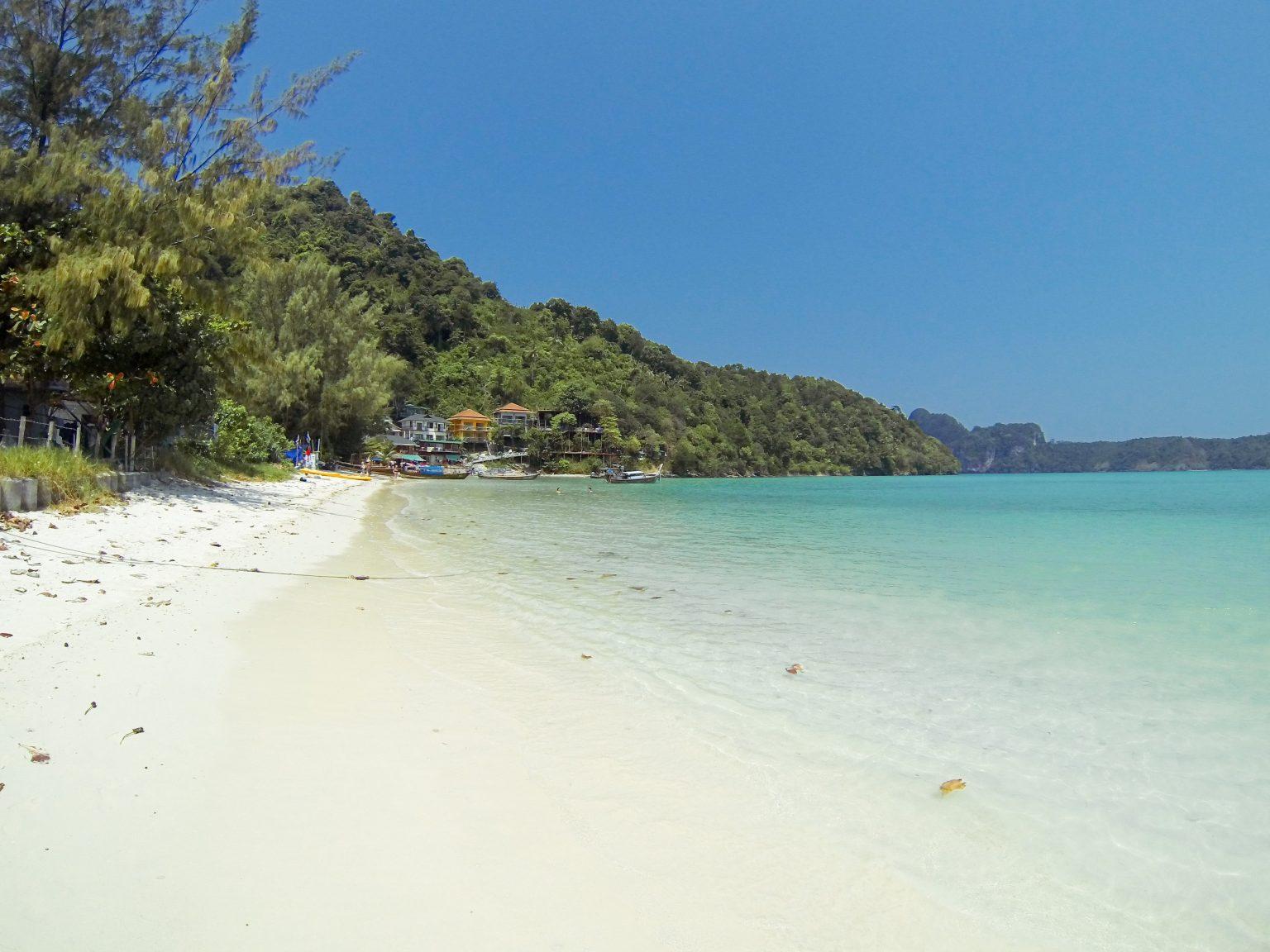 The best hours for swimming in the sea at Loh Dalum are between 11:00 AM and 3:00 PM. After 3:00 PM, Monkey Beach becomes another option for swimming. As walking to the beach located northwest of Loh Dalum is not feasible, you can rent a boat to reach Monkey Beach.
Laem Tong Beach 
Located on the northern part of the island, this is the most beautiful beach with crystal blue waters, accessible only by boats. It is situated directly across from Bamboo Island, so close that you might feel like you could swim there with just a few strokes.
Loh Bagao Bay
Stretching 800 meters in length, Loh Bagao is one of Phi Phi Island's longest beaches. If you're up for a challenging 3 km journey from Tonsai and don't mind the effort, you can get here without paying for transportation. However, keep in mind that the journey can be quite strenuous!
Long Beach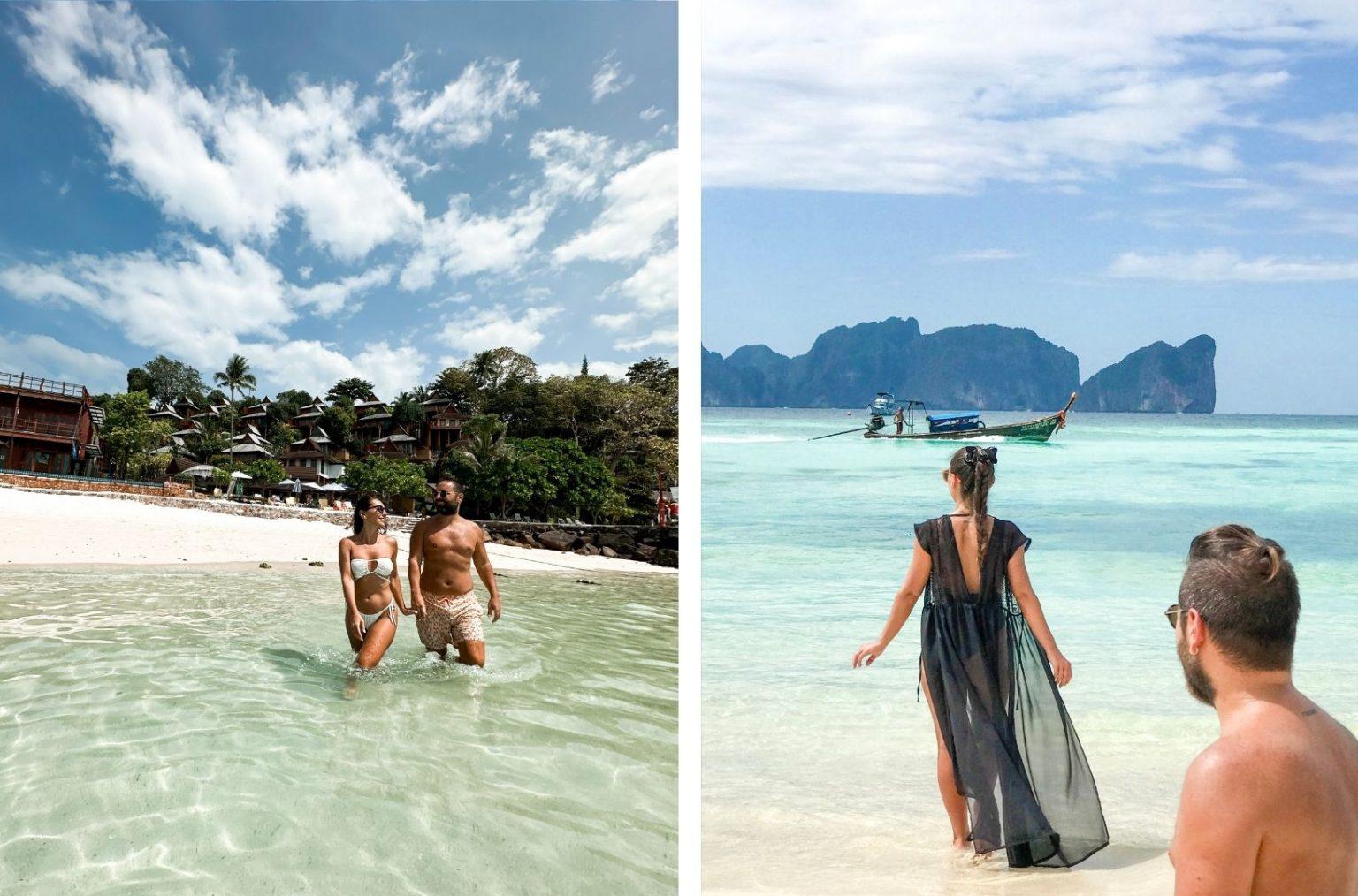 Lastly, there's Long Beach on the right side of Tonsai. You can reach Long Beach by walking from the center in about 50 minutes. Another option is to rent a longtail boat from the central pier for around 300 THB per person. If you choose to walk, you can also access the small and secluded Viking Beach along the way.
BEST THINGS TO DO PHI PHI ISLAND
Phi Phi Island, as mentioned, is indeed a tiny island, and naturally, it has limited places to explore. Since we recommend staying a maximum of 3 days on Phi Phi Island, we've compiled a detailed list of all the places to see for your convenience.
MAYA BAY
One of the most beautiful activities to enjoy on Phi Phi Island is taking a tour to Maya Bay. You can book this tour through agencies in the center or opt for a more personalized experience by renting a private longtail boat. If you're curious about our opinion, we recommend renting a longtail boat.
During our visits to Phi Phi, we always choose to stay at Long Beach. The small stands on the beachfront of our hotel offer private boat rental and water sports services. By purchasing a private tour of 3-4 hours for around 3000 THB, you can avoid crowded tours and have a much more comfortable experience while exploring the area.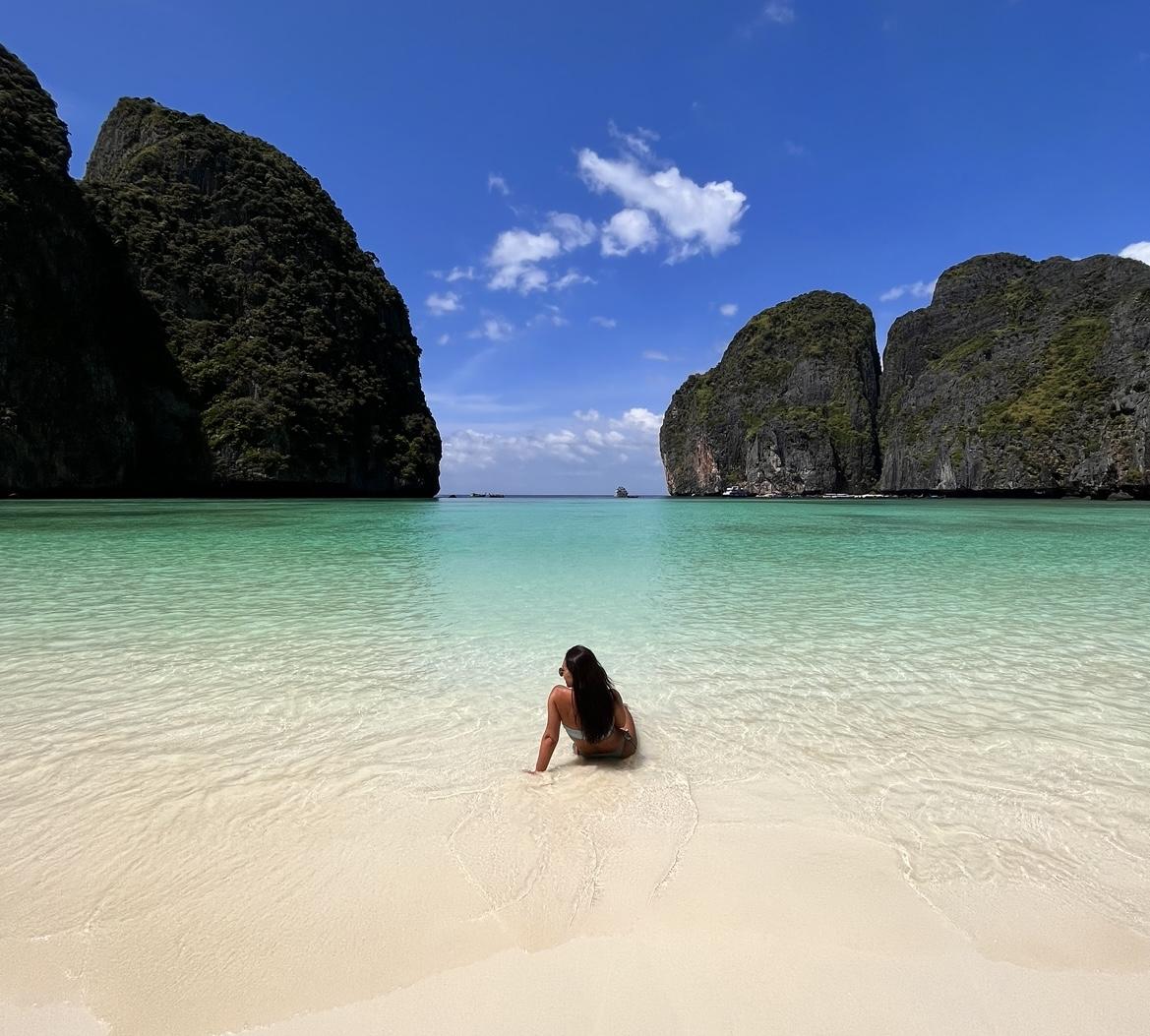 Before going on a Maya Bay tour, there's one crucial piece of information you should be aware of: you need to start the tour at 7:00 AM. If you start later, your experience might be marred by the crowds from daily tours coming from Phi Phi, Krabi, and Phuket.
In 2018, Maya Bay was closed to tourism to protect its coral reefs and wildlife. Following this period of natural rehabilitation, it reopened on August 1, 2022. Before the closure, boats could enter Maya Bay itself. However, after the rehabilitation process, a pier was built behind Maya Bay. Now, all boats anchor there, and visitors can reach Maya Bay's backside by walking approximately 5-10 minutes from the pier.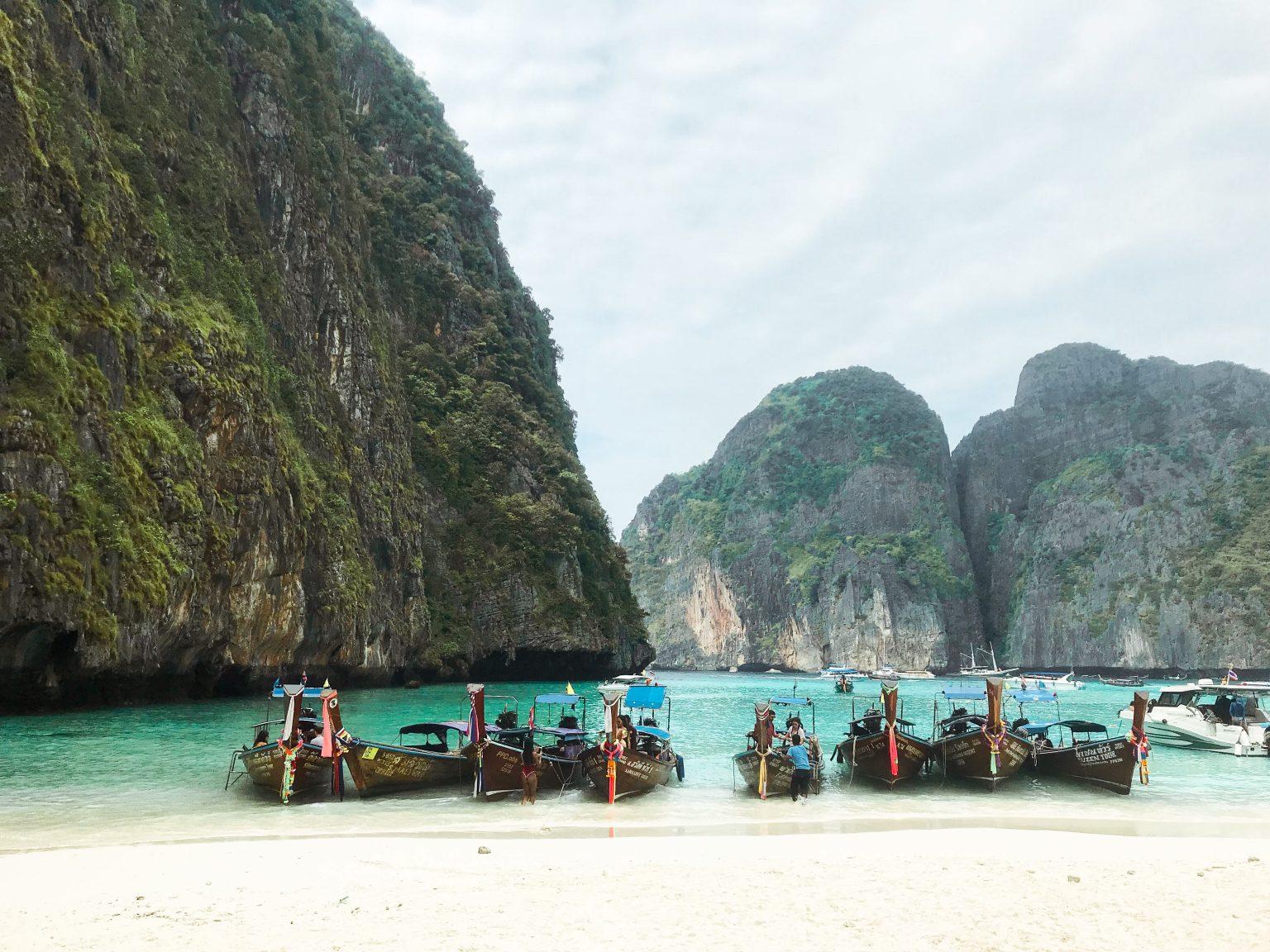 After arriving Maya Bay, it's a recent practice to remove shoes and sandals before stepping onto the beach. One of the strictest rules now is that swimming is not allowed at Maya Bay. The only permission granted is to walk into the water up to knee level and take photographs.
If you're taking a boat tour, aside from Maya Bay, other places you'll visit include Pi Leh Lagoon, Viking Cave, Monkey Beach, Loh Samah, and Palong Bays.
Pi Leh Lagoon is our personal favorite after Maya Bay. The color of the lagoon and its resemblance to the Big Lagoon in El Nido, Philippines, make it one of the most stunning places. Remember, if you come later in the day or miss the early morning hours, you might not be able to swim from the boats into the lagoon.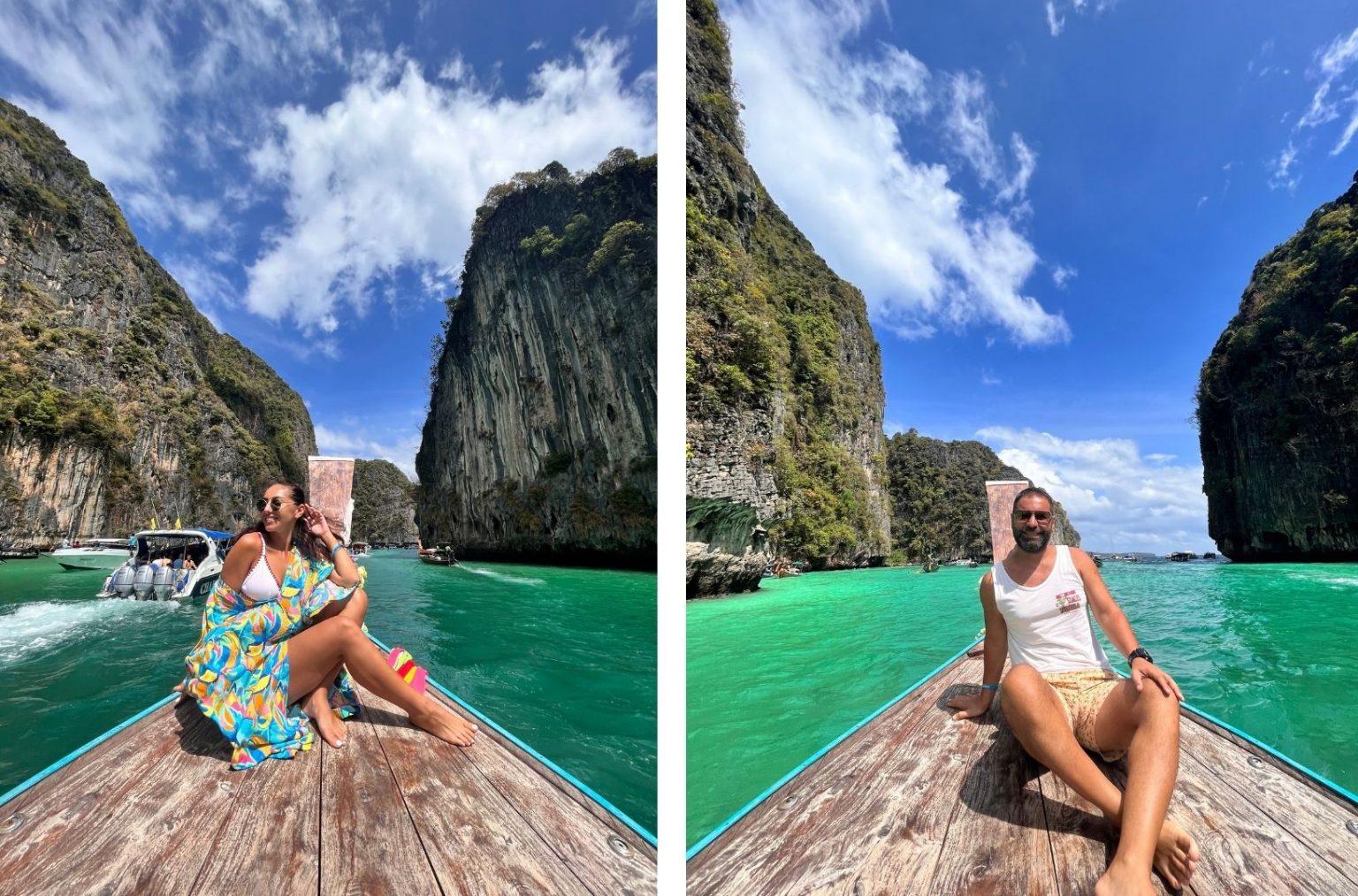 Monkey Island, a 150-meter-long strip of shoreline, is located 700 meters from Tonsai Bay. It's important not to confuse this with Monkey Bay, which can only be accessed by boat.
Monkey Bay is inhabited by wild monkeys, making it less suitable for spending the entire day swimming. Moreover, due to the thieving nature of all the monkeys on the island, if you go into the water and come back, you might find that your belongings left on the beach have disappeared completely.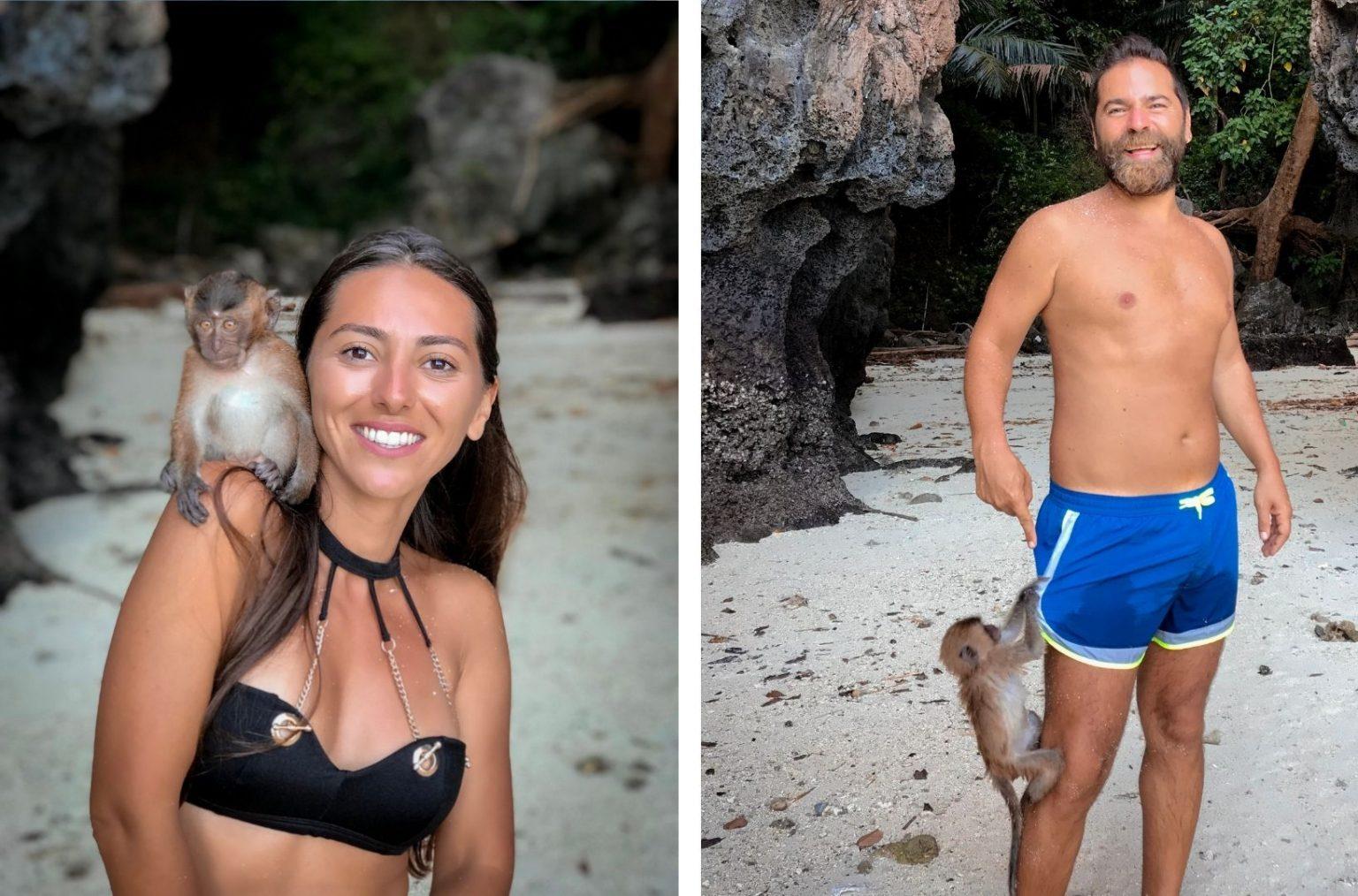 Viking Cave is a cavern where swiftlets build their nests using their saliva. These nests are then collected and sold. Swiftlet nest soup is considered one of the most expensive foods globally. The soup was created by a Siamese (Thai) individual named Hao Yieng in 1750. Today, a kilogram of these nests can be sold for anywhere between 2,000 to 10,000 USD. During the tour, you'll only pass by the entrance of Viking Cave. If you go on a guided tour, your guide will provide you with this information.
BAMBOO ISLAND
Bamboo Island (Koh Phai) is situated 5 km northeast of Phi Phi Don Island. Decorated with bamboo trees, this palm-sized island features the most beautiful spot for swimming in the region. Combining a trip to Bamboo Island with a Maya Bay tour is possible.
Instead of a 4-hour boat tour, you can rent a full-day boat charter. However, our suggestion is to either visit early in the morning or in the late afternoon to avoid the crowds. Therefore, it's advisable to plan a separate visit to Bamboo Island on a different day, rather than incorporating it into your Maya Bay tour.
CLIMB TO THE PHI PHI VIEWPOINT
Another must-do activity on Phi Phi Island is to climb to the viewpoint and witness the breathtaking panoramic view of Phi Phi. There are a total of 3 viewpoints. The entrance fee for viewpoint 1 and 2 is 30 THB, while viewpoint 3's entrance fee is 20 THB. Once you reach viewpoint 1, spend some time there but then continue on to the higher viewpoints without lingering for too long.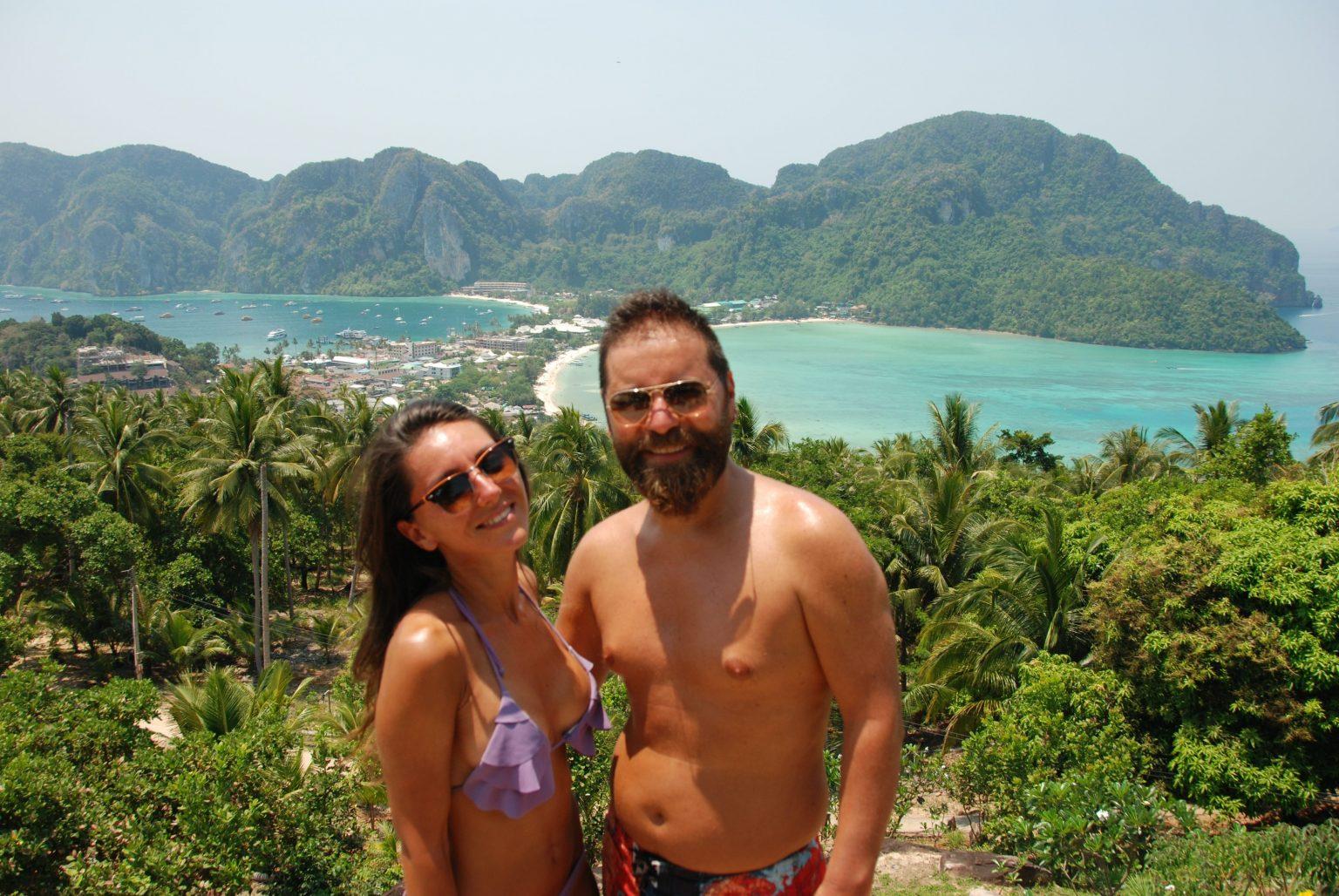 From here, it's just a 5-minute walk to reach viewpoint 2. The trails to both viewpoints aren't demanding, and you can even sit at the nearby bar and enjoy a drink with the stunning panorama in front of you. The wooden platform just below the tree offers a view of Tonsai and Loh Dalum beaches from the same angle. It takes about 10 minutes to reach viewpoint 3 from here, and you can easily find it by following the signs. Being the highest point, it not only provides a view of Tonsai and Loh Dalum but also treats you with a bonus view of Bamboo Island and Phi Phi Leh Island.
SCUBA DIVING
Phi Phi Island is one of the preferred destinations in Thailand for scuba diving. Thanks to its rich underwater biodiversity and diverse coral species, it offers an enchanting underwater journey. The island's surrounding waters host exceptional diving spots like Shark Point, King Cruiser Wreck, and Anemone Reef.
The best months for scuba diving are from January to April. During this period, there is minimal rainfall, and the underwater visibility is exceptional. This clear visibility enhances your diving experience, making it even more enjoyable. If you're hesitant about scuba diving, another option is snorkeling. The best snorkeling spots on the island are Ao Toh Ko and Phak Nam Bay.
ROCK CLIMBING
If you're an adrenaline enthusiast, a highly recommended activity for you would be rock climbing. The presence of tall limestone cliffs makes Phi Phi Island an ideal destination for rock climbing. Climbers first started coming here in 1980, and they've since opened up new routes on these cliffs.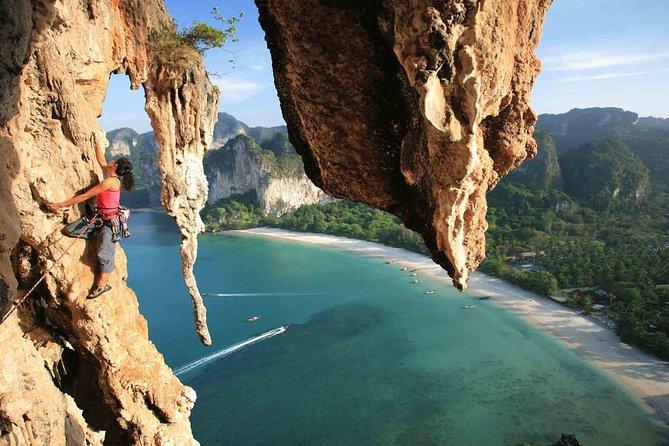 You can go rock climbing at several places on Phi Phi Island. Here are some popular spots:
Ao Pilay Wall, Ao Ling Wall, Hin Tak, Tonsai Wall, Tiger Wall, Eagle Wall, Cobra Wall, Hua Ling Wall.
It's important to note that while rock climbing can be an exhilarating activity, it also requires proper equipment, training, and safety precautions. If you're not an experienced climber, consider hiring a guide or joining a guided climbing tour to ensure your safety.
PHI PHI NIGHTLIFE
Phi Phi Island's atmosphere is the kind that will entertain everyone. From daytime activities to nighttime entertainment, this tropical island has something to meet your expectations. Known for its beach parties, Phi Phi Island offers a vibrant nightlife, with all the entertainment venues located along Loh Dalum Beach. There are also cafes and pubs in the Tonsai center, but the real nightlife happens at the beachfront bars.
Another popular nighttime activity on the island is fire shows. These shows take place in front of the bars along Loh Dalum Beach every evening. After the professional fire show, fire games commence, and you can even join in by passing through the fire or jumping over fire ropes.
WHERE TO STAY IN PHI PHI ISLAND
Visitors to the island are mostly young backpackers. It's not a recommended destination for luxury-seeking travelers. In fact, what we're suggesting isn't solely related to accommodation. While there are luxury hotels on the island, stepping outside your hotel, you can't avoid immersing yourself in the bohemian ambiance of the island. There are no luxury restaurants, nightclubs, or beach clubs.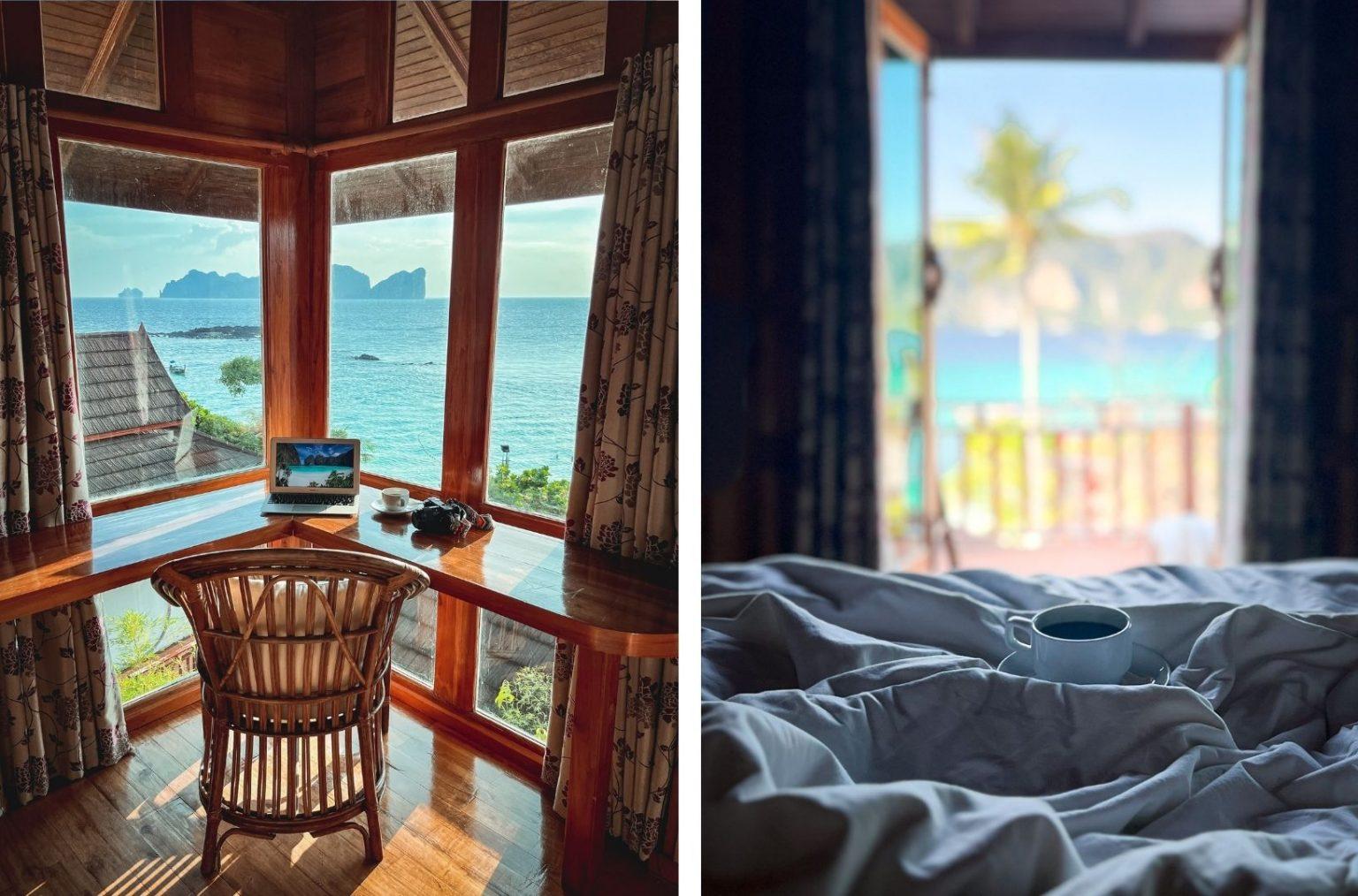 Long Beach: For those planning to stay at Long Beach, our recommendation is Phi Phi The Beach Resort and Paradise Beach Resort. Prioritize Phi Phi The Beach Resort. Paradise Beach Resort is a comparatively lower-class hotel with fewer amenities, yet it's more expensive. However, if you can't find availability at Phi Phi The Beach Resort, you might consider staying in the beachfront rooms of Paradise Beach Resort.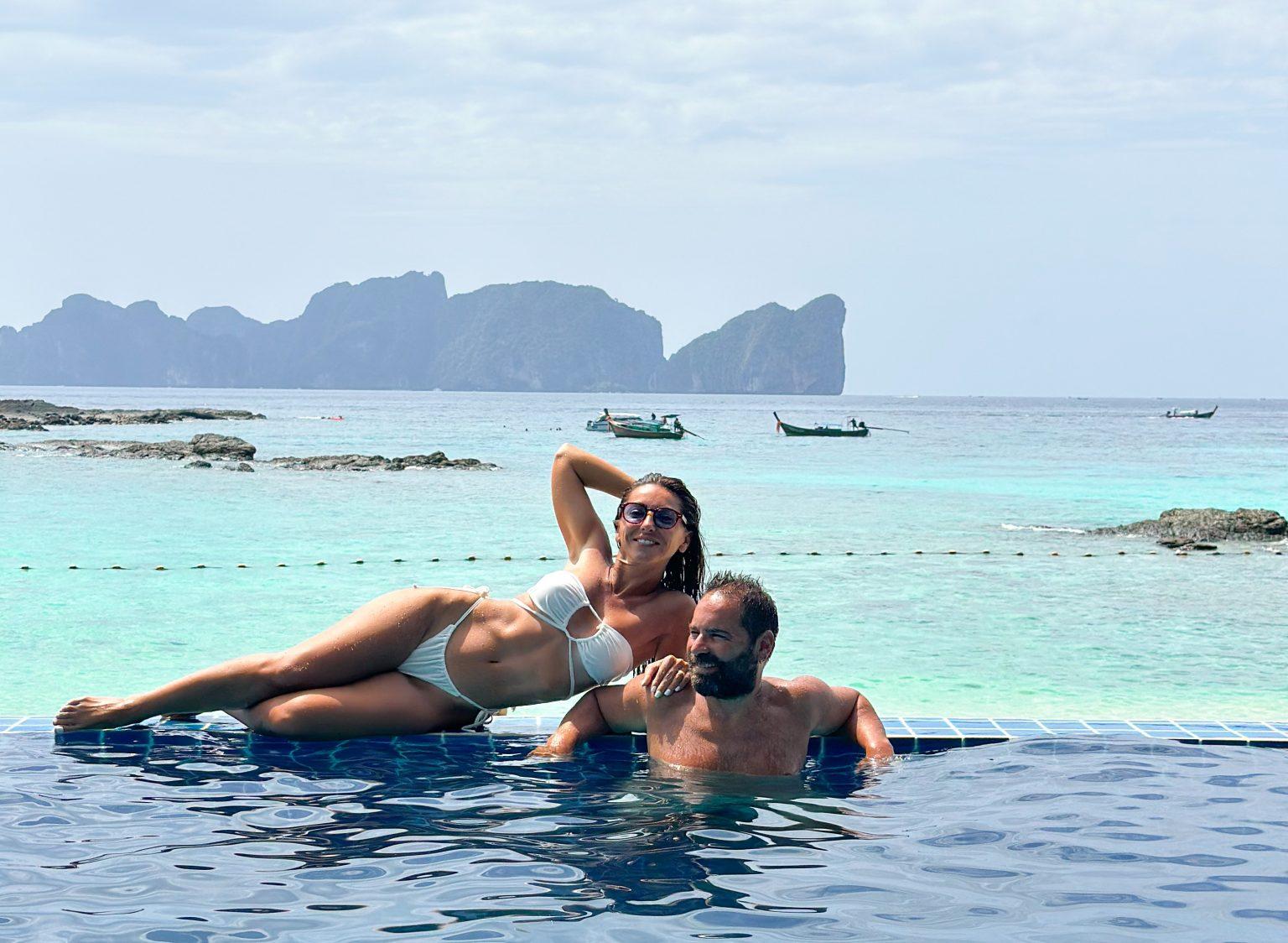 Ton Sai Beach: Chao Koh Phi Phi Hotel and Resort ($$$), Mama Beach Residence ($$)
Loh Dalum: For those staying at Loh Dalum Beach, we recommend Phi Phi Coco Beach Resort ($$$) and Ibiza House ($$) (don't miss this if you're into parties)
Loh Bagao Beach: SAii Phi Phi Island Village ($$$)
Laem Thong Beach: Zeavola Resort ($$$)
Our recommendations: Phi Phi The Beach Resort, Zeavola, Holiday Inn Resort, Phi Phi The Beach Resort
BEST TIME TO GO PHI PHI ISLAND
Phi Phi Island experiences a tropical monsoon climate, with temperatures ranging from 24°C to 32°C throughout the year. The best time to visit the island is from November to March. The hottest months are from March to mid-May. The rainiest period is from May to October.
November to February is the coolest time, characterized by dry weather and moderate temperatures. This is actually the most suitable but also the most expensive time to visit the island.
THESE MIGHT ALSO INTEREST YOU
Railay Travel Guide