Neslihan Ozturk Ozkaya
Traveler - Blogger
Orkun Ozkaya
Traveler - Blogger
One of us resided on the European side of Istanbul, while the other lived on the Anatolian side. During the years we were dating, we didn't just shuttle between the two sides of Istanbul; we also had the chance to visit many cities in Turkey. After a few years, we decided to get married, which made our trips more frequent and longer in duration. Fueled by comments we often heard from our social circle, such as "Are you not at home again? You can't sit still," we embraced our motto of "Exploring the unexplored, seeing the unseen," and found ourselves spending two-thirds of the year away from home.
Sometimes, we were in India, witnessing cremations; sometimes, we were shedding tears for Cambodia's tragic history, and other times, we were running into the sea from pristine white beaches on tropical islands. We met wonderful people, made friends from all corners of the world, and created a treasure trove of memories. But most importantly, we were writing our own life story.
Yes, it's true that we made a radical decision to leave our jobs, but we had been living with the dream of these days for years and made plans accordingly. For 15 years, Orkun had been chasing sales in the private sector, wearing a tie around his neck, while Neslihan practiced law. The challenges of corporate life, the desire to avoid spending a lifetime writing reports and being held accountable, and a rebellion against what could be called modern slavery – whatever you call it, it led us to change our lifestyle, and it was for the better. There were no guarantees; we could have stumbled badly, and returning would have been difficult. Moreover, we could have experienced the depression of starting over. Thankfully, what we feared did not happen. Orkun now works for himself, doing sales work that he used to do for others. Instead of a shirt and tie, he goes to business meetings in shorts and flip-flops. Neslihan practices law in her spare time, although she doesn't have much of it.
Since its inception, Gezgin Çift has grown and evolved, and now, it's looking after us. As you may know, we have been organizing travel tours for a while now, but with the unique touch of Gezgin Çift. We couldn't remain indifferent to the calls from you over the years, shouting, "Take us with you wherever you're going!" We now go to places we have personally explored and approved, places we are sure will make you very happy, and we have a blast exploring and having fun together.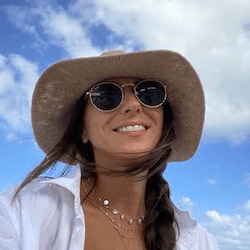 Hi! I'm
Neslihan Ozturk Ozkaya
I am the Editorial Director and Tour Planner of the Gezgin Çift team. My primary profession is law. In 2014, when we decided to travel full-time, I closed my law office and started traveling with Orkun. I'm the one behind all our travel itineraries. All the planning, writing of post-travel content, and organizing tours, if any, are my responsibilities.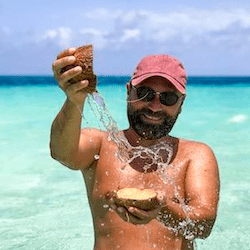 I used to dream about retirement at the age of 40. In Turkish, there's a saying that goes, "If you wish for something 40 times, it will come true." Well, that dream of mine came true when I turned 40 by resigning from my professional life. I still make merciless jabs at the professional world while traveling. So, what do I do for Gezgin Çift? Of course, I'm not just lounging around. I'm the Marketing Director. I write the storytelling part of the articles, take on the leading role in the videos, and handle the backend during tours. But, of course, my most important and primary role is that of Instagram General Manager. Those quirky captions and posts come straight from my pen.