Our travel route in Thailand includes Koh Samet and Koh Chang islands, and next on our list is Koh Kood island. Koh Kood, the most beautiful and pristine island in Thailand with its stunning sea, left the greatest impression on us. We have detailed information on accommodation, dining, places to visit, and transportation to Koh Kood island.
Koh Kood island is the second largest in the Koh Chang archipelago and the fourth largest in Thailand. Located 80 km from the city of Trat, it is the farthest island from the mainland. The island's geographical features are similar to Koh Chang as it is mountainous and covered with rainforests, accounting for 70% of its land. The highest peak on the island is Khao Phaentee in the southwest, with an elevation of 315 meters.
The island combines enchanting beauty, crystal-clear waters, untouched beaches, and breathtaking waterfalls in perfect harmony. We consider it an ideal honeymoon destination, where couples can truly relax and enjoy their time together without the distractions of a family-friendly environment.
Koh Kood Travel Tips
How To Get Koh Kood Island
To reach Koh Kood island, you first need to arrive in the city of Trat. You can get to Trat from the country's capital, Bangkok, either by air or by road. The quickest way to travel is by plane. Once you have arrived in Trat, you can proceed to Laem Sok pier and from there, it's possible to reach Koh Kood by ferry or speedboat. More detailed transportation information can be found at the end of the article.
You can click here to find plane tickets to Koh Kood island, and click here to find bus tickets.
---
When is the best time to visit Koh Kood island
The temperature on Koh Kood island remains constant throughout the year, with only the humidity levels being higher during the rainy season. There are two main seasons for Koh Kood: the low season, which is the rainy period, and the high season, which is the dry period. The hottest months on the island are March, April, and May during the high season.
---
Rent Motorbike in Koh Kood
The best and economical way to explore Koh Kood is by renting a scooter. You can rent a scooter for approximately 250-300 baht per day on Koh Kood. Renting a motorbike is the most convenient option for getting from one place to another. Taxis are not only more expensive but also limit your freedom of movement.
---
Money
The currency of the country is Thai Baht. 1 USD equals 35.63 THB. This is the exchange rate for 2023. You can verify the current rate on the XE website. There are ATMs on the island. Our recommendation is to convert your currency to Thai Baht on the mainland before coming to the island and bring cash with you.
Koh Kood Beaches
1.Ao Tapao Beach
2.Klong Chao Beach
3.Ngam Kho Beach
4.Bang Bao Beach
5.Ao Takian Beach
6.Ao Khlong Hin
7.Ban Ao Jak
8.Ao Phrao Beach
Koh Kood Island is a perfect honeymoon destination for us. Since there aren't too many activities to do on the island, the best option is to take a dip in its numerous beaches and savor the taste of a tropical vacation. Believe me, there are so many beaches to choose from that you won't have a hard time deciding which one to pick.
1.Ao Tapao Beach
One of the longest and finest beaches on Koh Kood Island is located in the same area as the Sapan Namleuk pier. This beach boasts a pristine stretch of white sand extending over 1 km and is accompanied by crystal-clear turquoise waters. Facing directly west, it offers spectacular sunsets over the Gulf of Thailand. Along this beach, you can find some charming rustic bungalow accommodations like Koh Kood Cabana Resort, Medee Resort, and See Far Resort.
2.Klong Chao Beach/Hat Khlong Chao
It is the central and most popular beach on the island. The beach is 800 meters long and there are no markets or similar shops. It is an ideal beach for enjoying the sea and sun in clear waters and soft white sand.
The beach is home to four luxury resorts: Wendy The Pool Resort, TinkerBell Privacy Resort, High Season Pool Villa, and Peter Pan Resort. You can reach the Ban Klong Chao area, which is the center of Koh Kood Island, by a 5-minute walk from the beach. Here, you can find affordable dining options and also budget-friendly accommodation.
3.Ao Ngam Kho
Ngamkho Bay is a bay located on the western coast of the island and is definitely a must-visit, even a must-swim spot.
4.Bang Bao Beach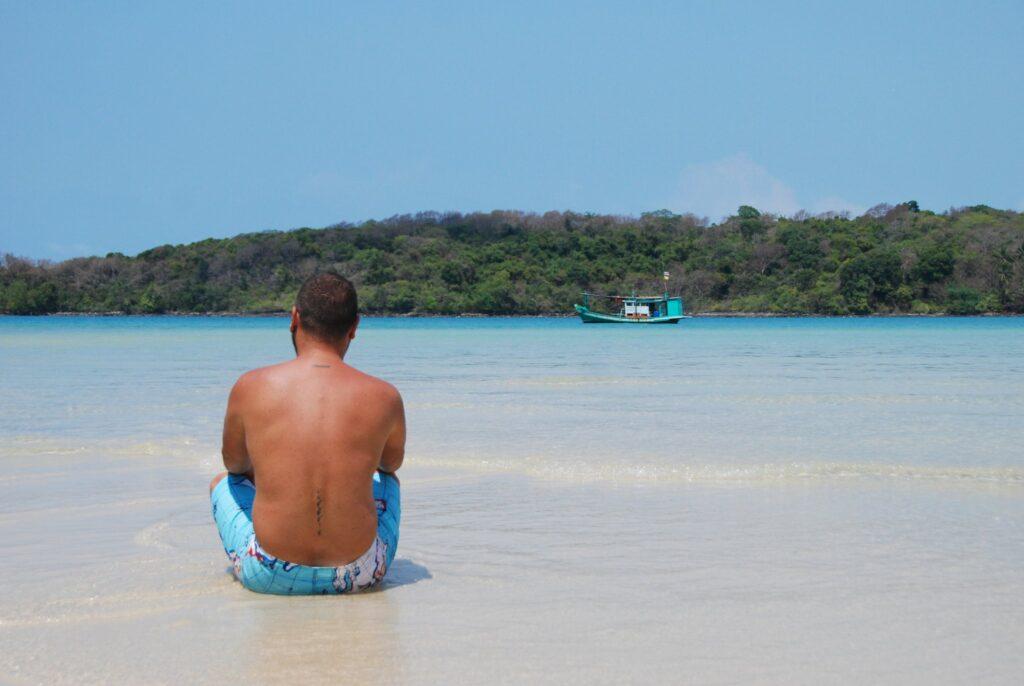 This is the most renowned area of the island. You can take a swim in front of Siam Beach Resort. Located in the southwest of the island, it boasts a 400-meter-long stretch of pristine white sand, making it an ideal beach for swimming. The surrounding hills act as a natural defense wall for the beach, making it less windy, with warm and calm waters compared to other beaches on Koh Kood. It is also an excellent choice for families with children, as it lacks rocks and is one of the best areas for snorkeling.
5.Ao Takian Beach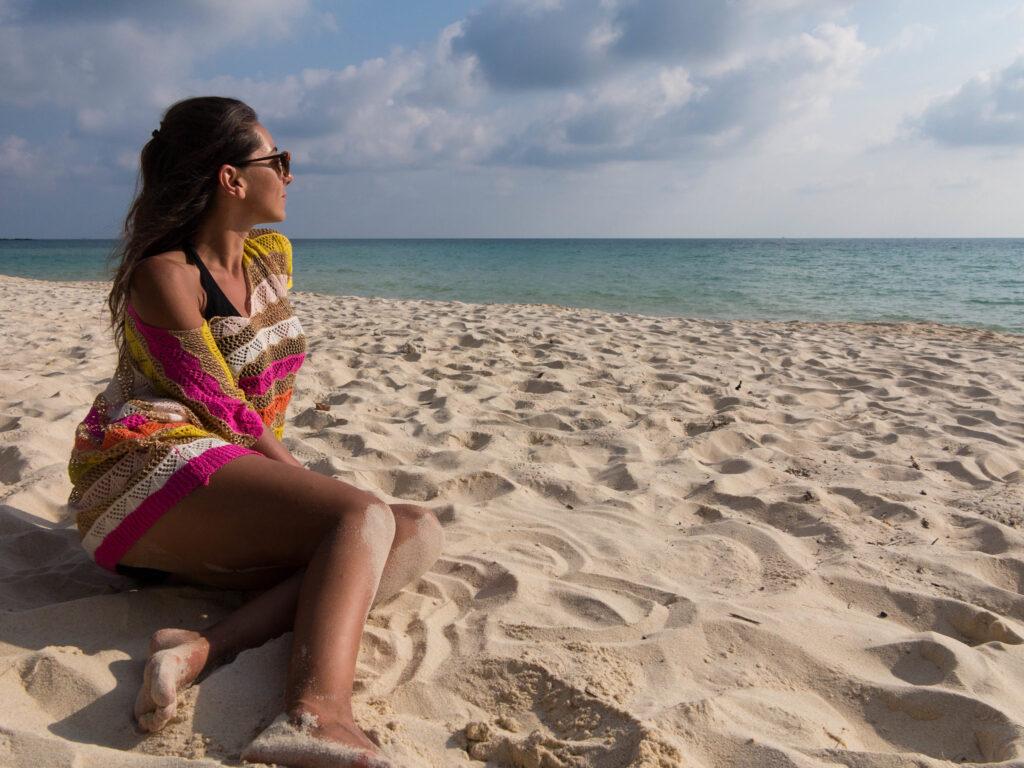 The western side of the beach, extending towards the rocky center, is more than 1200 meters long, while the eastern side is 750 meters long. It is the most beautiful sea we encountered on Koh Kood Island, located in the southwest.
6.Ao Khlong Hin Beach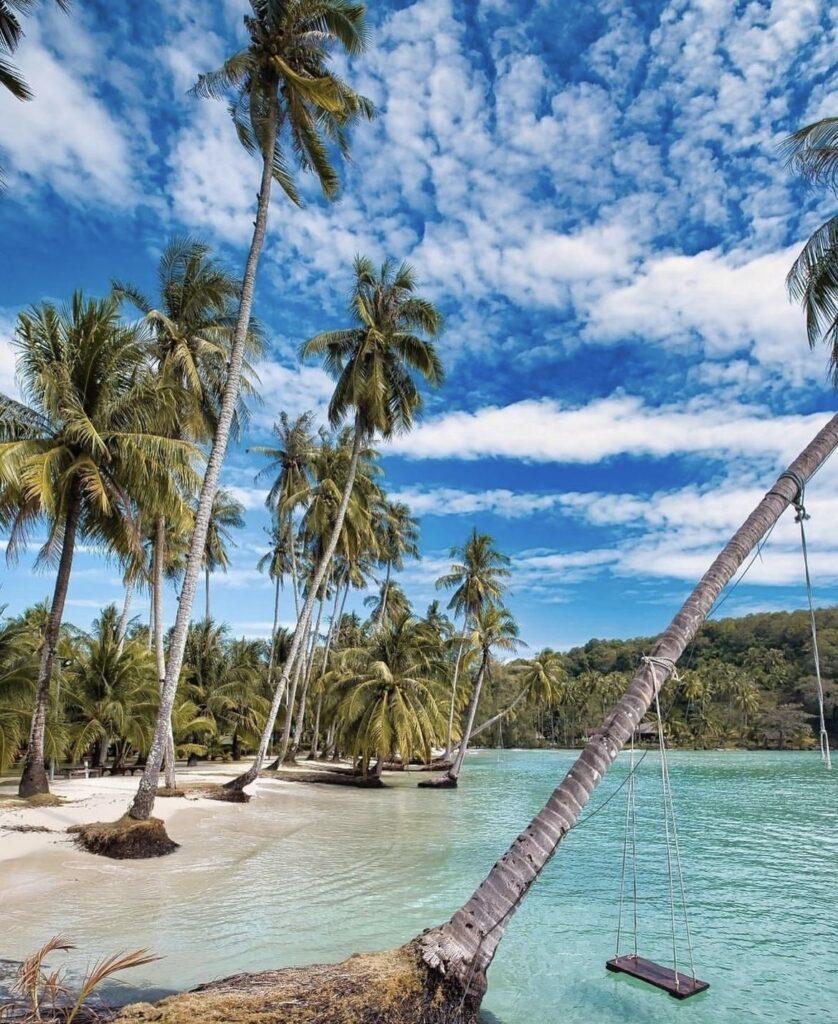 It is the most famous beach on the island in recent years. Taking a dip in the sea through the palm trees extending from within offers a unique experience. The color of the sea is neither turquoise nor green. We guarantee it is the most beautiful shade you will ever see between the two colors.
Khlong Hin Beach is located in the southwest of Koh Kood, just after Ao Phrao Beach. It is a relatively small beach with only a few rustic bungalow-style accommodation options. Apart from this accommodation, you won't find any other restaurants here. It's important to note that during low tide, the sea can recede quite far, so we recommend planning your visit according to the sea level.
7.Ban Ao Jak
The beach on the southwest of the island is 500 meters long, and there is only one resort along the beach.
8.Ao Phrao Beach
Ao Phrao Beach is located on the southernmost tip of the western coast of Koh Kood. Beyond this point, the island is largely inaccessible, covered with dense forests and rocky shores. With a length of approximately 1 km, Ao Prao is the longest and most beautiful beach on the island, hosting five hotels. At the northern end of the beach, there is a small fishing village along the canal, where you can find some restaurants.
Things To Do in Koh Kood
To be honest, there aren't extensive lists of activities to do on Koh Kood Island. One highly recommended activity on the island is visiting the waterfall. This allows you to go trekking through pristine, untouched forests. Afterward, you can cool off in the pool of the waterfall, which is a perfect way to refresh after the hike.
Ao Salat (Salad) Gpyse Village
Ao Salat is a small sea gypsy village located on the eastern coast of Koh Kood Island. This village is home to a mix of both Thai and Cambodian settlers. Visiting Ao Salat offers a real glimpse into Thailand's traditional Sea Gypsy way of life.
Ao Salat is constructed with raised wooden walkways over the ocean and stilt houses built on the sea. You can take an easy walk to meet the friendly local people in the village.
Go snorkeling!
You can either join snorkeling tours on the island or do it for free if you have your own masks. We recommend Khlong Hin Beach for snorkeling. If you want a more professional snorkeling experience to see more underwater creatures, you can purchase a diving tour to Koh Rang National Park.
Klong Chao Waterfall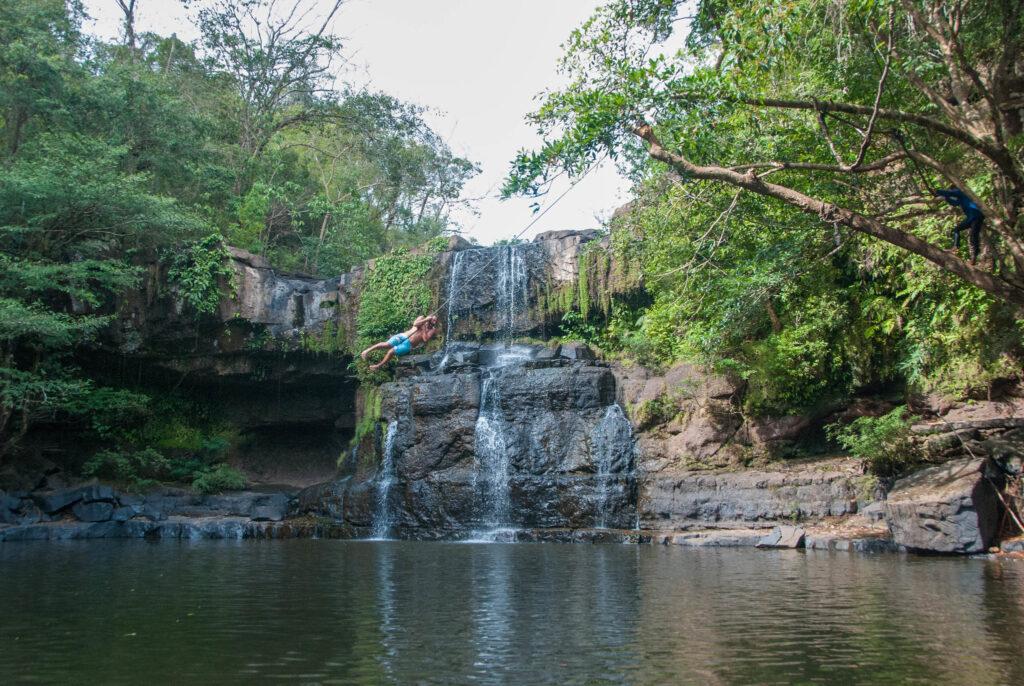 The most beautiful place to see on the island is Klong Chao Waterfall. If you're not staying on Koh Kood Island, you can also visit the waterfall with tour companies from Koh Chang and Koh Mak. While the waterfall may not have a very high drop, its natural pool and lush green surroundings make it a stunning and enjoyable place to spend time. After reaching the park entrance, you'll need to walk along an 800-meter jungle path to reach the waterfall. There is no entrance fee!
Klong Yai Kee
The waterfall known by its Thai name "Nam Tok Khlong Yai Ki" is smaller than Klong Chao Waterfall. Taking a short break from the sea and enjoying a swim here, surrounded by nature, can be a delightful experience. The best time to visit is between August and January. If you go during the dry season, you may not find flowing water.
Best Time to Visit Koh Kood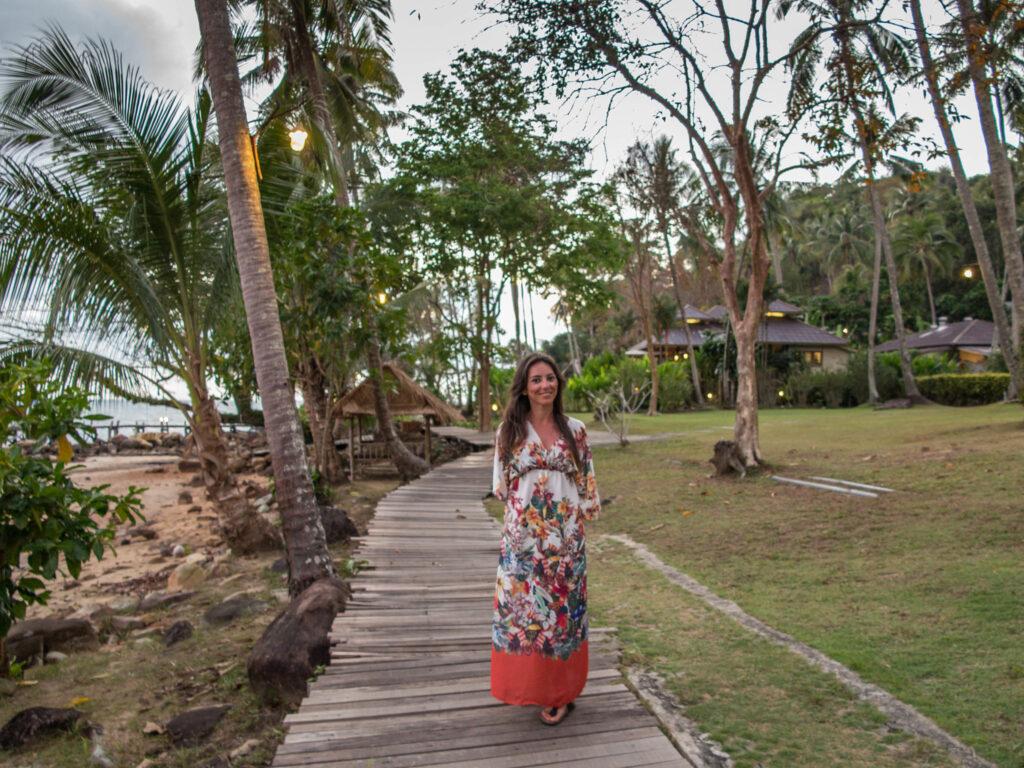 The temperature on Koh Kood Island remains fairly consistent throughout the year, with the main difference being the humidity during the rainy season. Koh Kood has two main seasons: the low season, which is the rainy season, and the high season, which is the dry season. The hottest months during the high season are March, April, and May.
High Season: November – May
Low Season: June – October
The driest period on Koh Kood Island is in December, while the wettest period is in September. This means that December is mostly rain-free, while September experiences more rainfall.
Even though June to October is the rainy season on Koh Kood, it's still a great island to visit year-round. The rainy season doesn't necessarily mean that it rains every day. However, if you prefer to avoid rain during your vacation, it's advisable to visit during other months.
Additionally, those planning to visit Koh Kood during the low season (June-October) should keep in mind that ferry services may not be as frequent as during the high season.
Best Places To Eat in Koh Kood
The island is surrounded by stunning bays and magnificent resorts, without the bustling markets, bazaars, and crowded streets found in more well-known destinations like Phuket and Koh Samui. Typically, you can enjoy your meals at the hotel where you're staying or at restaurants in the surrounding hotels or on some of the beaches. However, there are still dining options available outside of your hotel.
Kruua Mae Tuk
This restaurant is located within the Soneva Kiri hotel and serves dishes made from ingredients grown on Koh Chang Island and fresh daily catches from local fishermen. The restaurant is open every day except Wednesdays and Sundays.
The View
The View Restaurant is another restaurant within the Soneva Kiri hotel, offering a cuisine that combines Japanese and Peruvian flavors. You can visit the Soneva Kiri website for more information about both restaurants.
Noochy Seafood
Noochy Seafood has long been known as one of the most famous and best seafood restaurants on Koh Kood. This seafood paradise is located in the unique floating fishing village in Aow Yai. If you want to get up from your beach bed just to taste the most incredible seafood, you should definitely visit this place.
Heaven Sense
Known for offering the highest quality pizza and pasta experience you can find on Koh Kood, this place is famous for dishes prepared with fresh ingredients and even ingredients imported from Italy. While the prices may be a bit high, the portions are very generous. It's considered one of the most luxurious places on Koh Kood. The dishes offered here are absolutely top-notch in terms of taste and quality, making it a great opportunity to elevate your dining experience on Koh Kood.
Tawan Eko Bar
Despite being just a bar, it's an excellent place with coffee and live music. It has a charming and relaxed atmosphere that helps you forget all your worries. You can often spend evenings here enjoying a nice coffee or a beer along with the tunes of live music. It's a perfect place to wind down your day in a relaxing way.
Where To Stay in Koh Kood
Koh Kood Island offers accommodation options to suit every budget, with many hotels located right on the beach.
Soneva Kiri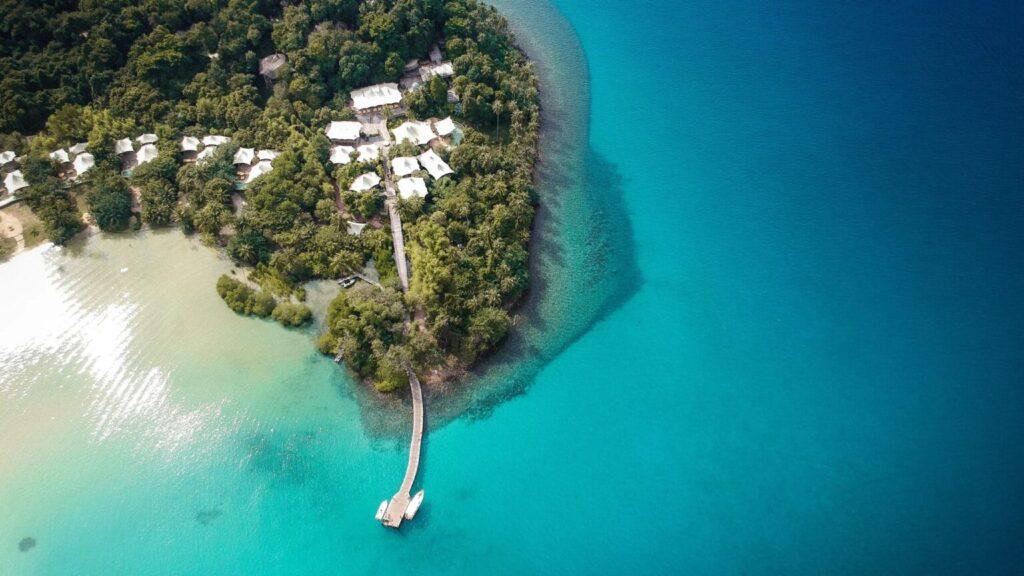 It's time to introduce a luxury facility that could rival even Koh Kood and all of Thailand: Soneva Kiri! This extraordinary resort is renowned for its awe-inspiring villas. With private pools, private beaches, and dream-like views, these villas make guests feel like they're in paradise. Furthermore, one of the enchanting features of this flawless resort is that it offers guests the opportunity to use their own electric golf carts.
The privileges at Soneva Kiri don't stop there. You'll encounter unlimited snacks in the resort's chocolate and ice cream rooms. This room is a literal candy paradise to satisfy your sweet cravings. It's also worth noting that this unique resort is a preferred destination for celebrities and stars. Famous names like Angelina Jolie and Brad Pitt have stayed here for a few nights, enchanted by the magic of this remarkable resort. Soneva Kiri is not just a vacation; it's a place where dreams come true.
Cham's House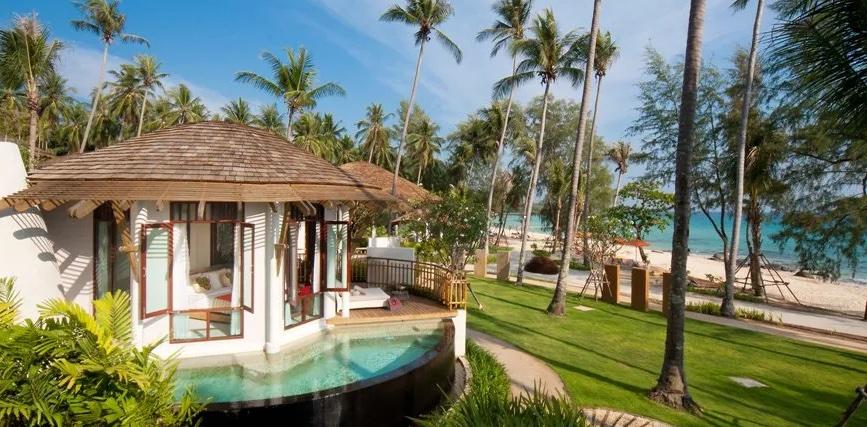 Cham's House is a dream-like hotel located on Thailand's oasis-like Koh Kood island, with 21 rooms and 32 villas. The hotel offers an atmosphere where your dreams will come true, with its crystal-clear sea and white sandy beach. Cham's House provides a unique experience with an extraordinary lighting concept. It represents an escape from the chaos of modern life.
Here, the creative use of light offers a physically and mentally soothing environment. Playing with dramatic and surprising design elements and high-quality natural materials between indoor and outdoor spaces, light transforms and shapes every area. This not only offers a vacation but also an opportunity to explore the magic of light.
Tolani Resort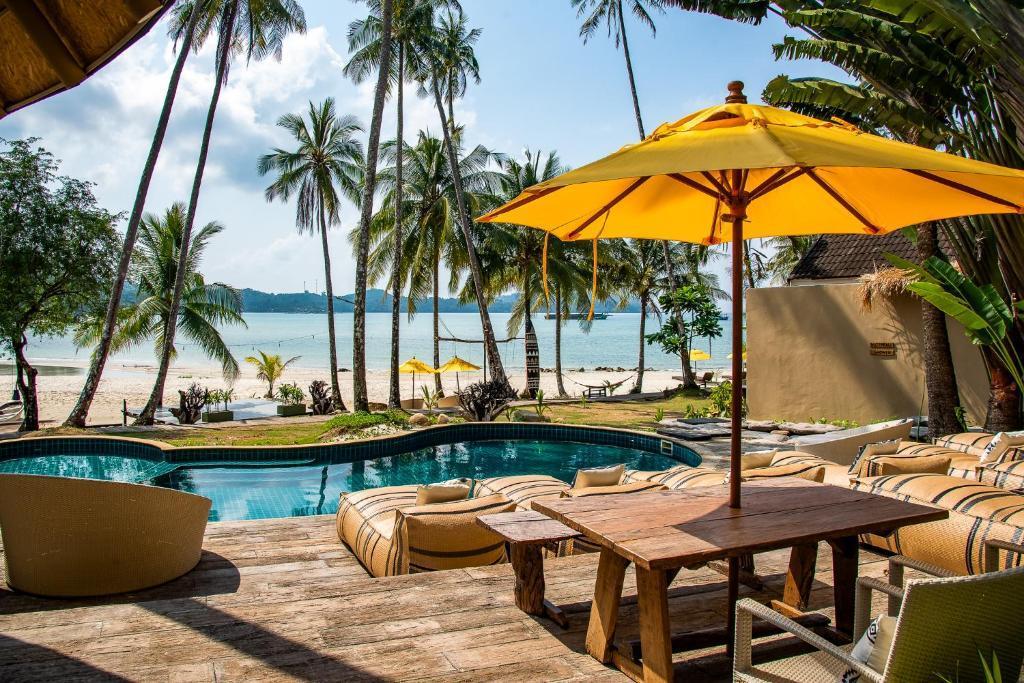 When people want to escape the monotony of daily life, they tend to dream of a lost paradise where they can relax comfortably. Now, there's no need to put in too much effort to imagine such a paradise-seeking journey. That's because there's a place like this on Thailand's Koh Kood Island. Tolani Koh Kood is a holiday destination that caters to the needs of those seeking peace and tranquility.
Koh Kood Resort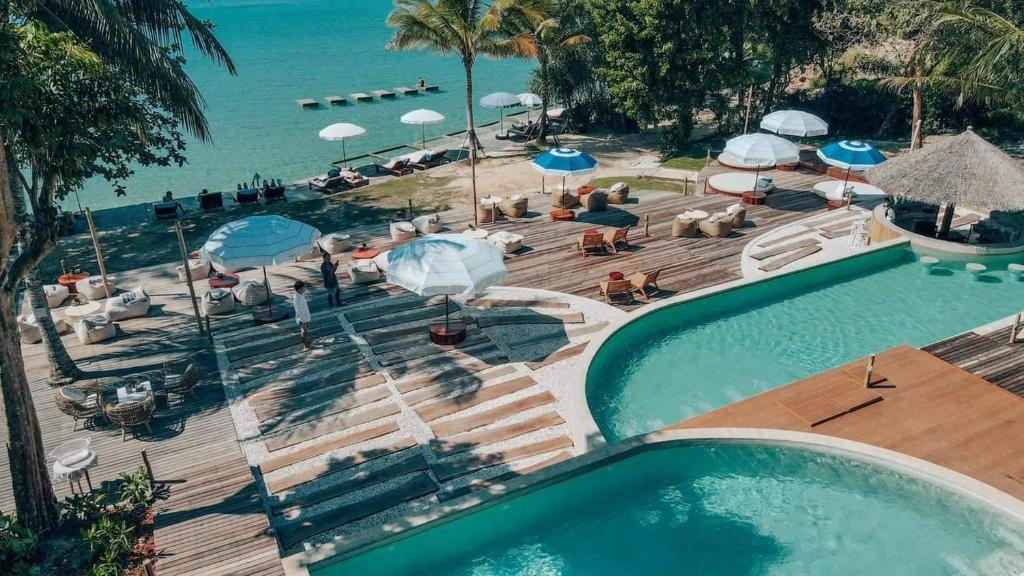 The hotel, located at the end of Bang Bao Beach, offers Japanese-style bungalows within a botanical garden. The rooms feature amenities such as television, air conditioning, and private bathrooms. It is one of the most well-known hotels on the island and is a suitable choice for families with children.
Hideout Koh Kood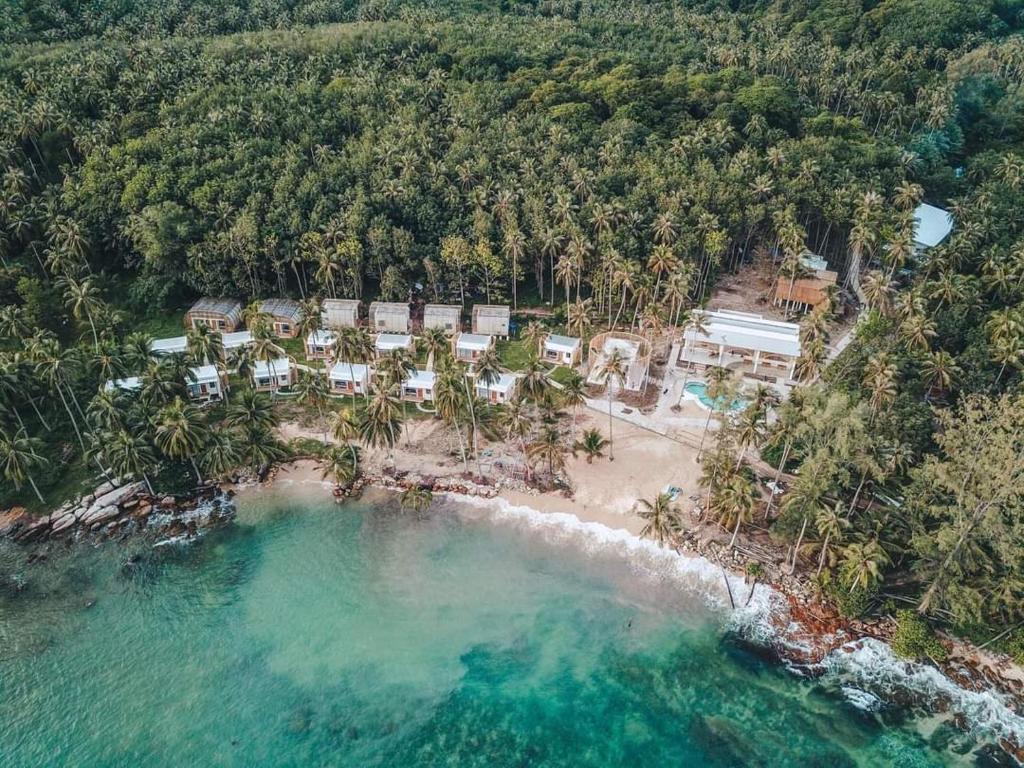 Located just a few steps away from Bang Bao Beach on Ko Kood, Hideout Koh Kood promises its guests an excellent stay with an outdoor swimming pool, free private parking, a beautiful garden, and a comfortable bar. This fantastic property also offers free Wi-Fi access. Additionally, it's approximately 1.9 kilometers from Sai Daeng Beach and just 2.1 kilometers from Takhian Beach.
Some of its units come with private terraces boasting sea views, providing an atmosphere that brings you closer to the beauty of nature. Hideout Koh Kood stands out as an ideal place for a relaxing and enjoyable vacation.
How To Get Koh Kood Island
Koh Kood Island is a small Thai island located 45 km away from the mainland. The only way to reach the island is by sea. To get to Koh Kood, you should first make your way to the city of Trat. You can reach Trat from Bangkok by plane or bus. After arriving in Trat, you should go to the Laem Sok pier in the city and from there, board a ferry or speedboat to Koh Kood. Below, we have explained in detail all the ways you can reach Koh Kood:
By Plane
If you are traveling from Bangkok to Koh Kood, the quickest and most comfortable option is by plane. Bangkok Airways offers a one-hour flight to Trat. Other airlines do not operate flights to Trat from Bangkok. You can check flight schedules on the Bangkok Airways website.
Once you arrive at Trat Airport, you can hire a taxi for a one-hour journey to Laem Sok Pier, which costs around 500 THB. From Laem Sok Pier, you can take a ferry to Koh Kood.
Several ferry companies serve Koh Kood Island:
Ko Kut Express: You can board the high-speed ferry from Laem Sok Pier and reach Koh Kood in 30 minutes. The fare is 500 THB, or 600 THB if you choose the speedboat option.
Boonsiri Ferry: Boonsiri Ferry operates two daily trips, with a journey time of 1 hour and a fare of 600 THB per person. The departure times are at 10:45 AM and 2:20 PM. We recommend checking the current ferry schedules on the Boonsiri Ferry website.
Seudamgo: Seudamgo is another ferry company that offers a 1-hour journey from Laem Sok Pier to Koh Kood. The departure times are at 12:00 PM and 3:00 PM. Be sure to check the ferry schedules on their website. The fare is 600 THB per person.
No matter which company you purchase your ticket from, they all make a stop at Koh Bak Island before reaching Koh Kood. Travelers who plan to stay on Koh Mak Island instead of Koh Kood can also purchase tickets from these companies.
By Bus
If you prefer to travel by road from Bangkok to Koh Kood, you can purchase combined tickets (bus+ferry) either through 12Go.Asia or from tour agencies. The travel time varies between 8 to 9 hours depending on the company you choose, and the prices range from 1,100 to 1,200 THB.
If you plan to buy tickets in advance, you can safely purchase them from the 12Go.Asia website. After entering "Bangkok" and "Koh Kood" in the search bar, select your desired date and the number of passengers, and then press the search button. All available transportation options will be listed. 12Go.Asia is a widely used transportation booking platform for our travels in Asia, and we have not encountered any issues with it.
This option provides a convenient and cost-effective way to reach Koh Kood by combining bus and ferry transportation.
From Koh Chang Island
If you are traveling from Koh Chang to Koh Kood, it's important to know that the fastest way to reach Koh Kood is by sea. You can purchase ferry tickets for the Koh Chang to Koh Kood route and check transfer schedules on the Boonsiri Ferry website.
The ferry from Koh Chang's Bang Sao Pier to Koh Kood departs at 09:00 AM, and the journey takes approximately 1.5 hours. The fare is 900 THB per person.
This option provides a quick and convenient sea route from Koh Chang to Koh Kood, allowing you to reach your destination efficiently while enjoying the scenic views of the sea.
Soneva Kiri Airport (Koh Mai Si-MSI)
While there is no public airport on Koh Kood Island, there is a solution for those who have the means. If you plan to stay at the island's top-rated resort, Soneva Kiri, you can reach Koh Kood from Bangkok in just 80 minutes using Soneva Kiri's private planes. After arriving at Koh Mai Si Airport, you can transfer to speedboats, and within 5 minutes, you'll reach your paradise resort.
You can visit the Soneva Kiri website to check flight schedules and options for both shared and private flights. This exclusive service offers a luxurious and efficient way to access Koh Kood for those staying at Soneva Kiri.
Travel Around Koh Kood Island
Motorbike Rental
The best and most economical way to explore Koh Kood is by renting a scooter. You can rent a scooter for approximately 250-300 baht per day on the island. While the roads may be narrow, they are generally quiet and well-maintained. Just like in other Thai islands and cities, we strongly recommend renting a motorbike here too. Trust us; exploring Thailand without a motorbike feels like you're missing out. With your own motorbike, you can travel freely without the need for taxis and without extra expenses.
Songthaew – Taxi
Another transportation option on Koh Kood is the Songthaew taxis. However, using this method to explore the island can be quite costly. You may come across signs quoting prices like "2000 baht for an island tour." If you need to get to the pier or another hotel, Songthaew services are usually shared, making the prices more affordable.