Mount Bromo is the most well-known and touristy among the active volcanoes in Indonesia. Consequently, daily tours to Mount Bromo are a highly popular activity. Thousands of people set out overnight to witness one of the most beautiful sunrises they might ever see in their lives, overlooking Mount Bromo.
Situated in the south of Java island, Bromo is an active volcano, standing at an altitude of 2,329 meters within the boundaries of the 413,374-hectare Bromo Tengger Semeru National Park.
MOUNT BROMO
To reach Bromo, your starting point should be either the cities of Malang or Probolinggo. Many travelers come from the city of Probolinggo. Another alternative is to stay at one of the homestays in the village of Cemoro Lawang, the original name of Bromo village, for a more comfortable way to access the area.
If you're planning to hike up Mount Bromo from Probolinggo, you need to leave your hotel no later than 03:00 in the morning. You can purchase Bromo tours from agencies in Probolinggo or from your hotel. After starting your journey with jeeps, you'll enter the Bromo area. The first stop of the tours is at Mount Penanjakan, located at an altitude of 2,774 meters, where you can watch the sunrise. It's also known as King Kong Hill.
From this point, when you look towards Bromo, you'll see a tall mountain behind it. The highest mountain within the park is Mount Semeru, also known as Mahameru. With a total elevation of 3,676 meters, it not only adds beauty to the sunrise over Bromo but is also a popular trekking destination for enthusiasts. If you're into trekking, we recommend considering a hike up Mount Semeru in addition to experiencing Bromo.
After watching the sunrise, jeeps will take you down to the base of Bromo, which is a desert-like area covered with volcanic ash and sand. Once you arrive here, you'll need to walk around 1 km to reach the steps of Bromo. If you prefer not to walk, you have the option to use rented horses, which can take you up to the stairs leading to the summit of Bromo.
After reaching the stairs, you can climb 240 steps to reach the summit of Bromo. Upon reaching the highest point, you'll be able to walk on a one-meter-wide area around the mouth of the volcano and see inside. In fact, as you walk here, you'll witness the sound coming from the volcano. The sound emerging from beneath the ground can send shivers down your spine. At times, due to the increasing intensity of the volcanic sounds, people standing next to each other might not even hear each other speaking.
Let's return to Mount Bromo once again. Since the 1800s, Bromo has continued to emit smoke, with numerous eruptions recorded. The most recent significant eruption was in 2010 when plumes of smoke rose 700 meters high. There's no guarantee whether there will be an eruption or not during your visit 🙂 Bromo serves as a point of understanding the immense power of nature.
How Many Days Enough For Mount Bromo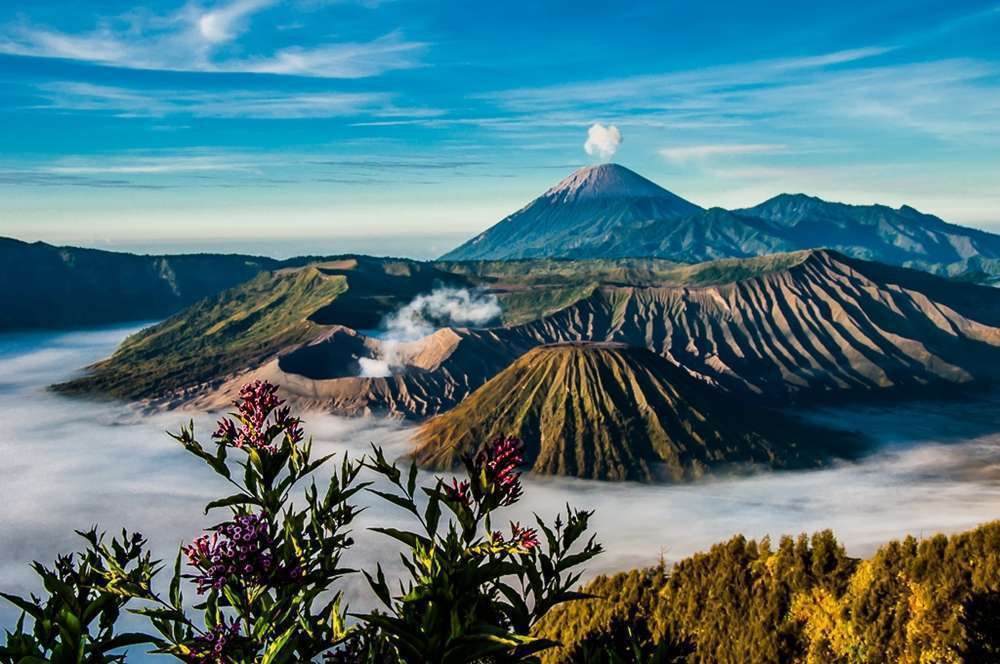 If your list of places to visit in Indonesia is extensive and time is limited, you should allocate 1.5 to 2 days from your arrival to departure for Mount Bromo. Taking a bus from Probolinggo city to Bromo village and then using jeeps to reach Bromo is the easiest way. This option is recommended for those who want to save time. However, if you decide to trek from Bromo village, it takes about 3 hours. Just be aware of that.
But if you've come here for trekking, it's a good idea to dedicate at least 4 days. This is because there are numerous trekking points within the Bromo Tengger Semeru National Park.
Here are the things you need to take with you when climbing Mount Bromo:
Since Bromo is at a higher altitude, the weather can be cold in the early morning. Be sure to have a down jacket, scarf, and gloves with you. Also, don't forget to wear long pants. As the weather warms up after sunrise, it's important to have lightweight layers underneath. You can take off your jacket if you start to sweat. And definitely wear comfortable sneakers or sports shoes.
Be sure not to forget your tripod and camera. If you have a drone, make sure to capture shots from the top of Bromo.
When you reach Bromo, you'll strongly sense the sulfur. While some people are unaffected, it can affect others significantly. Therefore, we recommend wearing a mask. In fact, Orkun had lost consciousness at the Ijen Crater due to this issue. You can read our article about the Ijen Crater. The most crucial moment to wear a mask is when you're in the sandy desert area. If there's wind, the sands will be blowing everywhere. Don't forget to have a mask or something like a scarf to protect your face and mouth.
Lastly, remember to pack water and snacks in your bag.
Where Is Mount Bromo and How To Get There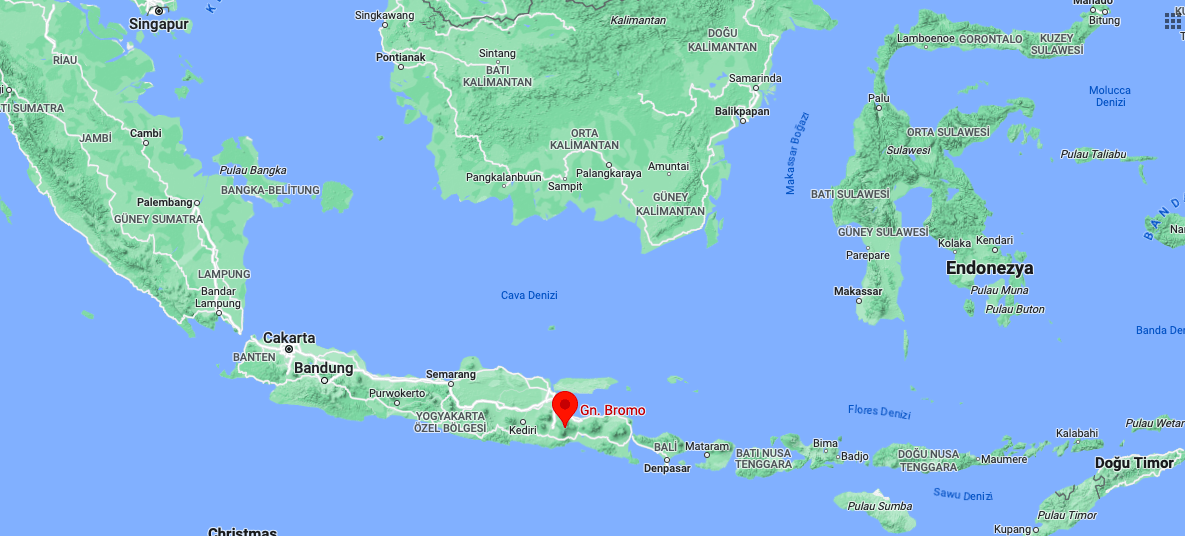 To get to Bromo, you need to fly to either Malang or Surabaya. After arriving in either of these cities, you can take a train or a bus to Probolinggo.
The train journey from Surabaya to Probolinggo takes about 2 hours. The ticket prices vary, with the lowest class around 27,000 IDR and the higher classes around 200,000 IDR. If the train schedule doesn't suit you, you can also opt for a bus.
If you're taking the train from Malang to Probolinggo, the journey takes about 3 hours, and the fare is approximately 58,000 IDR.
If you're traveling by train from Yogyakarta to Probolinggo, the journey takes around 9 hours. Train fares vary between 5-21 USD. You can check train ticket prices and schedules on the Ticket page or purchase tickets from there. Alternatively, you can buy your tickets here.
After arriving in Probolinggo, it's about 50 km to reach the closest village to Bromo, which is Cemorolawang. If you're not planning to stay in Probolinggo, we recommend staying in Cemorolawang. This way, you won't need to purchase a separate tour for Bromo. Since the residents of Cemorolawang make their living from tourism, you'll find jeeps parked in front of every house. You can arrange for a jeep from this village to take you to Bromo.
Mount Bromo Entrance Fee
Since Mount Bromo is located within the boundaries of a national park, an entrance fee is required. On weekdays, the fee is 240,000 IDR, while on weekends and official holidays, it increases to 340,000 IDR.
When To Go Mount Bromo
The best time to visit Mount Bromo is during Indonesia's dry season, which occurs between April and October. This period is characterized by minimal rainfall, resulting in clear and cloudless skies. Such weather conditions provide an excellent opportunity to witness a breathtaking sunrise at Mount Bromo. However, before visiting, it's recommended to check the weather forecast and plan accordingly, as some days might be foggy, hindering the sunrise experience.
Another important reminder is that Mount Bromo is a highly popular tourist destination, attracting a significant number of visitors. It's particularly crowded on weekends. If your schedule allows, it's a wise choice to plan your visit during the weekdays to avoid the crowds.
Read all articles about Indonesia