We have prepared a detailed Marrakech travel guide, featuring one of Morocco's most popular cities. The city is renowned for its bustling Marrakech Medina, lush gardens, luxurious palaces, and maze-like streets.
The Marrakech Medina is listed as a UNESCO World Heritage site and is home to the famous Jemaa el-Fnaa Square, which is the largest market square in Morocco. Here, you'll find a vibrant atmosphere filled with colorful shops, street performers, and stalls selling local cuisine.
Among Marrakech's lush gardens, popular tourist destinations include the gardens of Bahia Palace, Menara Gardens, and Majorelle Garden. These gardens provide perfect havens to escape the city's hustle and bustle and enjoy the beauty of nature.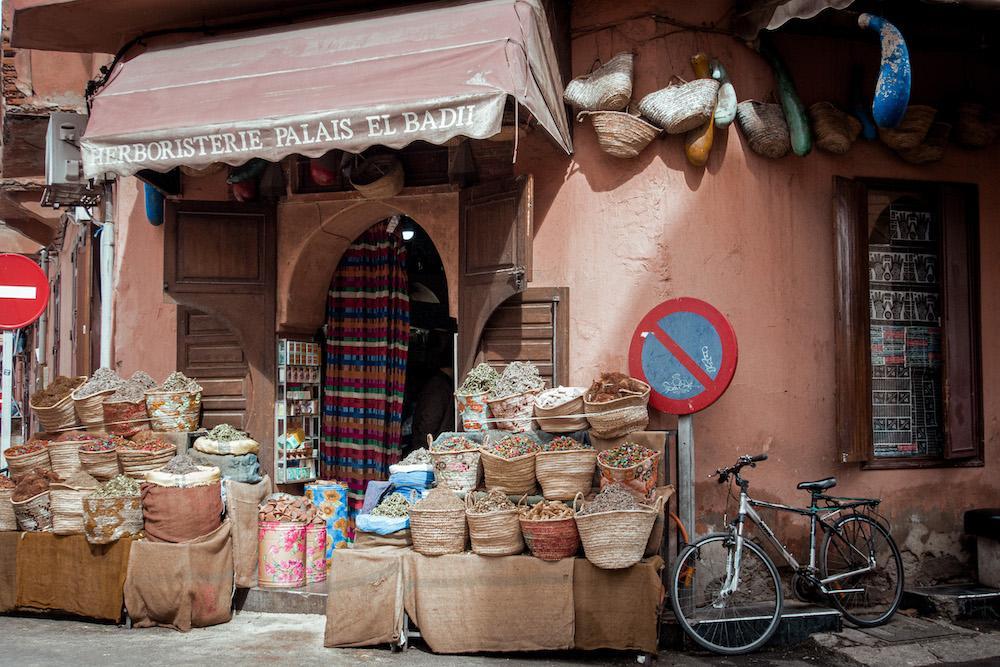 Marrakech is also famous for its historical landmarks such as the El Badi Palace, which was built in the 16th century, and the Koutoubia Mosque. These structures offer visitors a wonderful opportunity to explore Morocco's historical and cultural heritage.
If you are planning a trip to Marrakech and wondering where to go and what to see, our Morocco guide will serve as a comprehensive resource. You can find information on the best places to visit, dine, and shop within the Marrakech Medina. Additionally, you can discover recommendations and tips about other tourist attractions in the surrounding areas.
Marrakech is one of the most beautiful cities in Morocco and a fantastic place to explore. Get ready to uncover the city's historical and cultural treasures with our Marrakech Travel Guide.
Must Things To Do In Marrakech
Marrakech is one of the tourist capitals of Morocco and one of the country's most popular tourist destinations. There are many things to do in Marrakech, but some activities and places stand out more than others. Here are the must-do things in Marrakech:
Medina Walls
The Medina walls of Marrakech were built in 1062 by the Almoravid Dynasty. These walls surround the city and stretch for 20 kilometers in length, standing 9 meters tall and 2 meters thick. The city has nineteen gates, known as "babs" in Arabic. Among these gates, Bab Agnaou in the Kasbah neighborhood is considered the most beautiful.
Get Lost in the Souks
One of the most important things to do in Marrakech is to get lost in its streets and souks. The city is home to Morocco's largest souk, which is protected by UNESCO. As soon as you step into the Medina, you will find yourself in a labyrinth of winding streets. Allow yourself to be captivated by the energy of the streets and indulge your curiosity by exploring one alley after another. Embrace the experience of getting lost.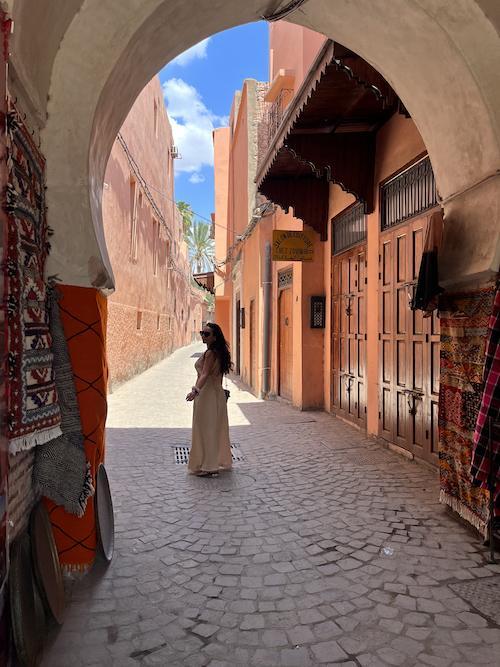 These activities will allow you to immerse yourself in the vibrant atmosphere of Marrakech and experience its unique culture and history.
Important: If you happen to get lost and someone from the local people realizes it and offers to help you find your way, be aware that they will expect money in return for their assistance. Therefore, when receiving help from someone, always be prepared to give them money. Our recommendation is to ask for directions from children and women. During our trip to Morocco years ago, the manager of the Riad where we stayed gave us this advice.
If you don't enjoy crowds, make sure to visit the souks before 11:00 AM.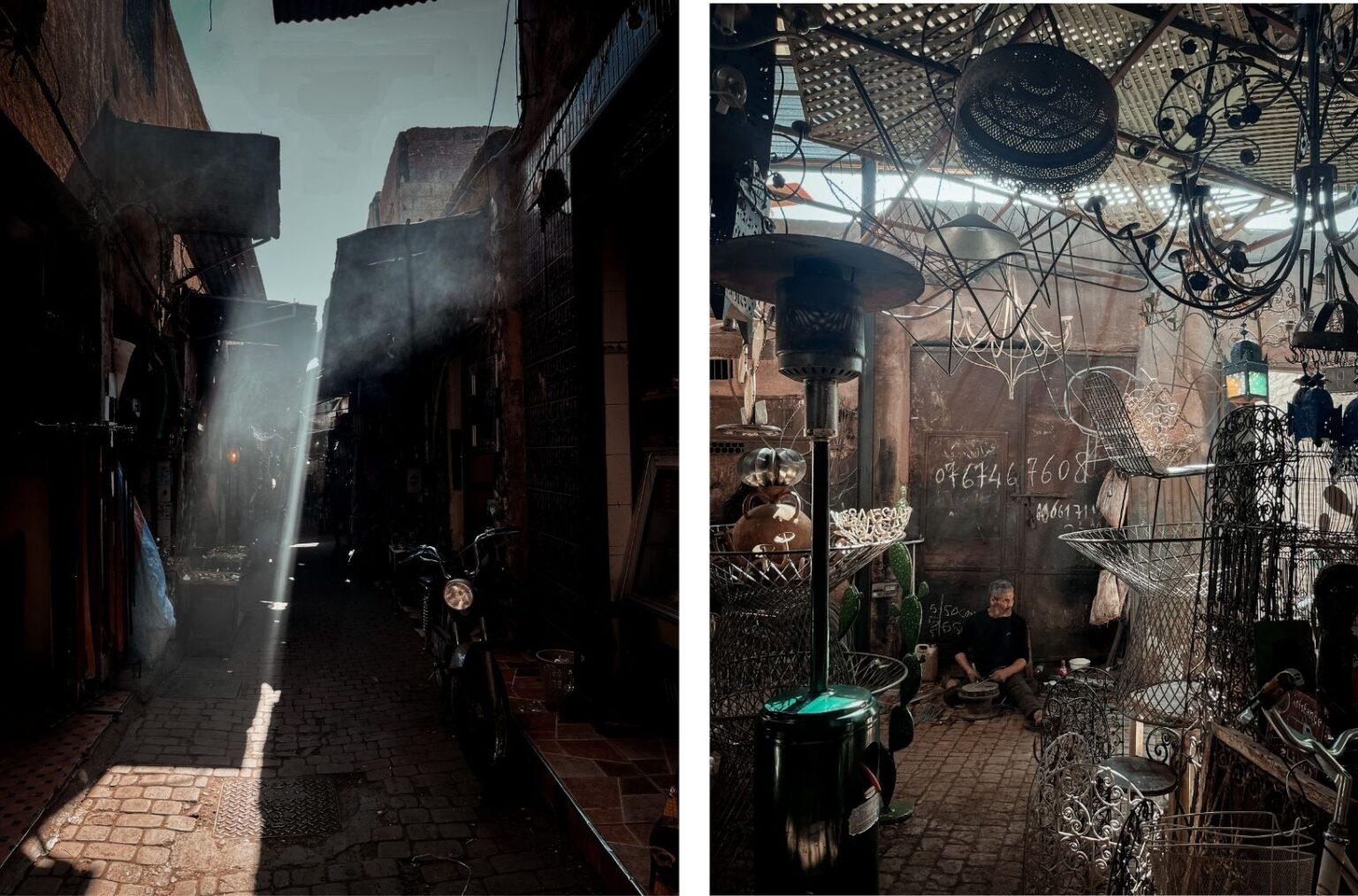 The most famous place in the souk is Souk Semmarine. The stalls set up in the middle of the square make it even more lively. If you don't feel like walking around the square and exploring the stalls, you can sit on the terrace of Nomad Cafe and observe the surroundings.
If you plan to shop in the souk, make sure to bargain and negotiate the price. The initial prices offered can be quite inflated. Even if they agree to half the price you offer, remember that they are still selling the product at a good price.
Regardless of which city in Morocco you're in, when exploring the medina or souk of any city, you'll be tempted to buy carpets, mats, baskets, leather goods, woven blankets, ceramics, exquisite aromatic spices, and more. In Morocco, you'll often come across the term "souk." Souk refers to the traditional marketplaces in Morocco, and these souks are mainly located in the old walled medinas.
Before deciding to buy something in Morocco, always do some price research beforehand. Enter different shops and inquire about the price of the item you want to buy. You'll see how prices for the same item can vary.
Keep in mind that if you shop in crowded places or in the main square, the prices may be higher compared to shops in the side streets, as they have higher rents.
There are no price tags on any products. This is clear evidence that they assess the person in front of them and determine the price accordingly. If you try to leave without accepting the offered price, they will inevitably ask how much you are willing to pay. If they allow you to leave, it means you have offered a very low price.
When bargaining, you can say "bekam di" in Arabic, which means "how much does it cost?"
Make sure to have cash with you.
Watch the Sunset at Jemaa El Fna
Jemaa El Fna is the heart of Marrakech. You can measure the pulse of the city here. It is a crowded square with henna artists, snake charmers, monkey trainers, storytellers, acrobats, fortune tellers, henna painters, and food stalls. Hoopla and halqa (street theater) have been ongoing here since the 11th century. The square was declared a UNESCO Intangible Cultural Heritage of Humanity site in 2011.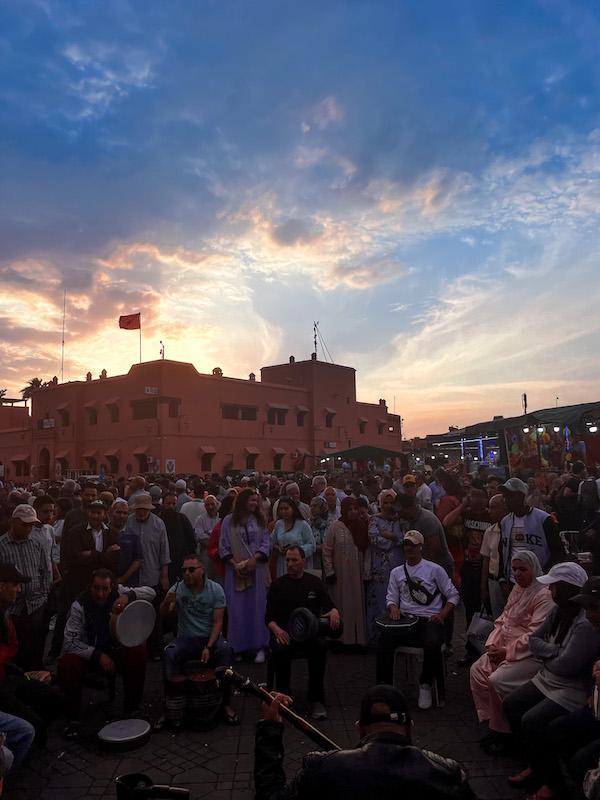 Once it's evening, the square takes on a completely different atmosphere. The stalls in the square become filled with Moroccan cuisine. In addition to street vendors, the square is also populated with street musicians and performing actors.
To capture a photo of the square, the best place is to sit at any terrace cafe and photograph the bustling square. For this, Cafe de France is an ideal spot. Since the cafe can get quite crowded, we recommend arriving a bit early to secure a spot.
Take a Day Trip to Ouarzazate
Ouarzazate, located 196 km away from Marrakech, is a city famous for being the home of Ksar Ait Ben Haddou. The village where the house is located showcases a pre-Saharan living area. Another thing that makes this place famous is that it served as a set for movies like Gladiator and Game of Thrones.
Ksar Ait Ben Haddou is built into the red-colored rock and is one of the most stunning and beautiful examples of Moroccan architecture. There is no entrance fee for this place; it is free to enter. You can either purchase a day tour from Marrakech or rent a car to organize your own trip.
Our recommendation is to either go with a private driver or rent your own vehicle. If you choose one of these options, you can manage your time and explore more. Going on a tour usually involves a 9-hour journey with only 2 hours allocated for exploring the village, which may not be sufficient. Choosing one of the other recommended options allows you to have more control over your time and explore more.
Visit the Agafay Desert
Agafay is a desert located a 45-minute drive from Marrakech. If you don't have time to visit the Sahara Desert during your trip to Morocco, be sure to visit Agafay as an alternative. You can participate in activities such as camel rides, ATV tours, and trekking tours in the desert.
While discussing Agafay, it's appropriate to provide some information about the Sahara Desert. We know that geography, and therefore climate, has played an important role in the evolution of humans. The Sahara Desert (9.2 million km2) is the largest desert in the world.
The most famous desert in Morocco is Erg Chebbi, followed by the Agafay Desert. However, these deserts were once part of a vast area called the Sahara, which had lush vegetation, lakes, and rivers and was home to many creatures, immediately after the Ice Age around 11,000 years ago. The rock art discovered by the German explorer Heinrich Barth during his expedition across the desert in the 1850s provides evidence of this reality. The paintings depict various animals such as hippos, antelopes, giraffes, and elephants. Therefore, it is believed that the Sahara was once a green and vibrant place.
Between 7,000 and 5,000 years ago, the Sahara turned into a dry landscape due to a decrease in rainfall. This drought led to the disappearance of forests and the drying up of wetlands. This period, known as the African Humid Period (AHP), is an example of the dramatic climate changes our planet has experienced.
These climate changes are the result of small variations in Earth's orbit around the sun. During this period, animals and plants in Africa found various ways to adapt to the changing environment. For example, some plants increased the hairs on their leaves to better retain water, enabling them to survive in hotter and drier conditions. Animals also developed various adaptations, with some being able to survive on less water, while others migrated to larger areas with more water sources.
Archaeologist David Wright argues that unsustainable livestock grazing practices can contribute to desertification. Geoscientist Jessica Tierney, on the other hand, suggests that human activities may have a negligible impact on desertification. However, through proper management techniques, desertification can be prevented. These techniques include protecting water sources, preventing erosion, increasing vegetation cover, and improving soil fertility. By implementing these measures, it is possible to combat desertification.
At this point, it is necessary to provide a more detailed explanation of Milankovitch cycles. Earth has been orbiting around the sun for approximately 4.5 billion years, but Serbian scientist Milutin Milankovitch's studies revealed that the Earth's orbit is not fixed.
Milankovitch proposed that the changes in Earth's orbit are the cause of climate variations on our planet. These changes also affect the amount of solar energy reaching the Sahara. More energy results in increased precipitation along the Sahara, causing the monsoon rains to shift temporarily further north.
Therefore, Milankovitch cycles lead to continuous changes in Earth's climate. These variations have had significant impacts throughout the history of the planet, such as ice ages. That's why Milankovitch cycles are important for understanding global climate and are frequently studied by environmental scientists.
The shape of the orbit changes between 0-5% every 100,000 years, and these variations have effects on climate. In a 41,000-year cycle, orbital changes can reach up to 2%. In a 26,000-year cycle, axial precession causes a shift from the North Star, Polaris, to Vega.
These data indicate that climate changes occur significantly on a 100,000-year scale. Milankovitch's studies have also arrived at this conclusion. However, although not fully proven, they continue to be scientifically investigated. Further research is needed to understand the impacts of orbital variations on climate. Such research can help better inform people about natural events like climate change.
Considering that Earth changes its axis every 23,000 years, it is quite possible for the Sahara to regain its ancient greenery thousands of years later. During these periods, climate changes have occurred worldwide, and the Sahara desert has turned into a green region. It has provided more water and food sources for humans and animals.
However, in the present day, the Sahara desert is a highly arid region with very little vegetation and limited animal life. Therefore, many scientists believe that climate changes could potentially transform the Sahara back into a green area. However, the duration and effectiveness of this process are still unknown.
One of the most adrenaline-filled activities in the desert is a 4×4 tour. Additionally, the Sahara has been a part of the famous Dakar Rally's previous route. Another activity is taking a sunrise or sunset tour on camels. Lastly, sandboarding is a popular activity where one can slide down the dunes on a board.
Places To Visit In Marrakech
We have listed our recommendations for places to visit in Marrakech and its surroundings above. In addition to these, we would like to create a separate list for other places to visit in Marrakech. We have also provided information about each recommended place.
Bahia Palace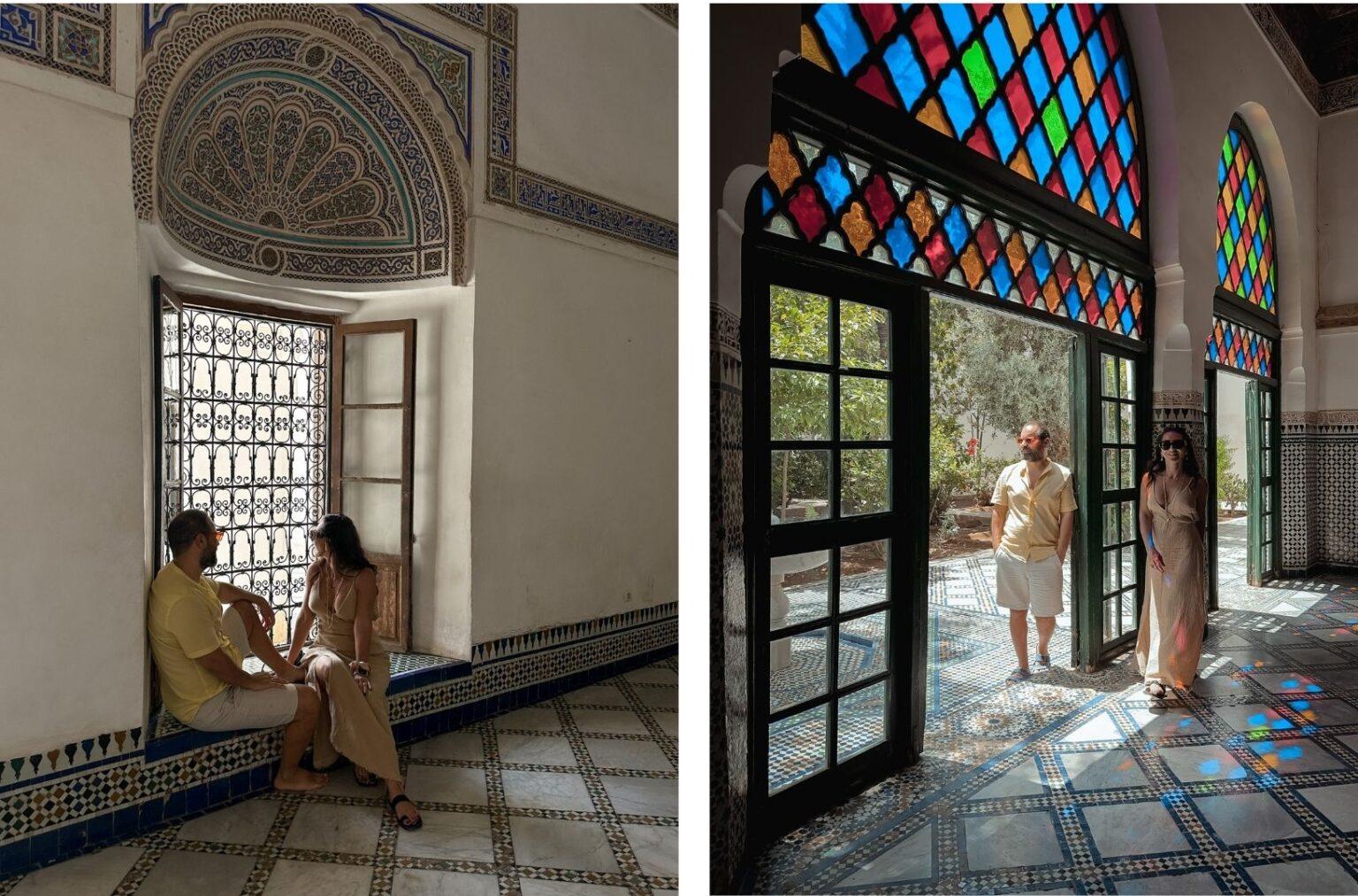 Bahia Palace is one of the most beautiful examples of Moroccan architecture. Built in the late 19th century in Moroccan style, this palace complex is a magnificent structure with its 8,000 square meters of gardens. The palace features a total of 160 rooms adorned with beautiful patterned ceilings, walls covered in handcrafted ceramic tiles, and elegant furniture.
The most splendid area of the palace is the Court of Honor. This courtyard is 50 meters long and 30 meters wide, covered with Italian marble and adorned with Moroccan mosaics. The columns surrounding the courtyard are among the finest examples of Moroccan art.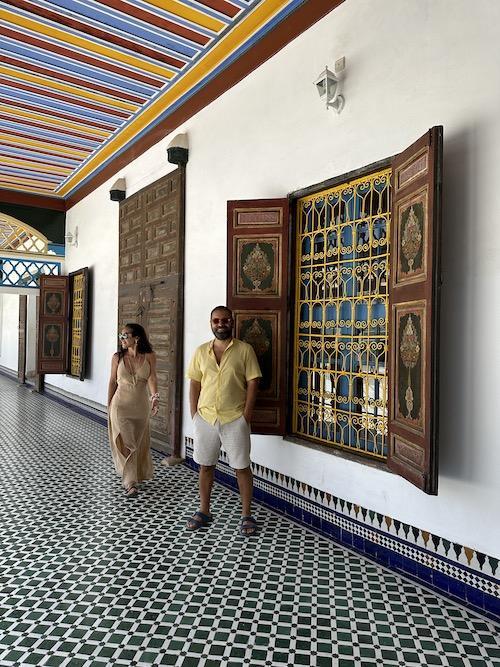 Bahia Palace is a structure that reflects the richness and beauty of Moroccan culture. The design of the palace features elements that represent Morocco's historical and cultural heritage. Therefore, Bahia Palace is an important attraction for tourism in Morocco.
Marakech is a must-visit destination on your list, and visiting Bahia Palace provides a wonderful opportunity to explore the region's historical and architectural features. The palace was intended to be the largest palace of its time when it was built. The rooms and courtyards inside the palace are adorned with colorful mosaics, carvings, paintings, and marbles, creating a magnificent appearance. You can read our article about Bahia Palace here.
Entrance fee: 70 dirhams, 6.30 euros.
El Badi Palace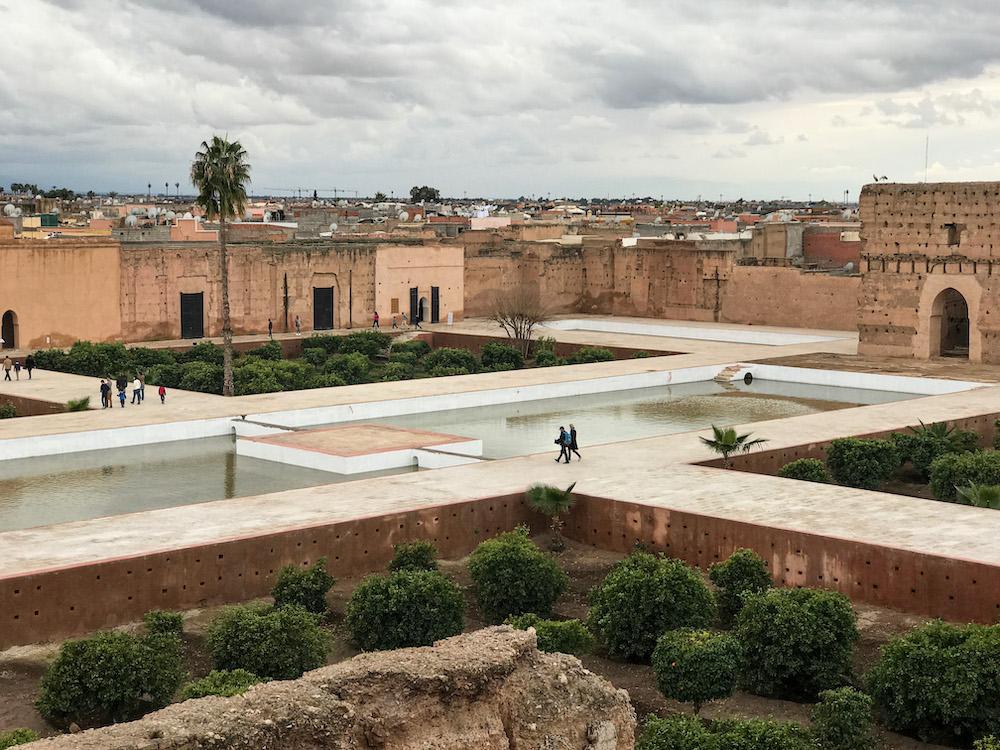 El Badi Palace was built in the 1500s to celebrate the victory of Saadian Sultan Ahmed al-Mansur over Portugal. Despite being in ruins, the palace possesses a unique structure and is associated with one of the 99 attributes of Allah.
Compared to Bahia Palace, El Badi Palace lacks the mosaic and courtyard features, but it is a palace composed of red rocks with a large open courtyard. The construction of the palace aimed to showcase the wealth of the sultan. Therefore, the palace was built with expensive materials such as gold, onyx, and Italian marble.
Known as the "Alhambra of Morocco," the palace can be visited to learn about the powerful and wealthy sultans of Morocco during that time. We recommend hiring a tour guide to gain more insights into the historical and architectural aspects of the palace.
Entrance fee: 70 dirhams, 6.30 euros.
Ben Youssef Madrasa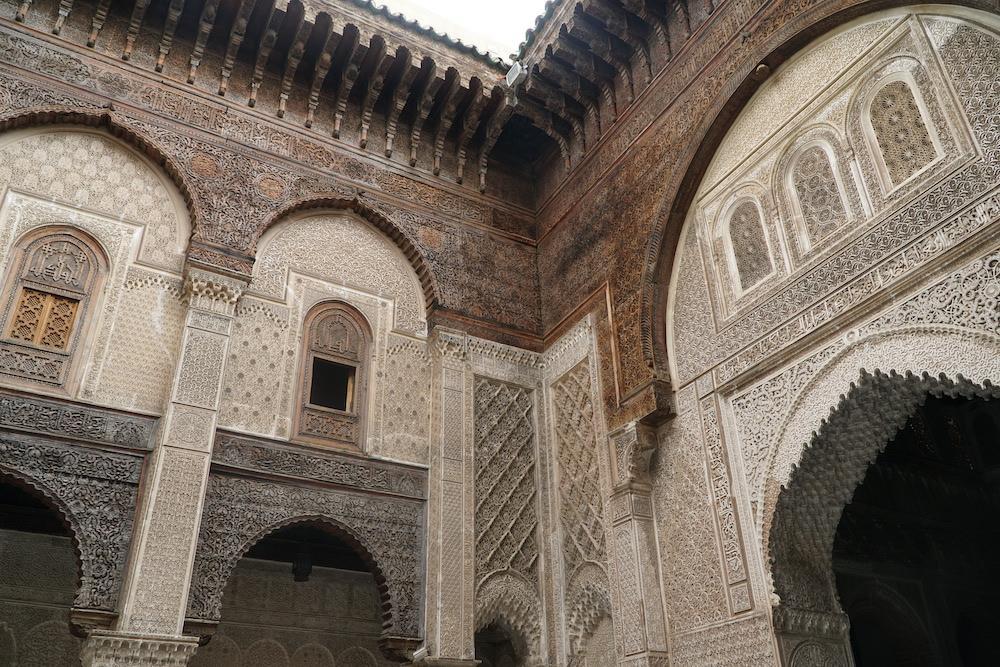 Almoravid Sultan Ali Ben Youssed Islamic School is a structure located in Marrakech, Morocco, and was completed in the year 1565. It takes its name from the Berber dynasty known as the Almoravids. Despite being completed in 1565, it still stands out as one of the most beautiful buildings in Marrakech.
The Almoravids were a Berber dynasty that played a significant role in the spread of Islam. Almoravid Sultan Ali Ben Youssed Islamic School once hosted 900 students and served as the oldest Islamic school in the country. This school became an important center for Islamic education and learning in Morocco.
The architecture of the building is highly impressive. The colorful mosaics on white marbles and the geometric patterns on the columns showcase the intricate craftsmanship of the structure. The corridor walls feature Zellij tiles, which are traditional Moroccan ceramic art known for its intricate geometric designs. Zellij art involves assembling mosaic-like patterns using ceramic pieces of different colors. With these architectural features, Almoravid Sultan Ali Ben Youssed Islamic School represents one of the finest examples of Moroccan architecture.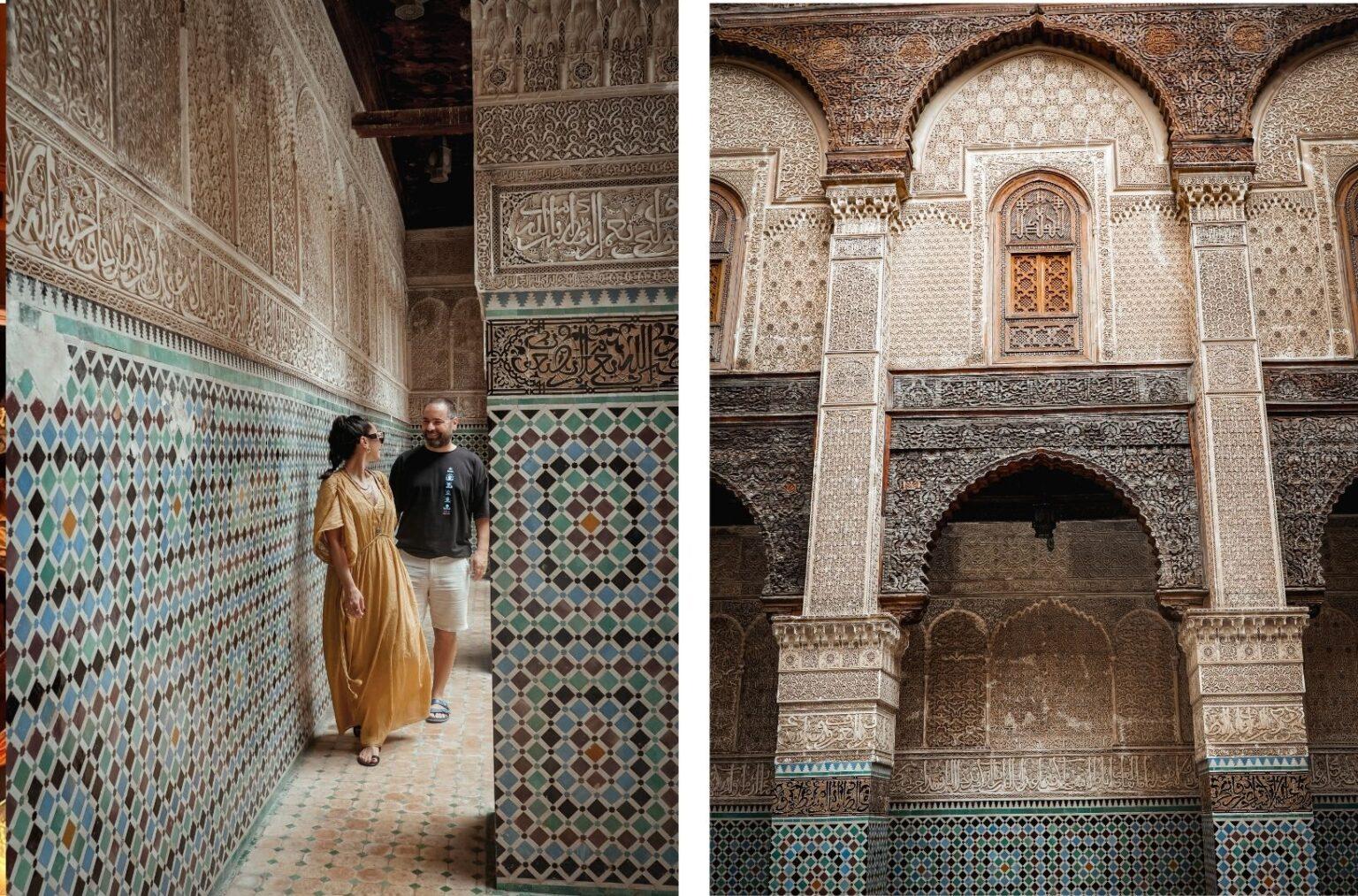 This school is not only renowned in Morocco but also known for its ceramic art in countries like Andalusia, Portugal, and Spain, where the art of ceramic tiles is widely used. However, the ceramic art in those regions is known as Azulejo. In Andalusia, Zellij art is commonly used in significant structures such as historic mosques and palaces.
Almoravid Sultan Ali Ben Youssed Islamic School holds a significant place in the history of education and learning in the Islamic world. It continues to be one of the most important buildings in Marrakech today. This structure is preserved as part of Morocco's cultural heritage and attracts great interest from visitors.
Koutoubia Mosque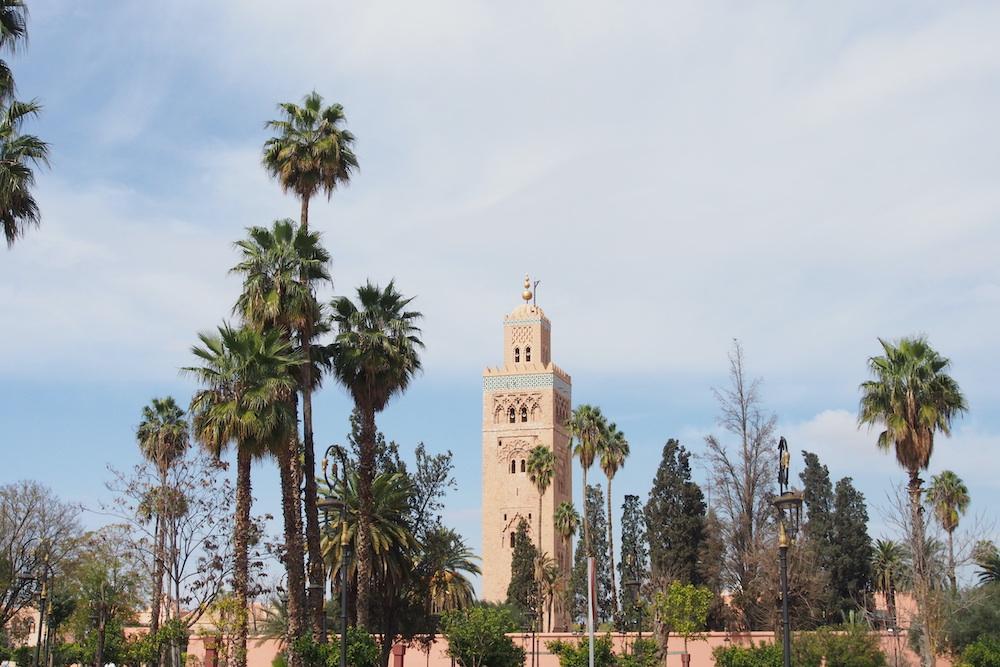 Koutoubia Mosque, the largest mosque in Marrakech, is one of the greatest legacies of the Almoravid dynasty. Built in the mid-11th century, the mosque is renowned for its 77-meter-high minaret. The name Koutoubia derives from the Arabic word "Koutoub," which means "books" in English. The mosque was constructed in the Almoravid architectural style on the site of an old palace.
The Almohads, who were the successors of the Almoravids and ruled from Marrakech, believed that the previous rulers had deviated from Islamic principles and that their cultural and religious heritage needed to be eradicated. Therefore, they built this mosque on top of the remaining palace of the Almoravids . Many of the materials used in the construction of the mosque were obtained from the ruins of other buildings built during the Almoravids Era. Hence, Koutoubia holds historical significance similar to many other structures associated with the Almohad dynasty.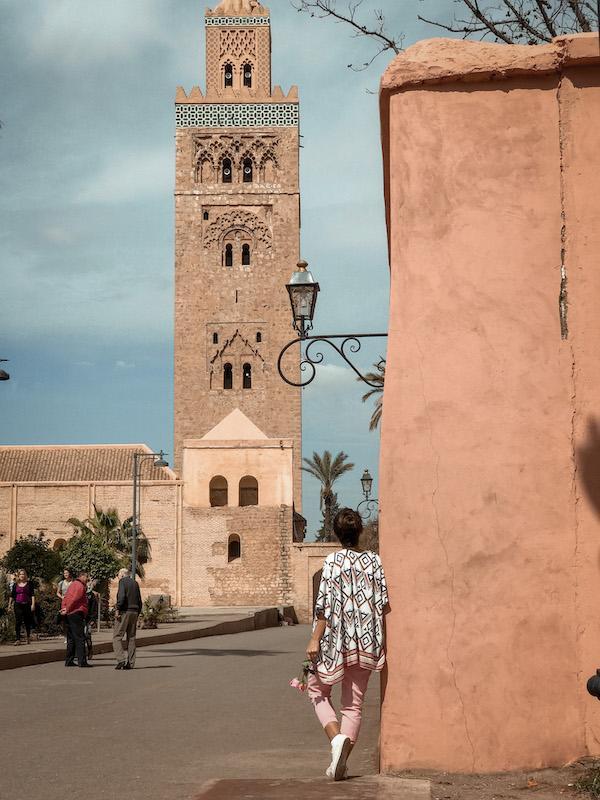 It is said that the Giralda of Seville Cathedral was inspired by the Kutubiya Mosque. Similarly, the Hassan II Mosque in Casablanca was also influenced by the Koutoubia Mosque.
Non-Muslims are not allowed to enter the mosque itself but they are free to wander in the courtyard. The Koutoubia Mosque is considered one of the finest examples of Islamic architecture and is one of the most important tourist attractions in Marrakech. Visitors can learn about the historical and architectural features of the mosque and enjoy beautiful views of the city. They can also relax or take photos in the gardens located in the mosque's courtyard.
Cactus Thiemenn
Cactus Thiemenn is a cactus garden located 10 kilometers away from the center of Marrakech, serving as an alternative to Jardin Majorelle. The only way to reach it is by renting a taxi. The garden was established in 1964 by the botanical engineer Mr. Theimenn and is currently operated by the garden's daughter, Magda.
Cactus Thiemenn is a dream come true for cactus enthusiasts. Here, you can find various species of cacti that grow in different geographical regions around the world. The garden houses more than 2,500 cactus species, each of them unique and captivating. The different colors, shapes, and sizes of the cacti mesmerize visitors.
The garden not only offers a visual spectacle but also provides rich botanical knowledge. During your visit, you can learn interesting facts, such as the dragon fruit known in Asia comes from Moroccan cacti. Additionally, you can gain insights into the characteristics and cultivation of cacti.
Cactus Thiemenn is not only a paradise for cactus lovers but also a wonderful alternative for nature enthusiasts and plant enthusiasts. For those who wish to escape the crowds of Jardin Majorelle and learn more about intriguing plants, Cactus Thiemenn offers an alternative garden experience. Spending time here can help you reconnect with nature and relieve stress.
If you're in Marrakech, you must visit Cactus Thiemenn. Here, you can witness the beauty of extraordinary plants and have an unforgettable experience.
The best time to visit the garden is in April when the cacti are in bloom. The garden is open on Wednesdays and Saturdays from 10:00 AM to 3:00 PM. The entrance fee is 60 MAD.
Best Places to Take Photos in Marrakech
This beautiful city attracts tourists with its rich historical and cultural heritage, exotic gardens, historic mosques, natural beauty, and unique architecture. Marrakech offers photographers a wealth of opportunities. In this city, you will find wonderful places where history, culture, and natural beauty converge. By visiting these locations, you can capture unforgettable moments and capture stunning photographs. Here is the best places to take photos in Marrakech
Marrakech Doors
Morocco is one of the countries that is home to some of the world's most beautiful doors. Prior to visiting Morocco, we were familiar with Zanzibar's intricately carved wooden doors. However, we soon realized that Morocco surpassed it by far. The doors found in Morocco showcase architectural richness, decorative features, and a profound historical significance, making them some of the most beautiful doors in the world.
Some of the notable doors in Morocco include Bab Agnaou, Royal Mansour, Chambres d'Amris, and Derb Dabachi doors. These doors serve as remarkable examples of Morocco's architectural beauty and contribute to its overall charm.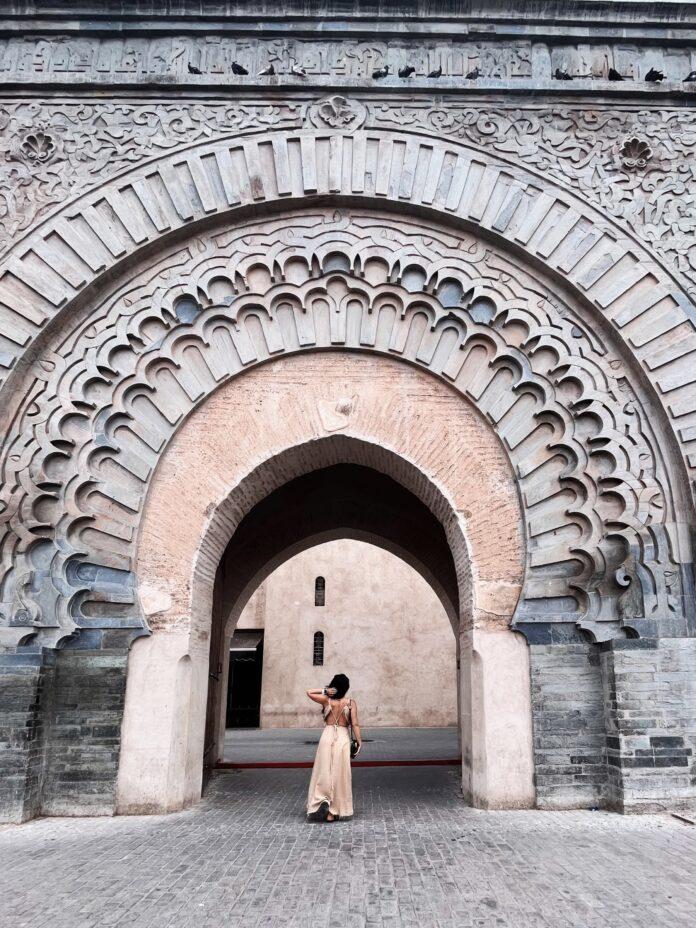 Bab Agnaou is the most striking of Marrakech's city gates. If you happen to visit this gate, as soon as you enter the gate towards the old city, you can engage in authentic and high-quality argan shopping from the shop on the left side.
The Royal Mansour gate reflects Morocco's traditional architectural style and craftsmanship. The gate serves as the entrance to Royal Mansour, one of Morocco's most luxurious hotels. Surrounded by palm trees and gardens, the gate harmoniously blends with the natural beauty of Morocco in a dazzling manner.
The Chambres d'Amris gate embodies Morocco's respect for history and culture. Located in the city of Taroudant in southern Morocco, it is one of the best-preserved gates in the country. Adorned with geometric patterns and mosaics that are prominent in Arab-Islamic architecture, the gate has been restored to preserve the historical texture of Taroudant and symbolize the city's connection to its past.
The Derb Dabachi gate is a beautiful example of the convergence of modern and traditional architectural styles in Morocco. Located in Marrakech, one of the largest cities in Morocco, the gate is designed in accordance with the city's historical texture. The gate is adorned with traditional Moroccan craftsmanship as well as modern touches, showcasing the architectural development of Morocco in its modernization process.
In conclusion, Morocco is renowned for hosting the world's most beautiful gates, showcasing its architectural beauty. These gates not only serve a functional purpose but also symbolize Morocco's culture, history, and natural beauty. The Royal Mansour, Chambres d'Amris, and Derb Dabachi gates represent the finest examples of Morocco's architectural heritage, adding an unforgettable experience to travelers' journey of exploring Morocco.
Sahara Desert or Agafay Desert
If your trip is limited to Marrakech, be sure to dedicate one day to exploring the Agafay Desert. If you're planning a larger tour of Morocco, make sure to stay overnight in the Sahara Desert to witness the unique beauty of sunrise and sunset.
Jardin Majorelle
For those who want to capture beautiful photographs, the backside of Villa Oasis is a fantastic photo spot. Jardin Majorelle, designed by French artist Jacques Majorelle and started in 1923, is one of the most famous tourist attractions in Marrakech and a must-visit place. The garden is renowned for its natural beauty, featuring 135 original plant species. The entrance fee is 70 dirhams or 6.30 euros. If you plan to visit the garden, make sure to arrive at the gate at the opening time, which is 8:00 AM, or you can purchase your ticket online.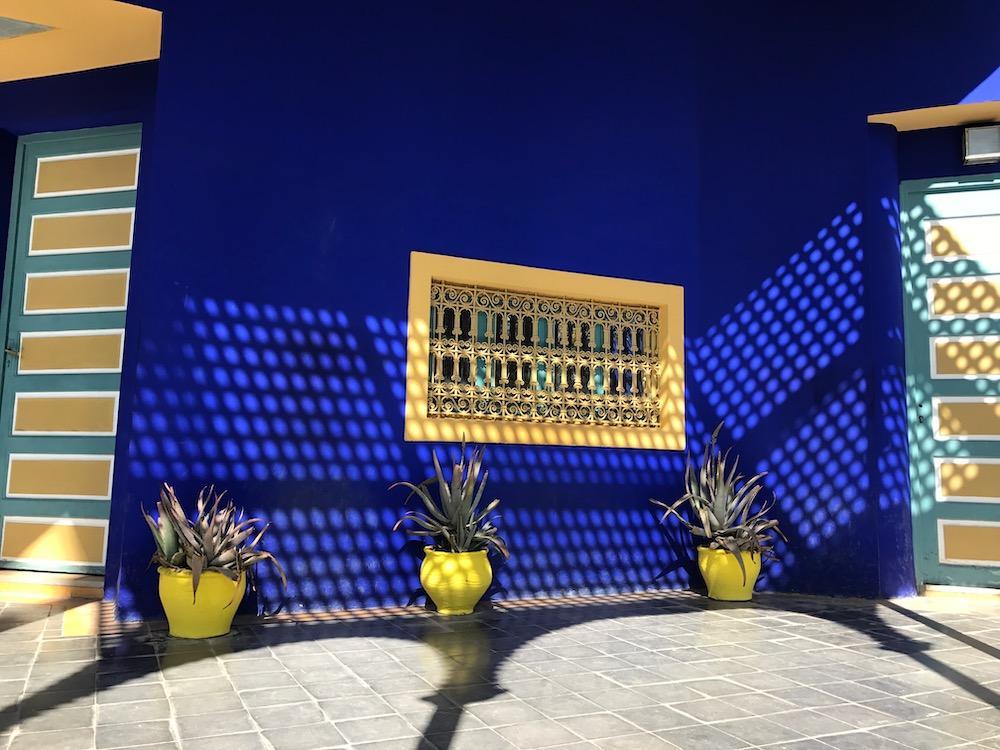 IMPORTANT NOTE: If you plan to visit at any time during the day, keep in mind that it can get very crowded. During our first trip to Morocco, we entered and explored the garden without any queue. However, during our recent visit, even with online tickets, we had to wait in a queue of at least 50-100 people because groups were scheduled for specific time slots. Therefore, make sure to purchase your ticket online and be at Jardin Majorelle at the opening time.
French painter Jacques Majorelle came to Marrakech in 1917 and fell in love with the city. Years later, he purchased a plot of land surrounded by palm trees and turned it into a studio. With Art Deco touches, cobalt blue colors, and a mix of Mediterranean and subtropical plant species, he created a stunning place. The garden was first opened to the public in 1946.
In the 1980s, the neglected property was acquired by renowned French fashion designer Yves Saint Laurent and Pierre Bergé. They restored the building and expanded the garden's original 135 plant species to over 300. The residence is now known as Villa Oasis. In 2008, after Yves Saint Laurent's passing, his ashes were scattered in the Villa Oasis, and a monument with Roman columns was erected in the garden. The street where the garden is located was renamed Yves Saint Laurent in honor of his memory.
In this garden, you can see many things. The garden is a wonderful place for botany enthusiasts. Additionally, you can learn about the history and culture of Marrakech. Many stories about Marrakech's fascinating history are told within this garden. During your visit, don't forget to listen to these stories along with enjoying the beauty of the garden!
Musee Yves Saint Laurent
It is located next to Jardin Majorelle. In the museum, you will not only learn about the life of fashion legend Yves Saint Laurent but also have the chance to see his greatest designs.

The entrance fee is 10 euros.
Le Jardin Secret
Le Jardin Secret is a hidden treasure in the heart of Marrakech's Medina. It is a beautiful garden that offers 50 shades of green, creating a captivating oasis adorned with cacti, fountains, and green tiles, truly creating a unique and magical atmosphere.
One of the most impressive features of the garden is the central fountain. The water flowing from the fountain comes from the nearby Atlas Mountains, contributing to the peaceful atmosphere of the garden.
This place is perfect for escaping the hustle and bustle of Marrakech and immersing yourself in the beauty of nature. It is a must-visit for anyone looking to explore the city and experience its rich history and culture.
Entry fee: 70 dirham, 3.60 euros.
Nomad
It is a great escape to get away from the city's hustle and bustle and capture the photos of the bustling market from above.
Cafe and Restaurants in Marrakech
Marakech offers a variety of unique cafes and restaurants that not only serve delicious food but also showcase the city's architectural beauty and cultural ambiance.
Nomad: Another restaurant in Marrakech, Nomad reflects a modern interpretation of traditional Marrakech architecture and offers a terrace where you can enjoy panoramic views of the city. The menu features a combination of traditional Moroccan dishes and modern cuisine. It is recommended to make an online reservation for dinner, which requires a deposit of 10 euros per person. Without a reservation, it can be challenging to find a table. Even when we went for lunch, we had to wait for about half an hour.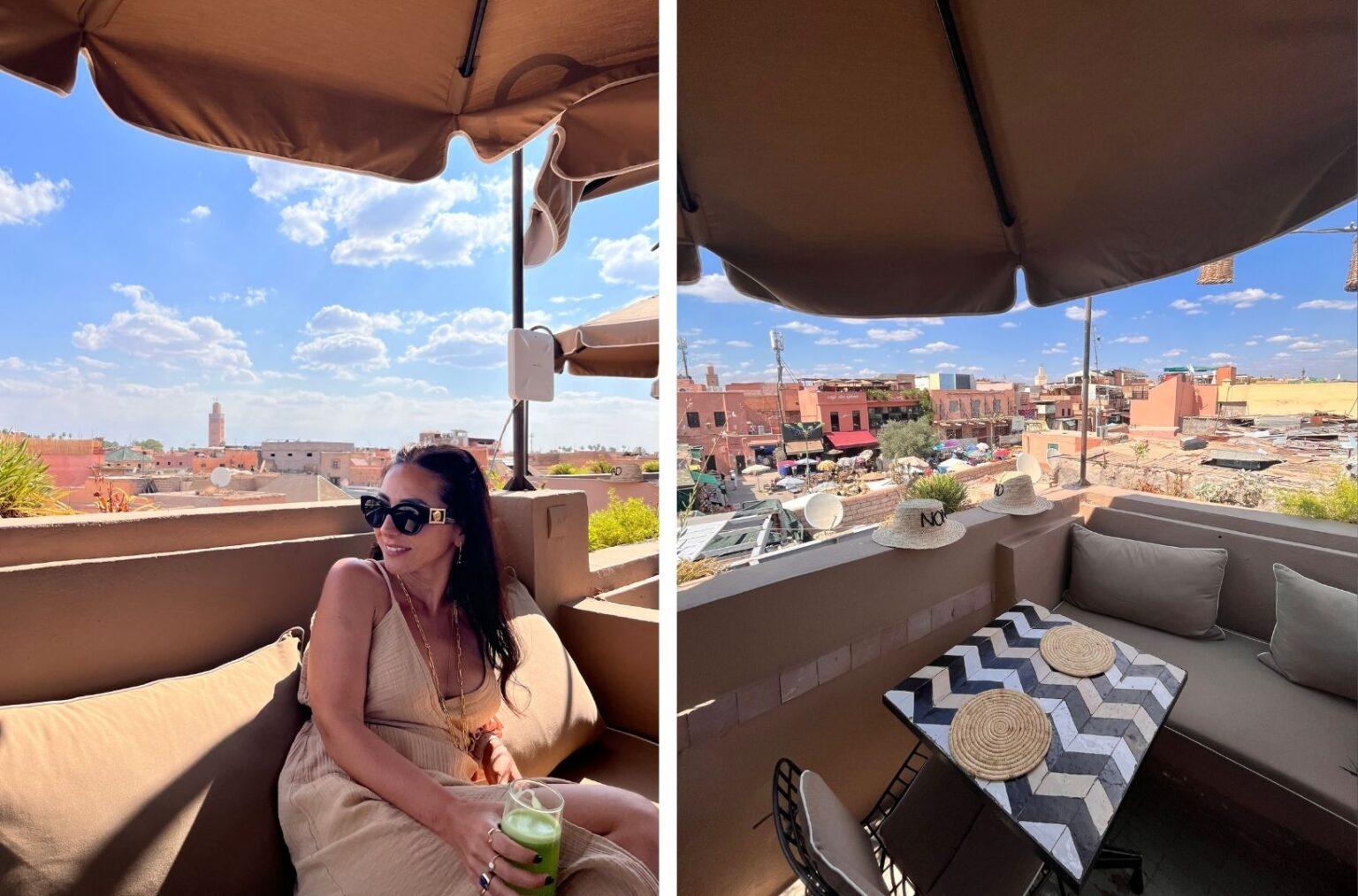 Please note that the information provided is based on the knowledge available up until September 2021, and it's always a good idea to check the latest updates and make reservations in advance when planning your visit to Marrakech.
Cafe Des Epices: Cafe des Épices is a charming cafe that will captivate you with its vibrant cushions, aromatic spices, and a terrace offering city views. In addition to coffee and tea, it serves delicious meals. This cafe is an ideal choice for those who want to experience local flavors.
Les Jardins Du Lotus: Located in one of Marrakech's most beautiful gardens, Les Jardins Du Lotus will make you feel immersed in nature with its palm trees and serene ambiance. Apart from its meals, this restaurant is also known for its refreshing fruit juices and teas. It is a perfect option for those seeking a tranquil dining experience.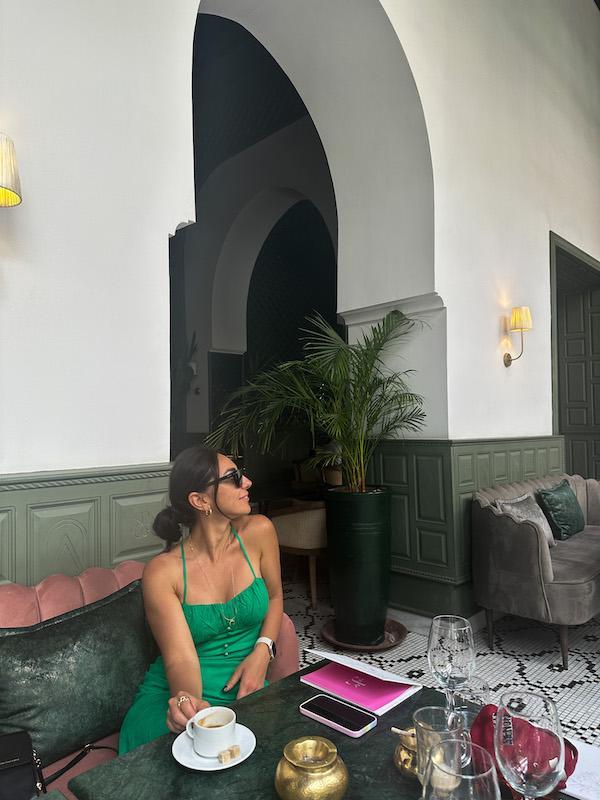 Both Cafe Des Epices and Les Jardins Du Lotus showcase the unique charm of Marrakech and offer a delightful culinary journey. However, it's advisable to check their operating hours and availability, as well as make reservations in advance, to ensure a seamless dining experience during your visit.
La Famille: La Famille, one of the restaurants and cafes on our list, not only attracts you with its garden and colorful decor but also stands out with its healthy and natural cuisine. All of their dishes are made from organic and fresh ingredients, and they offer vegan and vegetarian options as well.
Atay Cafe: Lastly, Atay Café Food stands out with its blend of traditional and modern dishes, reflecting the historical texture of Marrakech. This cafe allows you to experience local flavors and is one of the most popular restaurants in Marrakech.
Le Salama Restaurant: This two-story establishment has a terrace on the upper floor, which offers breathtaking views of both the city and sunset amidst greenery. It is one of the most popular restaurants in Marrakech. You can also enjoy a belly dance show during dinner. If you're not planning to go to Comptoir Darna or if you couldn't find a spot there, Le Salama can be a great alternative.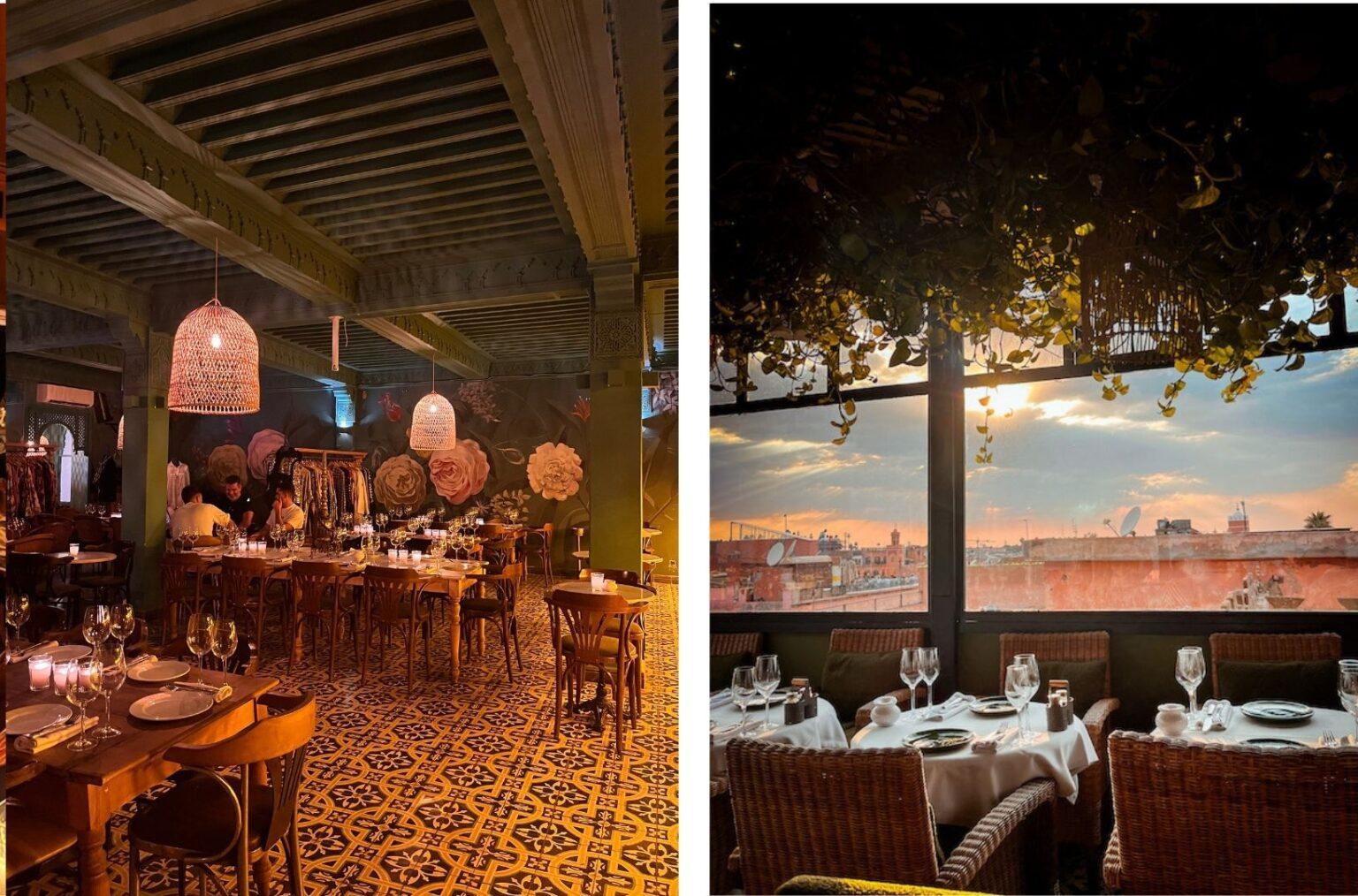 These recommendations offer a variety of dining experiences in Marrakech, from healthy and organic cuisine to traditional and modern flavors. However, it's always a good idea to check their operating hours, make reservations in advance, and consider any specific dietary preferences or requirements you may have.
Comptoir Darna Restaurant: Comptoir Darna is one of the best restaurants in Marrakech. It has become one of our favorite restaurants with its elegance and the quality of its food. It is a two-story venue, including a garden. There are belly dance shows at 21:30 and 23:30. After the last belly dance show, the venue transforms into a club. If you're going for dinner, make sure not to reserve a table near the bar and DJ booth. As the night progresses, it gets crowded.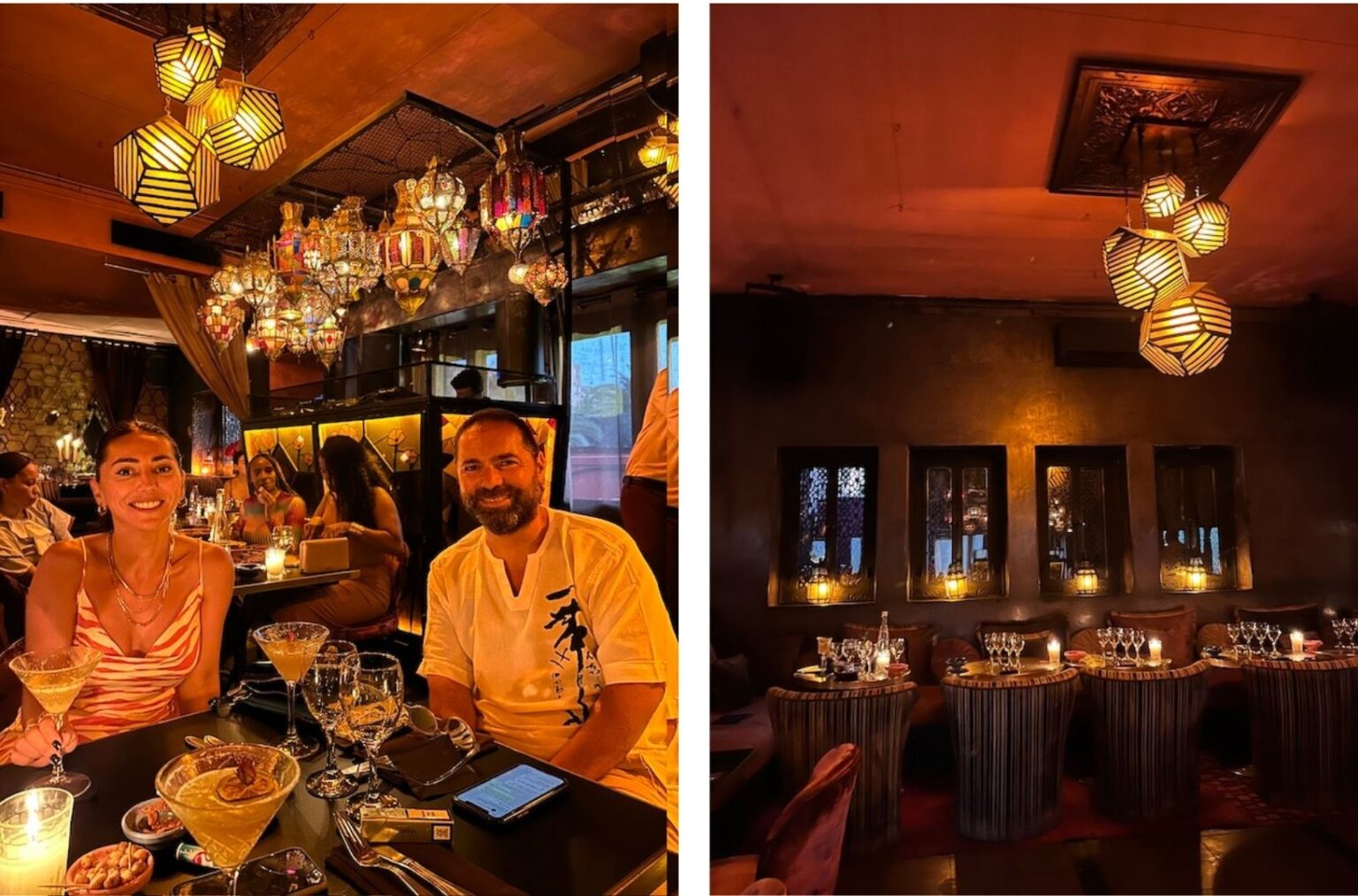 El Fenn -teras
L'mida
Dar Cherifa
La Mamounia
Broc the Kasbah
Ksar Kasbah
La Trattoria
Palais Dar Soukkar
Nightlife in Marrakech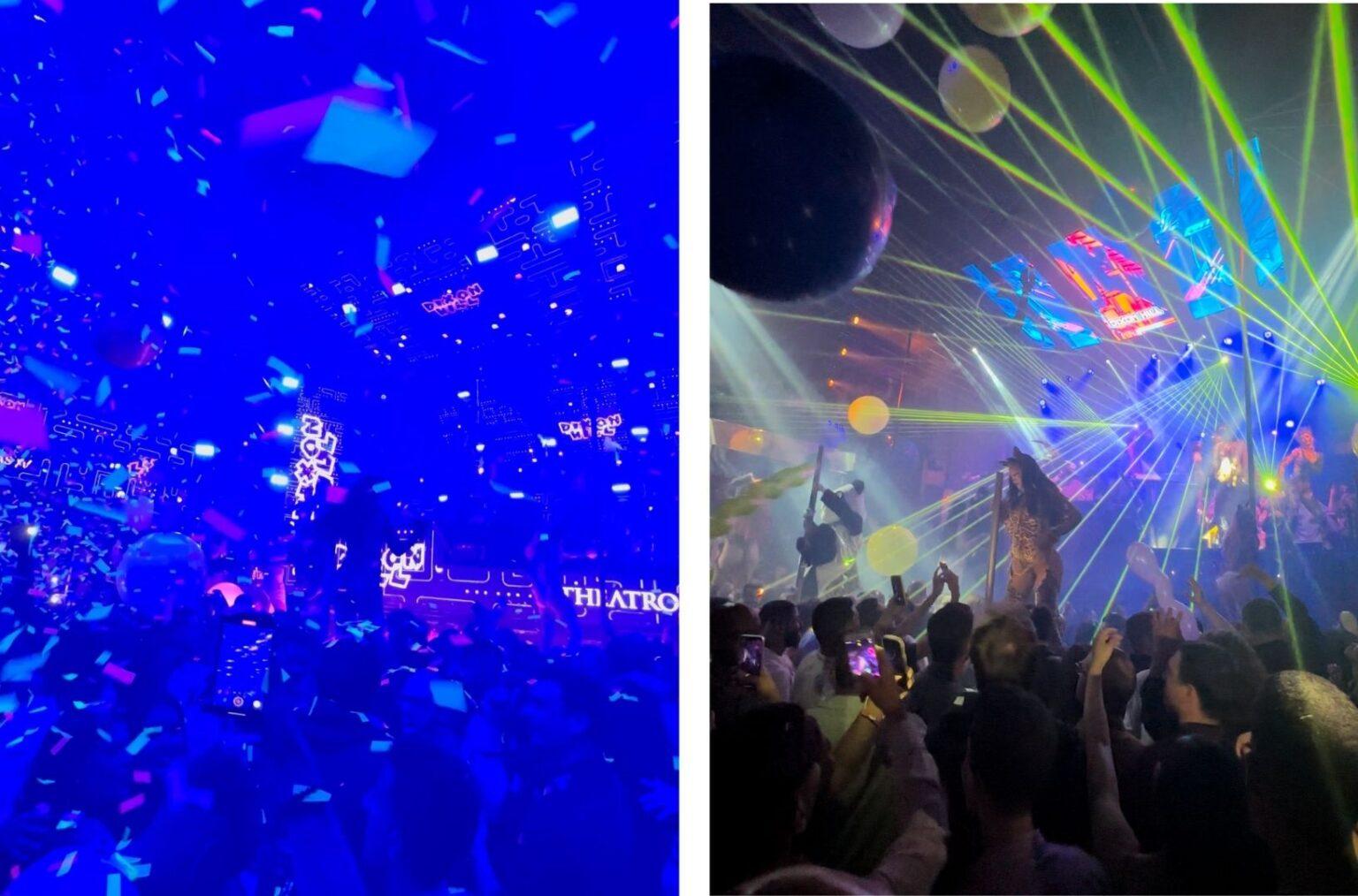 Theatro Marrakech: After experiencing the nightlife at Comptoir Darna, we went to Theatro. Theatro is located next to Casino Marrakech and Epicurien nightclub. You can not only limit yourself to Theatro but also move on to Epicurien from there. We had heard from a few people that Marrakech nightlife is amazing, but there was a significant difference between what we heard and what we experienced. As we mentioned earlier about Comptoir Darna, people come here for dinner and belly dance shows.
Later in the night, the venue transforms into a nightclub. Even when people are sitting at their tables, a crowd of people rushes upstairs and fills the bar area. Then, when there is no more space, they start surrounding the tables. Since the music becomes loud and it's not a "hands in the air" kind of environment, it becomes quite uncomfortable for those who choose to stay seated at their tables.
We made our reservation at Theatro through email before going. The conditions were that there must be 3 people at one table and the requirement of purchasing 1 bottle of drinks. The price for 1 bottle of drinks for May 2023 was 2200 MAD. I am writing their email below.
Thank you for choosing Theatro.
To book a table, the minimum spending is one bottle per 3 people. It will be 3 bottles ( premium or deluxe ) for 9 people.
We have two types of bottles:
Premium bottle at 2.200 MAD: Absolut Blue, Mandarin or Lemon – Havana 3 Años – Gin Beefeater – Get 27 – Malibu – Bailey's – Ballantine's Sambuca – Cachaça – Jameson – Olmeca Blanco – Courvoisier – Jagermeister – MUMM
Deluxe bottle at 2.500 MAD: Chivas 12 Years Old – Elyx – Havana Especial – Gin Beefeater 24 – Olmeca Extra Aged / Gold – Martell VSO
We're not saying anything about the price. However, if you're charging that amount, we expect good service. It was the first time in our lives that we had to pay the money outside the club before entering. Consequently, waiting in line outside was inevitable. Another strange thing was that we had never been to a place that rented out a booth without any complimentary items. This was a first in that regard.
The other and final issue was the careless overcrowding of the venue. When it gets so crowded, the booth itself loses its purpose. With people unable to fit into the venue, the only advantage of our booth was placing our drinks on the table
If we were to calculate the gender percentage in the venue, around 80% of the people were male and the rest were female. There were no uncomfortable situations. However, when there is such a crowd of desperate individuals, it's not our kind of environment.
Another point we want to address is the security. There is sufficient security inside the club. However, you know, they are all just for show We can't say they have any real function. They don't pay any attention to the tables of the booth holders. In the later hours of the night, we couldn't understand what happened, but suddenly a glass on our table shattered. Glass shards scattered everywhere.
While trying to figure out what happened, we found a broken cell phone among the pieces on the table. One of the people on the mezzanine level of the club must have dropped it. Even in such a situation, no staff member came to assist or address the issue. Looking at it, we didn't have anything good to say. Because we wrote down everything that happened to us from A to Z, completely truthfully. We're not saying don't go to nightlife venues in Marrakech. What we mean is, don't set your expectations too high!
Marrakech Bars & Clubs
Palais Jad Mahal – performing live music
Best Time To Visit Marrakech
The country is essentially a year-round travel destination. However, cold weather conditions can make travel a bit challenging, so it's best to determine the most suitable period for your trip. Additionally, for those who don't enjoy hot weather, July and August can be difficult times as temperatures can reach up to 50 degrees Celsius, making exploration quite challenging.
Morocco, especially in May, is a great option for those who want to visit during the time when it boasts the most beautiful vegetation of the year. During this period, blooming flowers adorn the country, turning it into a paradise-like garden.
We made our first trip to Morocco in October, and I can say that the weather conditions in the southern region were not too cold. However, we felt quite chilly in the northern parts. Therefore, for our next trip, we preferred to coincide with the most suitable season to visit the country. By selecting the time when each region has the best weather conditions, we will be able to allocate more time to explore the entire country.
Where To Stay In Marrakech – Marrakech Riads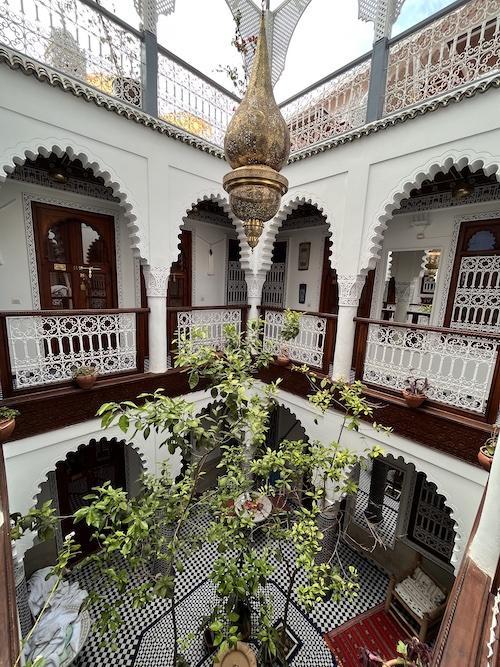 Marrakech offers a wide range of options for luxury hotels and riads in Morocco. To help you choose the best accommodation in Marrakech, here are a few tips.
If you want to experience a true Moroccan experience, we recommend staying in riads instead of hotels. Riads are small houses with a courtyard, where rooms open onto the courtyard. They are typically two-storey buildings, with many of them featuring a pool in the courtyard. Riads offer breakfast and dinner service in the courtyard.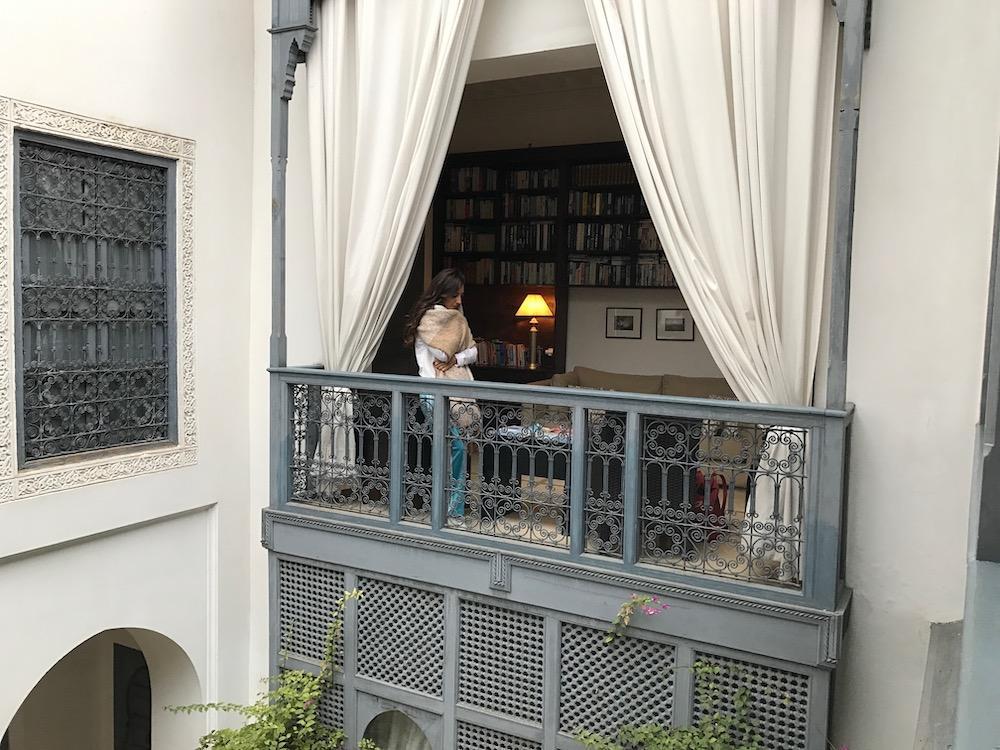 In Morocco, there are two different accommodation options: Riads and Dars. They differ from each other in terms of their characteristics. Riads are more luxurious, larger houses with a courtyard, pool, and greenery. On the other hand, Dars are smaller and less extravagant, often referred to as "rich-poor houses".
Some Riads are even more luxurious and larger, featuring a garden terrace. These types of Riads are almost 2-3 times more expensive than regular Riads, but they offer extra services and luxurious amenities.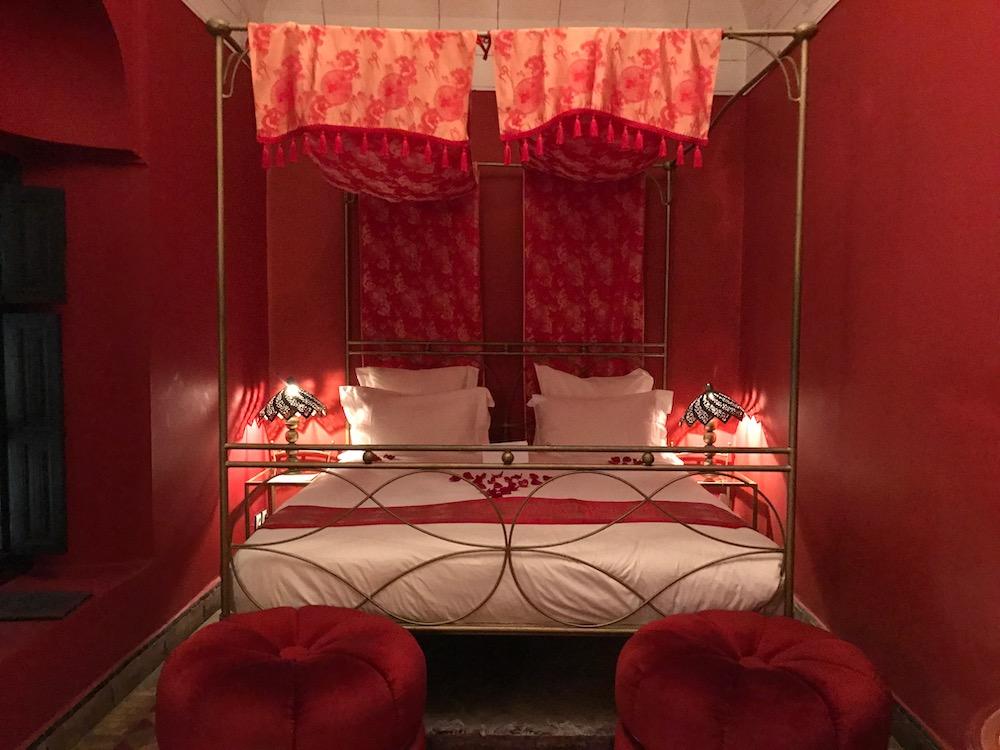 Additionally, most of the Riads in Marrakech have a historical charm and are decorated in accordance with traditional Moroccan architecture. Therefore, staying in a Riad in Marrakech offers a wonderful opportunity to immerse yourself in Moroccan culture and traditions.
What is Riad?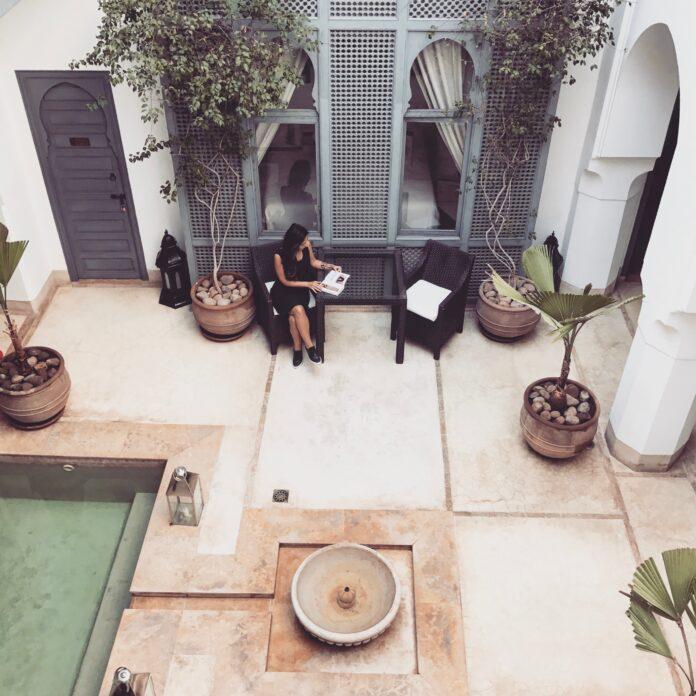 Riads are traditional houses in Morocco. One of their distinctive features is the presence of an inner courtyard adorned with various plant species. Riads are commonly found in Morocco's historic cities and attract tourists with their unique charm.
Riads are typically built in accordance with traditional Moroccan architecture. They usually feature a central courtyard with a garden adorned with plants and flowers. This garden is surrounded by the rooms of the house, often accompanied by verandas or balconies.
Traditional Moroccan houses are designed to accommodate the country's warm climate. With their inner courtyards, they provide a cool and shaded space, protecting residents from the harsh rays of the sun. Riads are traditionally operated by families, and their rooms are often rented out to tourists.
In recent years, riads have played a significant role in tourism. A large portion of Morocco's tourism comes from visitors who are interested in experiencing these traditional houses. Riads can be a great choice for those who want to learn about Moroccan culture and architecture. They offer a unique opportunity to immerse oneself in the local lifestyle and gain insights into the rich history and traditions of Morocco.
More article about Morocco:
All You Need To Know Before Visiting Morocco
10 Best Places to Visit in Morocco