Morocco is a captivating country famous for its rich history and cultural heritage. The cities to visit in Morocco stand out with their vibrant markets, historical medinas, and impressive architecture. Morocco is a destination that adorns the dreams of many travelers.
Traveling to Morocco can offer an important and unforgettable experience in many ways. Here are some reasons that illustrate why a trip to Morocco is important:
Rich Culture and History
Morocco is a country with a rich historical and cultural heritage. The historical medinas, palaces, mosques, and madrasas in various cities of Morocco offer visitors enchanting traces of the past. Morocco, where Berber, Arab, and Moroccan Islamic cultures blend, also provides a fascinating experience with its traditional crafts, music, dance, and gastronomy.
Colorful Souks and Markets
Morocco's souks, famous markets, and streets allow you to experience a rich shopping adventure. The souks in Marrakech, Fes, and other cities are filled with unique and beautiful products such as handmade leather goods, ceramics, carpets, jewelry, and spices. By shopping in Morocco, you can find one-of-a-kind souvenirs and get a closer glimpse of the local culture.
Natural Beauty
Morocco is home to various natural beauties. It boasts a diverse geography with its coastlines, desert, mountains, and oases. You can enjoy the sun and sea in coastal cities like Essaouira and Agadir, go trekking in the Atlas Mountains, and have an unforgettable experience in the Sahara Desert in Merzouga.
Delicious Cuisine
Moroccan cuisine is famous for its rich flavors, spices, and unique tastes. By trying dishes like couscous, tajines, kebabs, spicy soups, and desserts, you can explore Morocco's gastronomic world. Additionally, the tea ceremony holds an important place in Moroccan culture, and you can experience traditional Moroccan tea.
10 Best Places To Visit In Morocco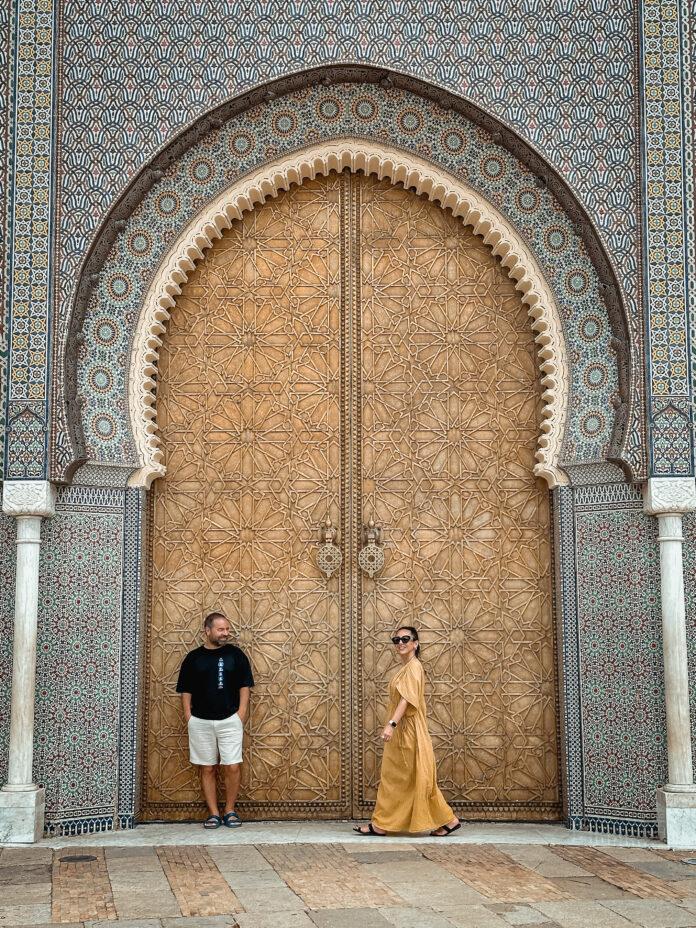 Morocco is a popular country in terms of tourism. Its rich historical treasures, culture, and natural beauty are discovered by thousands of tourists every year. Historical sites like Fes El Bali or the Medina of Fes, Moulay Idriss Zerhoun, as well as cities like Marrakech, Casablanca, Rabat, Meknes, and Tangier, the Atlas Mountains, and the Sahara Desert are among the must-visit places in Morocco. In short, Morocco is a rich tourist destination and a place that everyone should explore.
CASABLANCA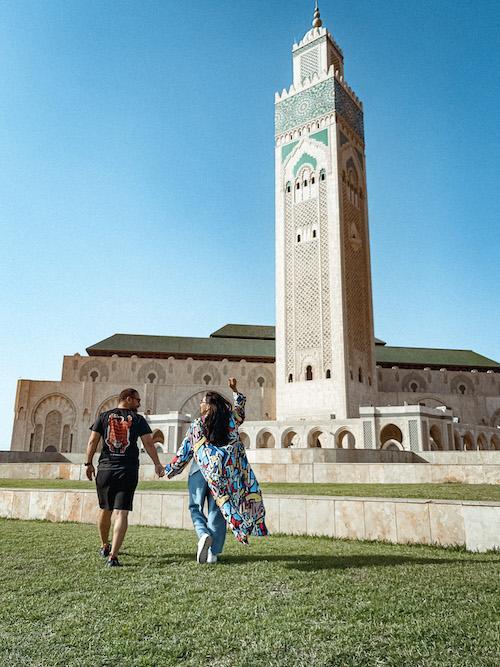 Casablanca, one of the largest and most modern cities in Morocco, holds great importance as the country's economic and commercial center. Located on the coast of the Mediterranean, this vibrant and energetic city is a must-visit for every traveler to Morocco, with its magnificent architecture, historical attractions, and dynamic atmosphere.
One of Casablanca's most famous landmarks is the Hassan II Mosque. Situated on the coastline, the mosque is a remarkable architectural masterpiece and a symbol of the city. The Corniche, which is the seaside promenade of Casablanca, offers a picturesque setting for strolls, with beautiful views of the ocean.
For a taste of the traditional atmosphere of Morocco, a visit to the Medina, the old city, is a must. Lose yourself in the narrow streets and alleyways, where you'll find bustling markets, charming shops, and a vibrant ambiance that captures the essence of Moroccan culture.
Another must-visit place in Casablanca is Rick's Cafe, which served as an inspiration for the famous film "Casablanca." This iconic restaurant and bar pays homage to the movie and provides a nostalgic setting to enjoy a meal or a drink.
Casablanca combines modernity with a touch of old-world charm, making it a captivating city to explore during your visit to Morocco.
MARRAKECH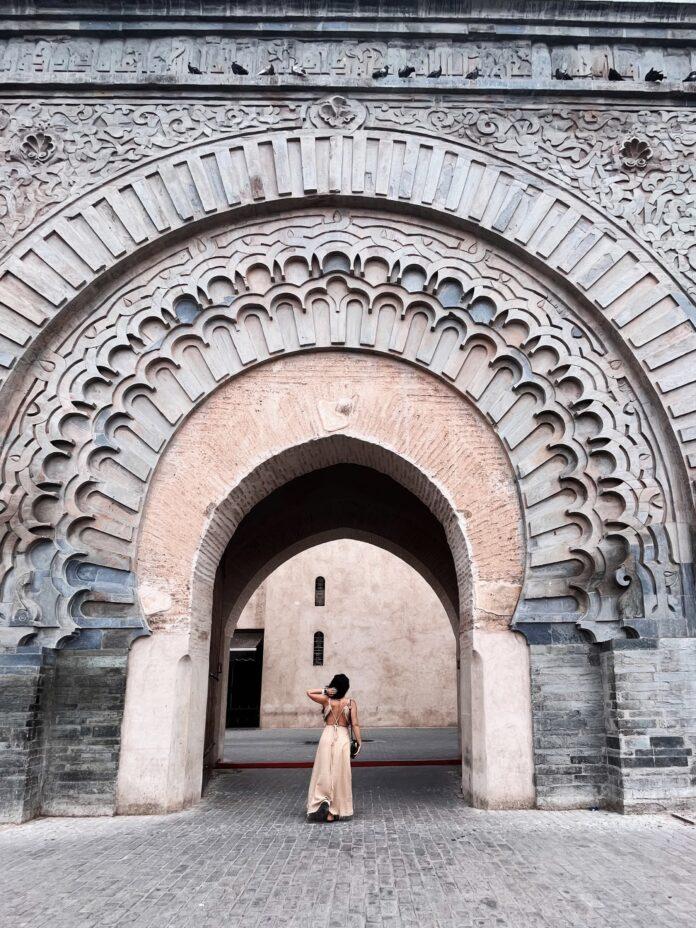 If you ask us, one of the most special places in Morocco after the Sahara Desert is Marrakech. It is one of the most important cities to visit in Morocco. Marrakech is the most attractive city in Morocco as it offers a variety of options for accommodation, shopping, dining, and entertainment. It is also the city that attracts the most tourists compared to other cities, making it a comfortable place for women to visit. You can easily explore Marrakech by allocating two full days.
For more detailed information about Marrakech, you can read our article here.
RABAT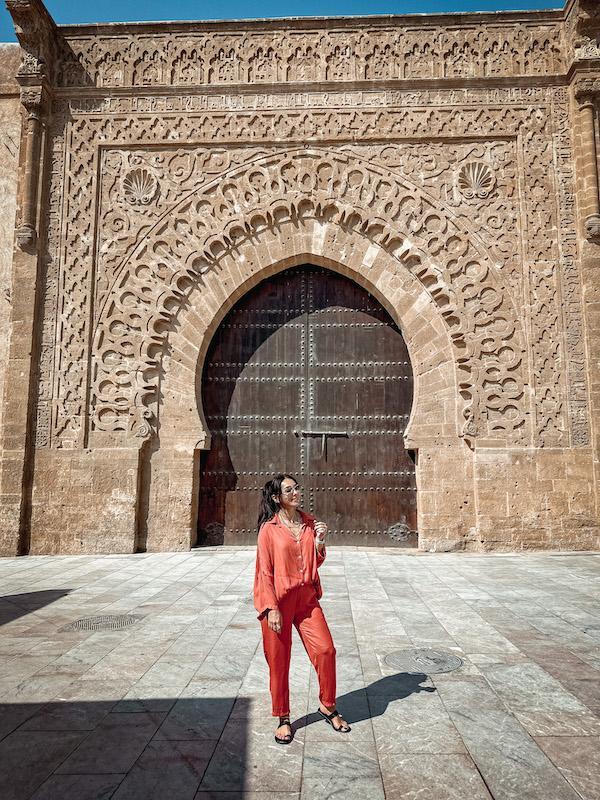 Rabat is the capital and one of the largest cities in Morocco. It is located on the northwest coast of the country, along the Atlantic Ocean. Rabat is a city that successfully combines its historical and modern fabric. It is home to various tourist attractions such as historical fortresses, mosques, beautiful beaches, and green parks. Additionally, Rabat plays a significant role as Morocco's political, administrative, and cultural center. The city offers visitors the opportunity to explore its historical and cultural heritage while enjoying the pleasures of modern life. With its rich past and contemporary atmosphere, Rabat provides visitors with an unforgettable experience.
ASILAH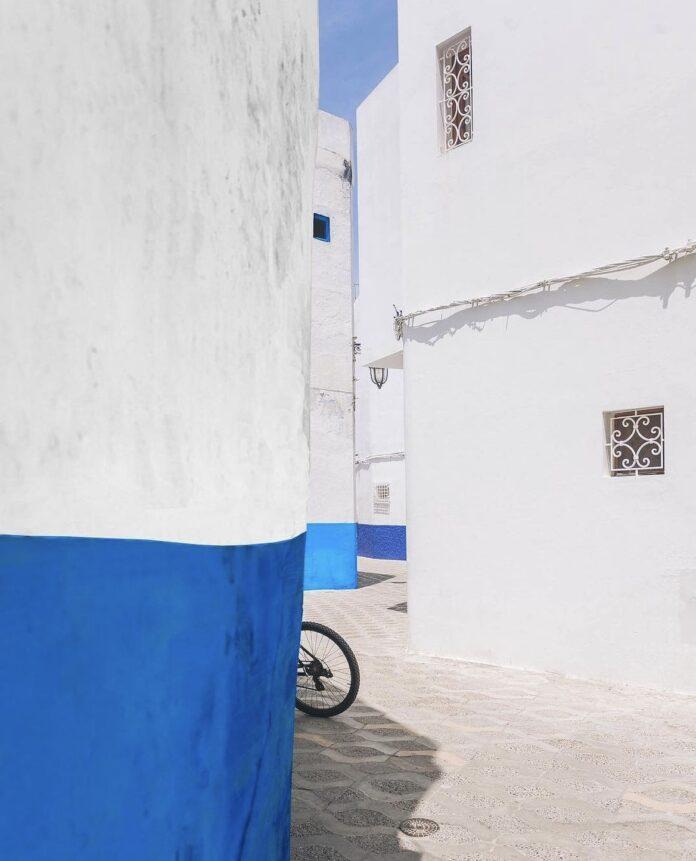 Located on the northwest coast of Morocco, along the Atlantic Ocean, Asilah is a charming seaside town known for its rich historical and cultural heritage. With its white-washed houses, colorful streets, and historical remnants, Asilah captivates the interest of visitors.
Asilah has been an important settlement since ancient times, influenced by various civilizations such as the Phoenicians, Roman Empire, Arabs, and Portuguese. Therefore, Asilah possesses a rich and complex history and cultural legacy. The historical fortress walls, castle gates, and the old town layout allow you to feel the essence of Asilah's history.
White-Washed Houses: One of the most striking features of Asilah is its white-washed houses. As you wander through the streets of the town, you'll notice that these white houses are adorned with vibrant-colored doors and windows in shades of blue, orange, and green. This visual spectacle highlights the unique atmosphere of Asilah.
Asilah's blend of historical charm and picturesque coastal beauty makes it a delightful destination to explore.
Asilah is famous for its art and cultural activities. Every summer, it hosts an international art festival called the Asilah Arts and Culture Festival. During this festival, the streets, walls, and exhibition spaces are adorned with the works of local and international artists. Additionally, Asilah is home to numerous art galleries and handicraft workshops, allowing visitors to explore local art and handicraft products.
Asilah is also renowned for its beautiful beaches. The stretches of sandy beaches along the coast are perfect for sunbathing, swimming, and leisurely walks. The beaches are also popular for water sports, especially surfing and windsurfing. You can visit Asilah's beaches to spend a relaxing day and enjoy the azure waters.
Asilah's vibrant art scene and stunning beaches make it a unique destination for art enthusiasts and beach lovers alike.
CHEFCHAOUEN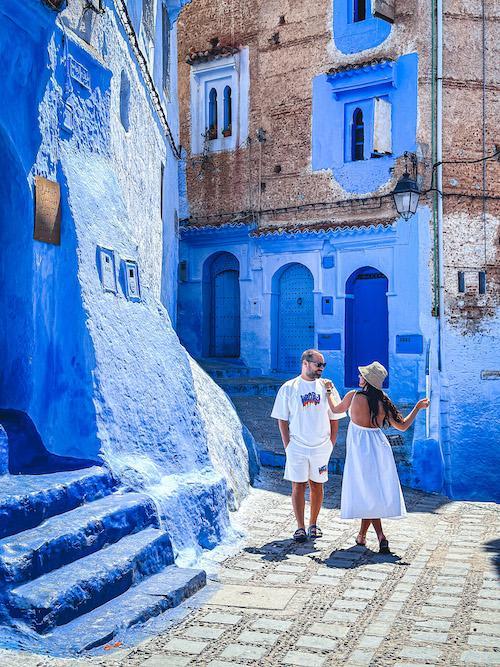 Chefchaouen, a city of stunning beauty in northern Morocco, enchants visitors with its historical charm, impressive architecture, and vibrant atmosphere. With its colorful streets, historic squares, and traditional markets, Chefchaouen is one of the most attractive cities in Morocco.
Founded in the 9th century, Chefchaouen is one of the oldest settlements in Morocco. This city, influenced by Spanish, Arab, and Moroccan elements, possesses a rich history and cultural heritage. The historical center of Chefchaouen is listed as a UNESCO World Heritage Site. The city's narrow streets, traditional houses, and historical structures give visitors a feeling of traveling back in time.
One of Chefchaouen's most famous features is its streets painted in vibrant colors. The blue, green, and white painted houses add a unique atmosphere to the city. Walking through these colorful streets is a wonderful opportunity to take photographs and explore the surroundings.
You can read our detailed travel article about Chefchaouen here.
FEZ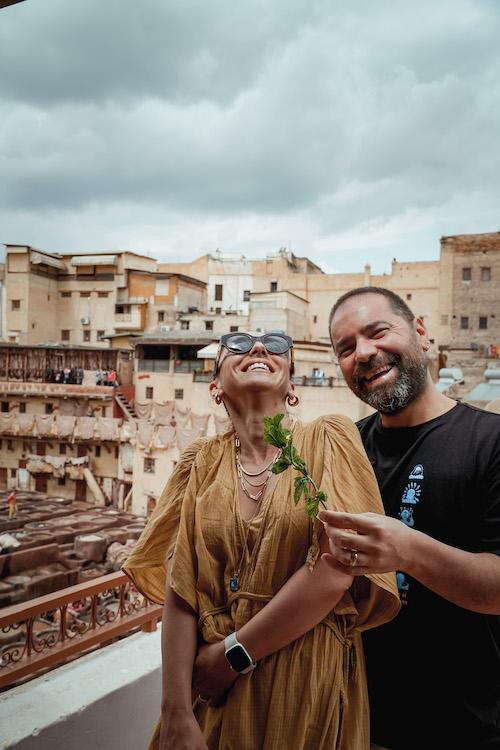 Fez, one of the most historically and culturally rich cities in Morocco, captivates visitors with its enchanting atmosphere that dates back to the Middle Ages. Fez, showcasing the finest examples of traditional Moroccan architecture, is listed as a UNESCO World Heritage Site due to its historical significance.
You can read our Fez Travel Guide here.
MERZOUGA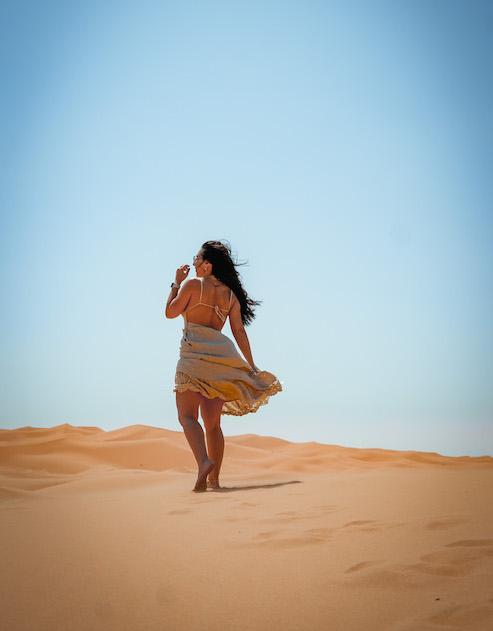 Merzouga, located in the southeast of Morocco, is a captivating town renowned for its stunning Sahara Desert landscape. This region mesmerizes visitors with its golden sand dunes, endless desert vistas, and unforgettable sunsets.
Merzouga serves as the gateway to the Sahara Desert and offers visitors a unique desert experience. Whether you embark on a camel ride, go on a 4×4 desert safari, or choose to stay in a desert camp, you are bound to create unforgettable memories. While wandering through the vast expanse of the Sahara Desert, you can take a walk on the golden sand dunes, try sandboarding, and sleep under the stars.
One of the most notable features of Merzouga is the large sand dunes known as Erg Chebbi. These sand dunes sometimes reach heights of over 150 meters and provide a breathtaking panorama. Watching the sunrise or sunset in Erg Chebbi is a perfect opportunity to witness magnificent color transitions and impressive light plays. You can climb the sand dunes and savor the desert landscape.
Merzouga's Saharan charm, especially with the majestic Erg Chebbi sand dunes, offers a truly unforgettable experience for travelers.
As Merzouga is renowned for its desert experience, it offers a wide range of activities. Here are some popular activities you can do in Merzouga:
Desert Safari Tour: Desert safari tours conducted with 4×4 vehicles are one of the most exciting ways to explore the Sahara Desert. You can navigate swiftly through the sand dunes, enjoy the desert landscapes, and capture stunning photographs.
Camel Ride: In Merzouga, you can go on a camel ride accompanied by local Bedouin guides. This activity offers a unique way to experience the tranquility and breathtaking views of the desert. As you journey into the depths of the desert on camelback, you can learn about desert life from your guides.
Sandboarding: Experience sandboarding in Merzouga. Climb up the sand dunes and slide down on a specially designed board, enjoying exhilarating moments. This activity guarantees a fun-filled time in the desert.
Desert Accommodation: In Merzouga, you have the option to stay in desert campsites. You can choose to stay in traditional tents or luxury tented camps. In the evening, you can watch the sunset in the desert camp, relax by the fire accompanied by Berber music and dance, and witness the mesmerizing starry sky, creating an unforgettable experience.
These are some of the popular activities you can enjoy in Merzouga, a destination known for its desert experience.
Stargazing: As Merzouga is located in an area away from light pollution, it offers a magnificent view of the night sky. In the desert campsites, you can enjoy stargazing with expert guides. Under thousands of stars, you can experience unforgettable moments in a peaceful atmosphere.
OUARZAZETE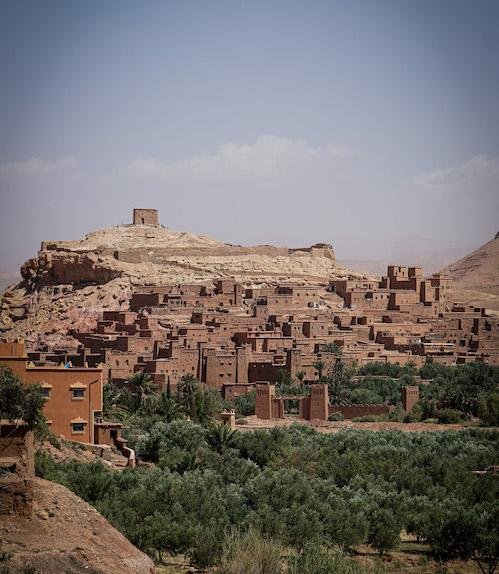 Ouarzazate is a captivating city located at the foothills of the Atlas Mountains in the south of Morocco, renowned for its mesmerizing natural beauty and historical structures. This town, situated south of Marrakech, is an important center for the film industry in Morocco and is famous for its Atlas Studios.
-Ait Benhaddou
Located approximately 30 km from the city of Ouarzazate, at the edge of a cliff in the foothills of the Atlas Mountains in southern Morocco, Ait Ben Haddou Village is the most famous and best-preserved ksar in Morocco, known for its adobe houses. A ksar, as referred to in Arabic, is a fortified village. This village evokes a feeling of having traveled back in time. It is a Berber settlement and was declared a UNESCO World Heritage Site in 1987.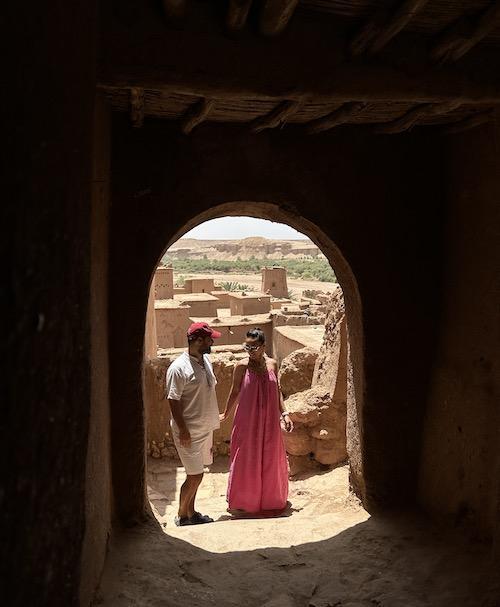 Ait Ben Haddou became an important place for merchants traveling between Marrakech and Sagra. The village is surrounded by walls and consists of houses and streets built on a hill, creating a true labyrinth. This settlement can be reached by crossing the bridge over the Ounila River. The houses within the village are constructed using materials such as adobe, straw, and clay. The use of concrete and cement is still prohibited, and traditional construction techniques are preserved.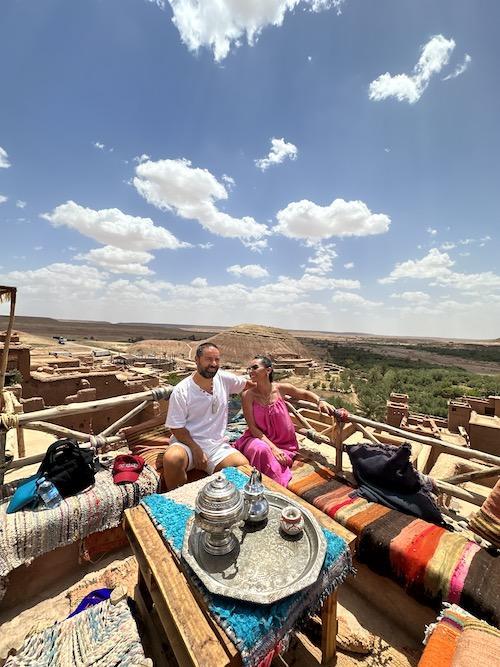 Ait Ben Haddou is not only significant in terms of its historical and architectural value but also plays an important role in the history of cinema. It has served as a filming location for numerous renowned films and series, including Gladiator, Game of Thrones, Lawrence of Arabia, Sodom and Gomorrah, The Last Temptation of Christ, The Jewel of the Nile, Kingdom of Heaven, Babel, Prince of Persia, The Mummy, Alexander, and Queen of the Desert. By hosting the sets of these productions, Ait Ben Haddou has become a globally recognized tourist destination.
-Atlas Studios
Atlas Studios, located at the foothills of the Atlas Mountains in Morocco, is a magical part of the film world. These studios are an iconic location where many famous films and television productions have been shot. With its large sets, historical atmosphere, and impressive landscapes, it offers visitors an unforgettable experience.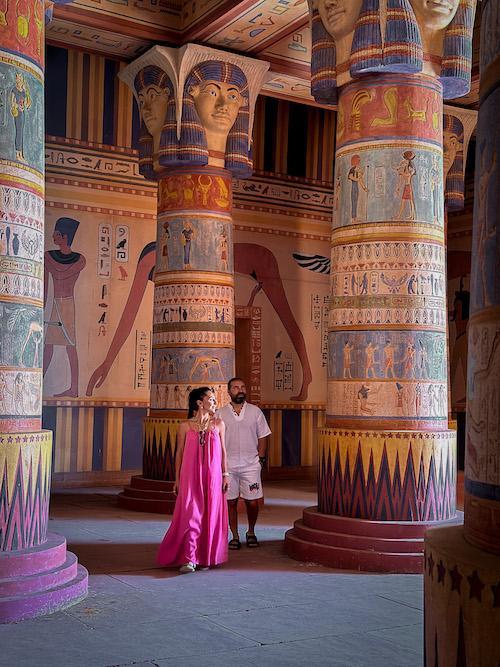 More information about Atlas Studios;
History:-Atlas Studios was established in 1983 by French-German producers and has since hosted the production of many famous films. Notable films shot at Atlas Studios include "Gladiator," "The Mummy," "Kingdom of Heaven," and "Game of Thrones." These studios have become an important center for Morocco's film industry.
Sets: Atlas Studios accommodate various sets spread across a vast area. These include coastal towns, desert camps, sacred temples, ancient medinas, and Ottoman palaces. Each set is intricately designed to provide a unique atmosphere. Visitors can explore these sets, witness the filming locations of famous movies, and step into the enchanting world of film sets.
Guided Tour: Those wishing to visit Atlas Studios often join guided tours. These tours allow visitors to explore different areas of the studios and gain interesting insights into the filming process. With a guide, you can navigate through the sets, learn about the filmmaking process, and even recreate scenes from famous films. You can find more information on Atlas Studios official website.
-Todra Valley and Dades Valley
Morocco is famous for its world-renowned rock formations, including Todra Gorge and Dades Gorge. These regions have become popular destinations in terms of annual visitor numbers. Situated in the middle of the High Atlas Mountains, these valleys can be described as a valley that runs through the heart of the mountain. Both valleys run parallel to each other, with the Dades Gorge located in the west and the Todra Gorge in the east.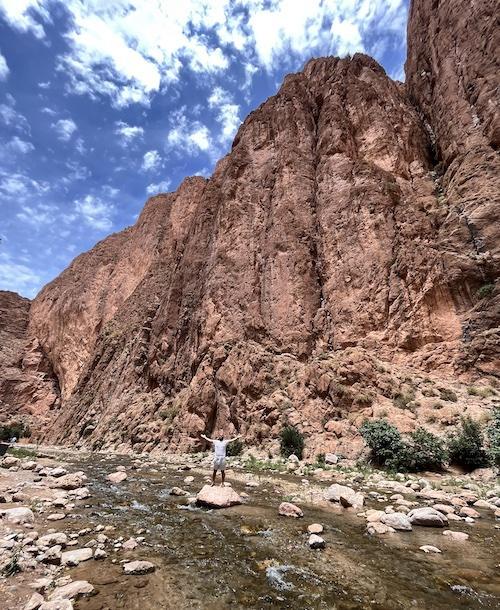 Todra Gorge stands out with its walls that are approximately 300 meters long and around 30 meters wide. One of the best things to do in the valley is to park your vehicle and explore the area on foot. To reach Todra Gorge, you need to head north of the city of Tinghir for about 25 kilometers. If you are coming from Ouarzazate, you should take the N10 road that follows the Dades River and head towards Tinghir.
In this valley, you will find towering cliffs, palm trees, and a refreshing river. Todra Gorge is a wonderful discovery point for nature lovers and adventure seekers.
Todra Gorge is an ideal place for hiking and climbing enthusiasts. Hiking along the canyon allows you to explore the beauty of nature and enjoy breathtaking views. Additionally, the climbing routes on the canyon walls offer an adventurous challenge for climbers. You can join more challenging climbs with the guidance of local guides and admire the magnificent views of the valley from above.
Dades Valley, on the other hand, appears as a passable valley by vehicle. It is characterized by a canyon formed by the Dades River. This canyon is surrounded by high limestone cliffs and deep valleys. Following the valley, you can reach an altitude of approximately 1500 meters. Dades Gorge is located before Todra Gorge. By following the N10 road, you can reach the town of Boumalne Dades. Take a turn onto the R704 road to follow the river, and after a few kilometers, you can start exploring the valley. As you walk or drive through the valley during your journey, you can observe impressive landscapes, majestic cliffs, and rows of palm trees.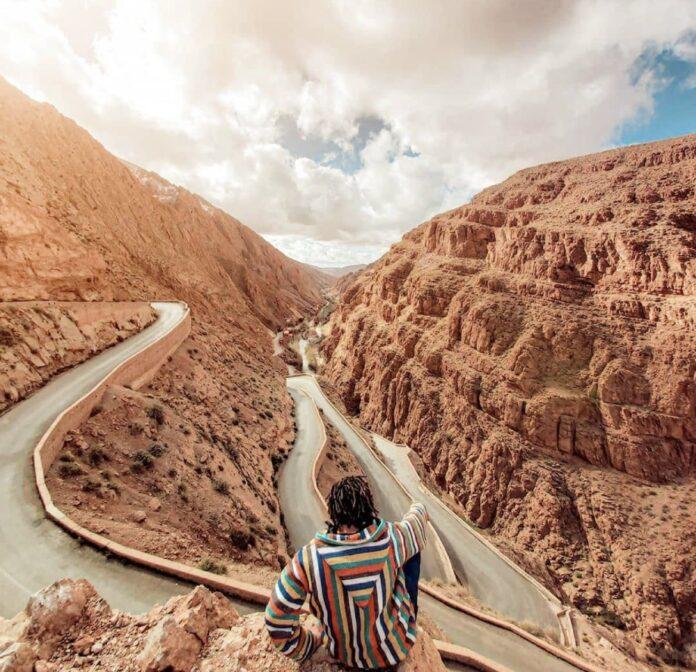 Dades Valley offers visitors the opportunity to take a tour in historical villages. These villages bear the traces of local life and provide a chance to explore traditional Berber culture. Villages such as El-Kelaa M'Gouna, Boumalne Dades, and Ait Youl attract attention with their traditional architectural structures, handicraft workshops, and local markets. By visiting these villages, you can interact with the local people, witness traditional handicrafts, and experience the Berber way of life more closely.
MEKNES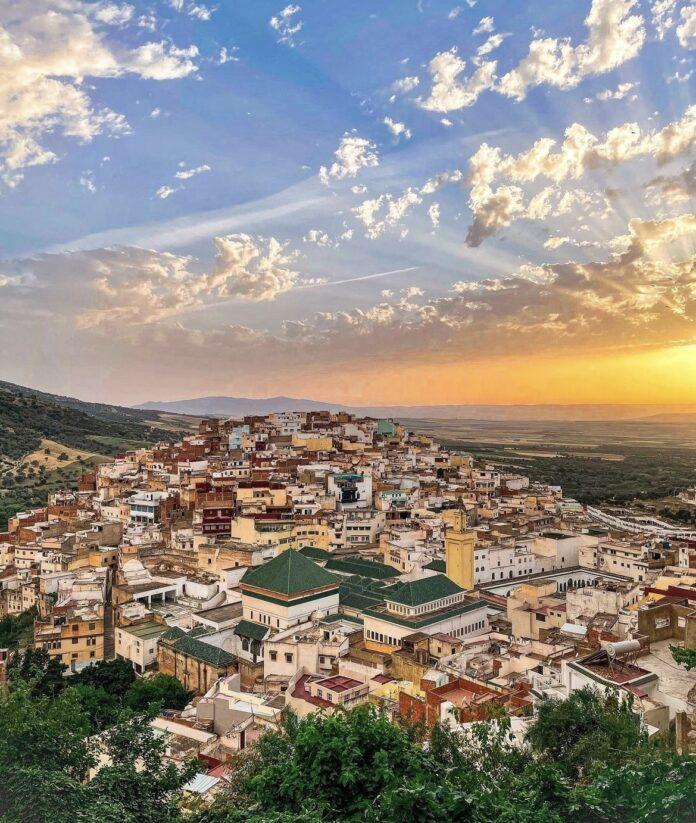 Meknes is one of the most historical and culturally rich cities in the country. Once the capital of the Moroccan Empire, Meknes offers visitors an unforgettable experience with its enchanting architecture, historical structures, and traditional atmosphere.
Founded in the 11th century, Meknes gained great importance as the capital of the Moroccan Empire in the 17th century, under the rule of the Alaouite Dynasty, becoming the center of imperial power. The historical and cultural heritage of Meknes is recognized by UNESCO as a World Heritage site.
Bab Mansour Gate: One of Meknes' most iconic landmarks, Bab Mansour Gate serves as the main entrance to the city. Built in the 17th century, this magnificent gate is adorned with splendid mosaic decorations, tiles, and sculptures. By visiting the nearby Dar Jamai Museum located in the square next to the gate, you can get a closer look at the historical and artistic heritage of Meknes.
Lahdim Square: Located in the heart of Meknes, Lahdim Square is the center of local life and activities. Here, you can observe the local people, purchase delicious snacks from street vendors, and go shopping in the surrounding shops.
Moulay Ismail Medersa: Another significant structure to explore in Meknes is the Moulay Ismail Medersa. Built in the 18th century, this educational complex is known as one of the largest medersas of its time.
-Volubilis Ancient Roman Ruins
Volubilis, an ancient city dating back to the Roman era, is located near the city of Meknes in the northwest of Morocco. This significant archaeological site served as the capital of Mauretania Tingitana, one of the African provinces of the Roman Empire. Volubilis offers visitors an unforgettable experience with its historical ruins, mosaics, and unique atmosphere.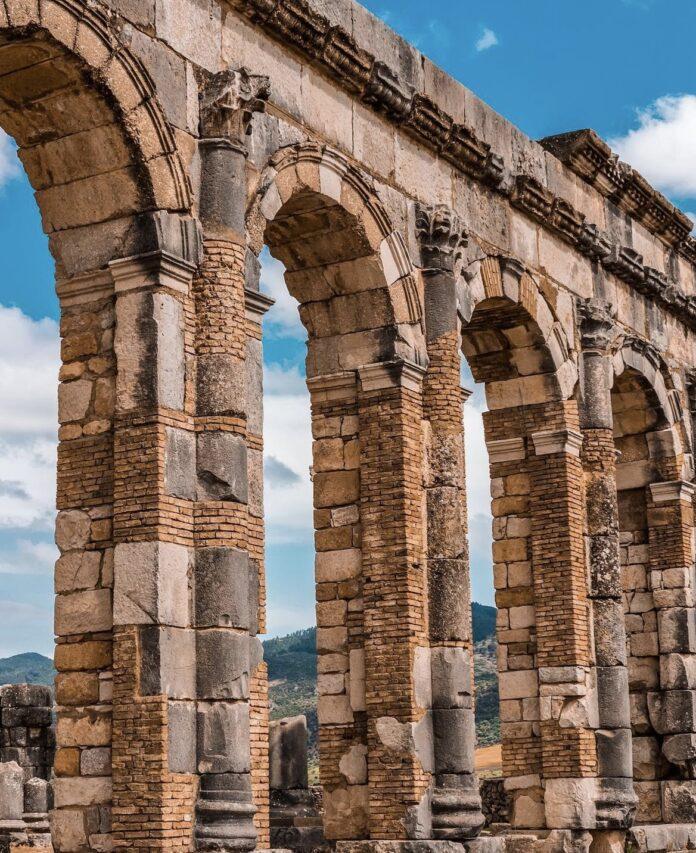 Volubilis was established as part of the Mauretania Tingitana Kingdom in the 3rd century BC. The city thrived under the control of the Roman Empire, experiencing periods of wealth and prosperity. Known for its impressive Roman architecture, Volubilis is adorned with structures such as temples, a theater, monumental gates, and baths. The remains of Volubilis have been uncovered through archaeological excavations and are open for visitors to explore.
Volubilis is also renowned for its famous Roman mosaics. These mosaics adorned the floors of houses and depict various scenes, mythological figures, and daily life. Some mosaics are notable for their well-preserved colors and intricate details. These mosaics offer visitors a captivating collection of artistic masterpieces.
In 1997, Volubilis was included in the UNESCO World Heritage List, highlighting its historical and cultural significance. This status emphasizes the importance of preserving Volubilis and passing it on to future generations. The site attracts international interest and recognition for its conservation efforts. By exploring this ancient city, visitors can gain a significant understanding of the Roman period and the region's history.
The ruins of Volubilis are surrounded by fertile hills and a vast plain. This provides visitors with magnificent views that complement the impressive atmosphere of the ancient city. As you walk among the remnants of the Roman period in Volubilis, you can feel the enchantment of history and the traces of the past. Additionally, you can enjoy the scenery of Volubilis together with the surrounding natural beauty.
Guided tours are available for visitors to explore Volubilis. Exploring the ancient city with a guide allows you to gain more information about the site and listen to interesting stories related to its history. Guides provide detailed explanations of the significant structures and mosaics of Volubilis, offering visitors a deep understanding of the city's past.
Essaouira: A Captivating Coastal City in Morocco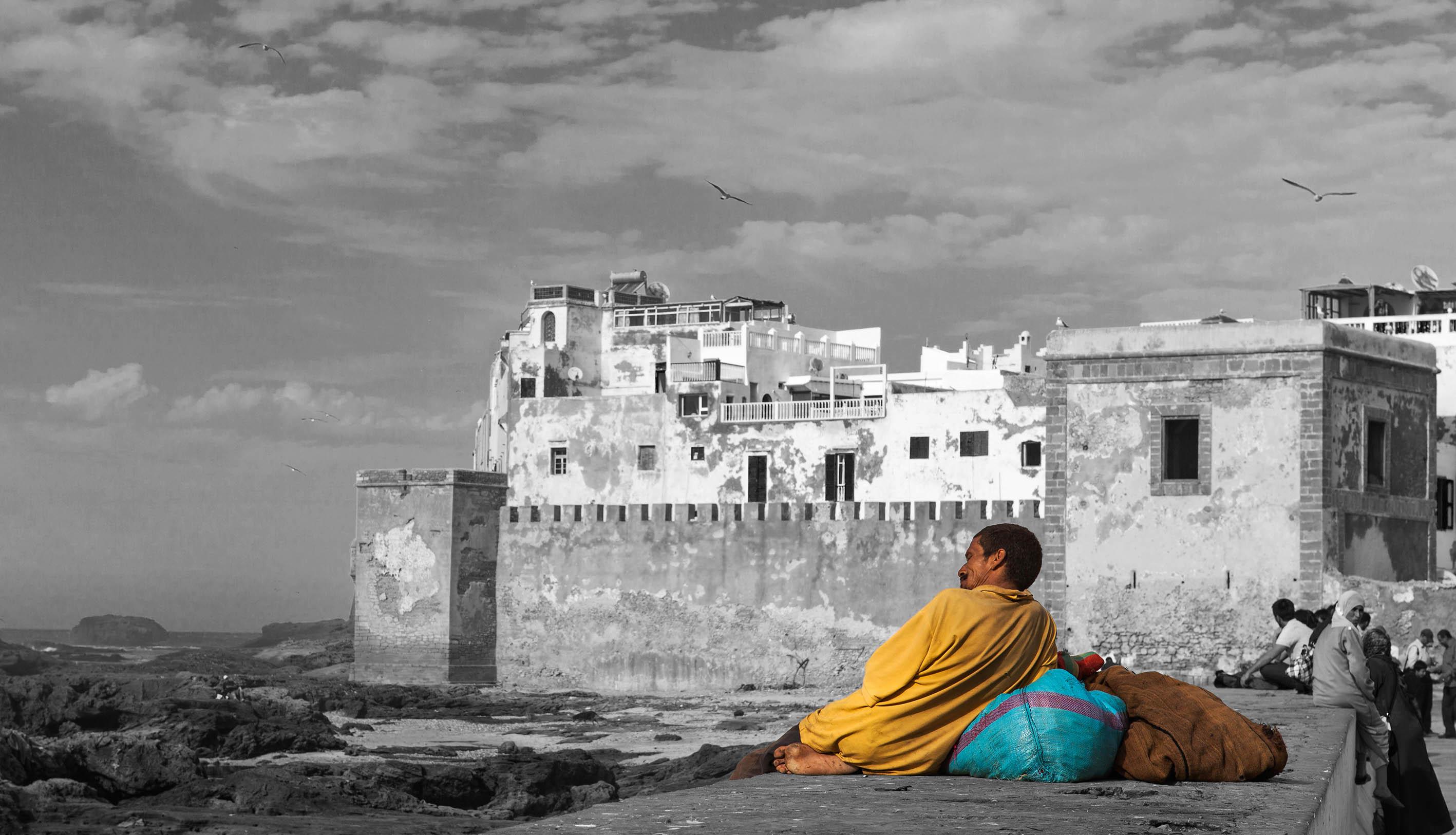 With its white-washed walls, blue windows, and wind-swept windmills, Essaouira is a mesmerizing seaside city in Morocco. Nestled on the coast of the Atlantic Ocean, this picturesque port town entices visitors with its unique cultural heritage, historical charm, and mystical atmosphere.
As you set foot in Essaouira, you'll be immediately enchanted by the allure of its history. The city, also known as Mogador, was once a significant port and trading center. The ancient fortifications and walls, built during the period of Portuguese occupation in Morocco, still stand today. Walking atop these ramparts, you can embark on a journey through the city's history while enjoying breathtaking views of the sea.
However, Essaouira's historical charm extends beyond its walls. The city is renowned for its Medina, a UNESCO World Heritage Site. Getting lost in its narrow labyrinthine streets offers a captivating experience. Explore handicraft workshops, traditional markets, and authentic cafes, immersing yourself in the vibrant atmosphere. Here, you can find handmade carpets, ceramics, leather goods, and various other crafts. Additionally, there are plenty of restaurants where you can savor local delicacies.
One of Essaouira's most famous attractions is its beach. An ideal spot for windsurfing enthusiasts, the beach allows you to revel in the winds and waves. Even if you don't engage in windsurfing, it's still a great place for a leisurely stroll and to bask in the sun. Along the coastline, you'll find restaurants and cafes where you can indulge in delicious seafood.
While exploring Essaouira, don't miss out on the opportunity to experience the local culture and traditions. Gnawa music is a characteristic feature of the city, and you can listen to live performances and watch traditional dances. Additionally, you can participate in traditional festivals held in the villages surrounding Essaouira.
Compared to other tourist destinations in Morocco, Essaouira exudes a more tranquil and relaxed atmosphere. Its distinctive ambiance, natural beauty, and cultural richness will captivate you. If you're planning to explore Morocco, be sure to include Essaouira in your itinerary.
How to get Essaouira: Can reach Essaouira by bus cause there is no train station.
More article about Morocco:
All You Need To Know Before Visiting Morocco